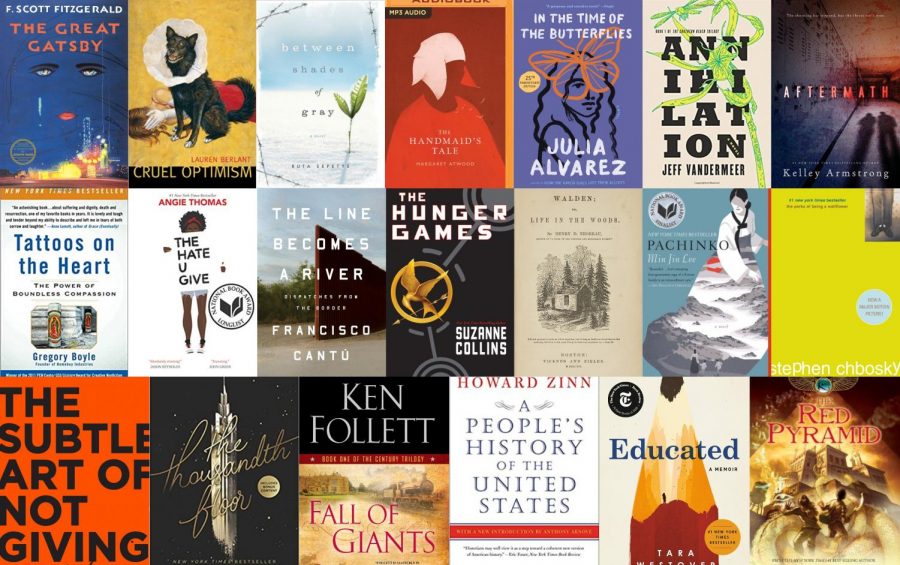 The WCC dives into the world of books
As social distancing and quarantines have much of the Webb community stuck indoors, there is nothing better to fend off boredom than picking up a new book! Our recommendations span all genres from sci-fi to memoirs and are suitable for all readers. 
Janina Akporavbare: Between Shades of Gray by Ruta Sepetys
Imagine fighting for survival in a Siberian work camp during World War II and during the genocide of the Baltic people. This struggle is what the main character Lina, her mother, and her brother had to endure in this historical fiction novel. 
Bianca Arteaga: In the Time of the Butterflies by Julia Alvarez
In the Time of Butterflies is a historical fiction novel that tells an account of the Mirabal sisters living in the Dominican Republic under the brutal Trujillo dictatorship.
Summer Chen: Cruel Optimism by Lauren Berlant
In this cultural study, Berlant describes the phenomenon of cruel optimism: something that hinders your flourishing but is masquerading as something you desire.
Enya Chi: The Great Gatsby by F. Scott Fitzgerald
A Webb must-read, The Great Gatsby is a fictional novel that brings the reader into the lives of multiple characters living in the fictional towns of East Egg and West Egg during the summer of 1922 as Jay Gatsby, a self-made millionaire, pursues his young love, Daisy Buchanan.
Amelie Cook: Annihilation by Jeff VanderMeer
Book one in the Southern Reach Trilogy, Annihilation is a science fiction novel depicting a team of four women who go on an expedition to an area cut off from civilization known as Area X. 
Kaitlyn De Armas: Aftermath by Kelley Armstrong
From a #1 New York Times bestselling author Kelley Armstrong, Aftermath is a thriller that follows Skye Gilchrist as she uncovers evidence that could clear her brother Luka's name in a school shooting that he allegedly perpetrated. 
Christopher Haliburton: The Hate U Give by Angie Thomas
Angie Thomas's debut novel, The Hate U Give is narrated by Starr Carter, a 16-year old black girl who, after witnessing her friend murdered by the police, grapples with racism, activism, and police brutality.
Laura Haushalter: Tattoos on the Heart: The Power of Boundless Compassion by Greg Boyle
By using a series of parables, this story relates Boyle's experience leading the Dolores Mission Church in a gang-ridden area of LA. 
Mo Igbaria: The Hunger Games by Suzanne Collins
Book one in The Hunger Games trilogy, The Hunger Games is a dystopian novel that follows a young Katniss Everdeen as she competes in a nationally televised event called the Hunger Games and fights for survival. 
Stephen Li: Walden by Henry David Thoreau
Walden, a memoir by Thoreau, is a personal reflection of the two years he spent living in his own cabin, raising his own food, and being surrounded by nature. 
Emma Lin: Pachinko by Min Jin Lee
A historical fiction novel, Pachinko tells a story of Japanese-Korean culture by following a Korean family who migrates to Japan and their lives over a series of generations. 
Janitza Luna: Perks of Being a Wallflower by Stephen Chbosky
The coming-of-age novel Perks of Being a Wallflower compiles a series of letters written by high school freshman Charlie as he navigates the strange world between adolescence and adulthood. 
Keigan Mccullagh: A People's History of The United States by Howard Zinn
This nonfiction textbook, A People's History of the United States presents a different side of history, from the perspective of marginalized and persecuted people.  
Nichola Monroe: Educated by Tara Westover
As a memoir, Educated tells Westover's personal story of overcoming her survivalist Mormon family in order to go to college. 
Chris Ndiritu: The Kane Chronicles: The Red Pyramid by Rick Riordan
The first novel in the Kane Chronicles series, The Red Pyramid is a fantasy-adventure novel based on Egyptian mythology that follows Sadie, Carter, and their father Julius Kane after he releases five imprisoned Egyptian gods.
Kara Sun: The Subtle Art of Not Giving a F*ck by Mark Manson
A self-help book, The Subtle Art of Not Giving a F*ck argues against the typical positivity of self-help books that is neither helpful nor practical. Instead, it focuses on how hardships make life meaningful. 
Cathy Wang: Fall of Giants by Ken Follet 
Part one of the Century Trilogy, Fall of Giants is a historical novel that follows five interrelated families as they live through the 20th century and experience the First World War, the Russian Revolution, and the women's suffrage movement. 
Sydney Wuu: The Thousandth Floor by Katharine McGee 
This science fiction novel is set in Manhattan in 2118 and tells the story of five teenagers and their scandalous, secretive lives while living in a lavish skyscraper a thousand stories high, in a world where the higher you live the richer you are.
Vivien Xi: The Line Becomes a River: Dispatches from the Border by Francisco Cantú
This autobiography details Cantú's experience of joining the US Border Patrol and forming a first-hand understanding of the border. 
Sharon Xu: Crank by Ellen Hopkins
Written in a free verse style, Crank is a young adult novel that shows the effect of methamphetamine through the story of a young girl named Kristina and the consequences of her decisions. 
Sunny Yu: The Handmaid's Tale by Margaret Atwood
Considered speculative fiction, The Handmaid's Tale is set in near-future New England after a Christian fundamentalist theocratic regime takes over the former United States in response to a fertility crisis. 
Dr. Dzula: The Plague by Albert Camus
To end the list is a recommendation by the WCC adviser. The Plague, a psychological fiction novel, tells the story of a plague that sweeps through the French Algerian city of Oran. As the world fights COVID-19, many of the questions within The Plague about destiny and the human condition can be interesting food for thought.