The do's and don'ts of STAS
583—this is how many people may see your email if you send it to STAS. On top of this, 583 people will see an increase in their STAS inbox every time you repost a message.  
STAS stands for "Students to All Students,"—an easy outlet for an individual student to connect with all of their peers in both WSC and VWS. However, as you scroll through the 583 members on STAS, you will notice not just the names of students, but teachers and faculty as well.  
STAS is hidden behind your main inbox, where you receive personalized messages. If you want to find STAS on your computer, open your outlook account and click on the three horizontal lines next to "New message" on the top left corner of the screen. Next, scroll down and click on "groups," then click on "STAS" to uncover a flood of messages.  
If you want to open STAS on your phone, the process is slightly different. On your phone, you will see a colored circle with the initial of your first name or your chosen profile picture. Then, once again click on the "groups" option, and you will encounter STAS. Some Webbies do not bother taking the time to open STAS and read through the swarm of announcements, as it can be overwhelming. 
"I never look at the messages because there are so many and the repetitiveness does not make me want to go to events," Thea Do ('24) said. 
The purpose of STAS is to get an important message out that the entire community will see. It is also useful for advertising important games, Senior Chapel talks, events, and announcements.  
However, reposting on STAS results in it being filled with repetitive information that buries the important and new information. If you have been on STAS, you will notice how the same message will often be present 10, 20, or possibly 30 times over. Spamming STAS is annoying and repetitive: it is not like a student is going to re-read the same message repeatedly. 
"The question I am asking the community is are you reposting on STAS because you actually believe it is helping and supporting whatever it is you are trying to further," said Ken Rosenfeld, Dean of Campus Life. "Or are you simply reposting it because that is what has always been done without evidence to suggest that it has any sort of impact on spreading whatever message or sentiment is intended?" 
On Outlook, there are other ways to show your support for events and activites. Instead of reposting, you can like messages.  
"Simply like the original email, which will not clog STAS but still shows a sign of support," Mr. Rosenfeld said. "The original sender will see the liked the message. So, it is not an anonymous like, you are still getting the instant gratification of someone giving their approval that what you wrote has value." 
To like a message on Outlook, simply go to STAS on your computer and click on a recent email. Then, on the top right corner of the message, click on the thumbs–up icon.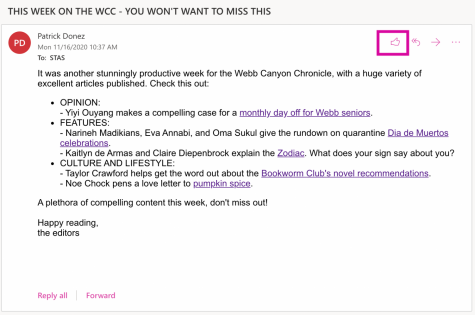 Before posting emails on STAS, think about the following questions: When reposting a message on STAS, are you actually trying to engage with your audiences? Or are you simply following the trends of others?  
There must be a purpose to the repost because you do not want your message to be lost in the flood of similar messages. There are many important emails that are buried beneath the ongoing reposts of the same message, but these cannot be noticed more because of the repetitive, purposeless messages.  
Reposting does not guarantee a greater audience or more participation at an event, so when considering posting something to STAS, make sure your repost has a motive that will benefit the Webb community.  
Leave a Comment
About the Contributors
Laura Haushalter, Public Editor
Enthusiastic, positive, determined, and athletic, Laura Haushalter ('21) uses her passionate attitude to take on many leadership roles: captain of the...
Bianca Arteaga, Public Editor
Do you know many busy bees at Webb? If you don't, then maybe you haven't met Bianca Arteaga ('22)—a self-described bee, she is productive, cheerful,...