Coronavirus cases plummeting: the beginning of an end?
In the month of February, COVID-19 transmission has sharply declined, boosting citizens' hopes that the U.S. may still be able to contain the pandemic despite worries over new variants. Global infection rates have substantially dropped since the beginning of 2021, from more than five million cases a week to two and a half million in mid-February. The greatest plummets have come in countries that were most affected earlier, therefore COVID-19 cases have prominently declined in the U.S.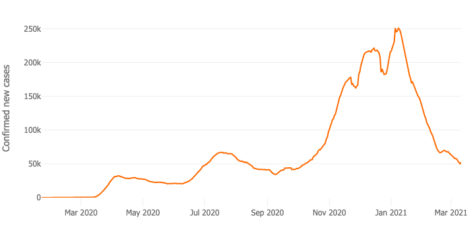 From behavioral changes to the accelerating vaccination campaign, there are various potential reasons for the decline of COVID-19 cases. According to research done by investigators at the University of Washington's Institute for Health Metrics and Evaluation, the decrease in coronavirus transmission was primarily due to the continued scale-up of vaccination and the declining seasonality. 
SARS-CoV-2, the virus that causes COVID-19, was found to be a seasonal respiratory virus, typically peaking during the winter, especially in the months of January and February, and less virulent during the summer months. According to a published analysis, there is a statistically significant correlation between temperature and active cases and mortality in each country. Temperature and location are major influences in the spread of infections with the SARS-CoV-2 virus.  
Vaccination has created significant impacts on mitigating COVID-19 outbreaks. With more than 90.4 million vaccine doses having been administered in the United States to date, an immense vaccination rollout is underway. Now, more Americans have received at least one dose than have tested positive since the pandemic began. 
With cases plummeting, guidelines for reopening outdoor venues have been gradually eased, as the fall and winter surge seems to be coming to an end. In fact, both Texas and Mississippi governors have completely lifted coronavirus restrictions and mask mandates. Texas Governor Greg Abbott asserted that even though the coronavirus still exists, vaccines have led to numerous recoveries and reduced hospitalizations, therefore state mandates are no longer needed.  
At Webb, this decrease in COVID-19 cases has led to a partial reopening of campus with on-campus study groups and spring sports practices having started March 1st. 
"As we have lived through the pandemic, Webb has been struggling with the unfortunate reality that we are in LA County — one of the hardest hit counties, as well as a country (and state) that has extremely restrictive guidelines," said Melanie Bauman, director of counseling and health education. "However, as the county has begun to allow more in-person cohorts arriving to campus, it's been an amazing opportunity to begin to step into live as Webb as we have known it to be in the past." 
Study groups set up on campus provide local students an opportunity to connect with their friends, peers, and several faculty members. Having quarantined for so long already, students have faced great challenges that come with social isolation, and therefore, participating in these on-campus study groups is the perfect solution to get out of the house and socialize. 
"Being on campus has definitely allowed me to see my friends and other Webb faculty," Catherine Chen ('23) said. "We have opportunities to socialize and play games during breaks between classes. Even when we socialize, we do our best to keep distance between ourselves and to avoid contact." 
In addition to study groups, spring sports and athletic practices have also resumed on campus. Student athletes and coaches are required to wear masks during practice at all times, with the exception of activities requiring extreme physical exertion where masks can temporarily be taken off. Furthermore, all athletes and coaches coming on campus complete a COVID-19 screening on their phone. 
In order to provide safe interactions for students and faculty participating in the on-campus programming, Webb has established its own two-step testing, contact tracing, and established medical intervention plan. Specifically, it uses the Abbott Antigen COVID test, which gives instant results in 15 minutes.  
"So far, things have been going really well with these afternoon activities, as everyone has been following our policies on masking, physical distancing, and hand hygiene as well as completing their daily health assessment prior to arriving on campus," said Stephanie Baron, health center director. "With all of these layers of protection, we are able to confidently run a safe program." 
In a letter sent to the entire Webb community on Monday, March 15th, Taylor Stockdale, Head of Schools, and Theresa Smith, Associate Head of Schools, announced that while academic courses will remain online as currently scheduled for the rest of the school year, they will amplify the on-campus programming to provide a better experience for students following Spring Break. In particular, they will expand afternoon activity programming, rotate study groups, increase access to athletic competitions, as well as entry to the library, Hooper, science lab, and art studio facilities. 
"We are doing our very best while staying in the guidelines of L.A. County, to ensure the best possible continuity of experience for all our students" Mr. Stockdale said. 
Thanks to Pfizer, Moderna, warmer weather, and maybe even America's good behavior and mask-wearing this past month, coronavirus cases has substantially plunged and hospitalization rates have been down 50 percent. While coronavirus precautions are still crucial for on-campus programming and gathering, there is a ray of hope that life will soon return to "normal", and Webb can resume to in-person classes like how it was before. 
Leave a Comment
About the Contributor
Leeann Shu, Chief Copy Editor
You might usually associate a Leo with being supercilious, selfish, and self-centered, but Leeann Shu ('22) exemplifies the opposite of these traits. Leeann...