Devastating earthquake on the border or Iran and Iraq takes the lives of many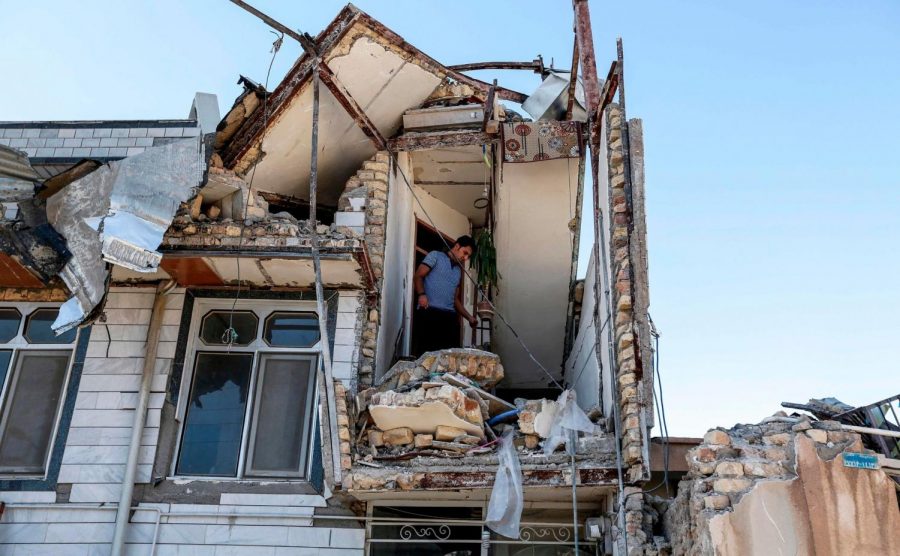 On Monday, November 13, Iranians and Iraqis went searching for survivors after a 7.3 magnitude earthquake hit the Iran-Iraq border, killing more than  530 people and injuring thousands of others. The epicenter of this deadly earthquake was near the Iranian city of Ezgeleh. The earthquake was measured to be the biggest quake to ever hit the Western part of Iran.
The majority of the impact was centered in Iran, where at least 407 people died and 6,000 were injured while there were eight deaths in Iraq and around 500 injuries. However, the area that was hit extremely hard was Pol-e Zahab, where more than 230 people had died in that city which has a population of only 30,000. The hardest part of the recovery was the main hospital that was unable to contribute much help because it was only partly running at the time of the earthquake.
 Iran's leader, Ayatollah Ali Khamenei, released a condolence-filled message on Monday, November 13 which urged people to continue looking for the survivors that have been trapped by the rubble and covered by falling pieces. His office also released a message that said, "The officials should hasten in these first hours with all their might and determination to help the injured, especially those trapped under the rubble."
Survivors of the earthquake have tried to reach out via social media, crying and begging for help as well. A resident of one of the buildings destroyed said to the New York Times, "There has been no help yet, neither food nor water, no clothing, no tents, there is nothing."
Some people have said they have had to sleep outside because their houses collapsed, while others cannot even call for help because the phone lines and electricity has been out since the earthquake hit. However, officials from the Health Ministry traveled to Iran with The Iranian Red Crescent using rescue dogs to search for any more survivors hidden under the rubble.
As much as people and families are trying to help, the Iranian government continues to struggle because the earthquake was a test of their stability of resources. They have been under scrutiny for years because of their inability to provide proper infrastructure to most housing properties. Now, because of the earthquake, the majority of these houses and buildings have been destroyed by the earthquake, leaving people outside in the biting cold.
Throughout the struggle, Iranians and Iraqis have yet to give up. Families are looking for their relatives by themselves with their bare hands and the government is working to try to provide shelter and food to the citizens who have lost everything.
About the Contributor
Serena Fangary, Staff Mentor & Co-Copy Editor
Serena Fangary ('18) has been a part of the Webb Canyon Chronicle since her sophomore year when she joined the team as a staff writer. As Co-Copy editor...