Recently, fans of music artist Eason Chan have been lining up outside the venue, blocking traffic as they wait to watch his concert, "Fear and Dreams." The Hong Kong Coliseum has been fully packed almost every night for over a month. 
Born in Hong Kong on July 27, 1974, Eason Chan is a singer, actor, and songwriter. He is one of the most prominent figures in Hong Kong's mainstream music scene and has an irreplaceable position in the music industry.  
Since the Covid-19 outbreak, Eason has not performed. He previously admitted in an interview that he had not earned any money for a while. "Fortunately, I am not a person who spends a lot of money, there is still a little left to live," he said. 
Even though some singers had already been performing, Eason postponed his concert tour for three years. On December 9, 2022, Eason Chan finally held his "Fear & Dreams concert tour" in Hong Kong Coliseum as his post-pandemic debut. The event continued until January 14, 2023. Along with Eason's urgent decision of two extra concerts, the tour included a total of 27 concerts.  
Encouraged by Webb's support for international students returning home, Dora Ding (24′) had the opportunity to watch the concert on December 29th. "For me, the concert is for family bonding, and to enjoy some music." Dora said. Through this experience, she clearly felt that her life was getting back on track from the restrictions of the pandemic.  
Dora's seat was at the summit of the venue. Despite its large size, the Coliseum was at maximum capacity. "I was even a little acrophobic when I first arrived," Dora said. "But the atmosphere created by Eason Chan and his fans soon calmed me down."  
For Dora, the highlight of the nearly three-hour show was the opening, "2001太空漫游 (2001 Space Odyssey)." She was impressed by the outstanding stage layout of this performance. "The dancers were all wearing spacesuits, including Eason Chan himself," Dora said. "The scene I remember the most is a seesaw with one dancer on one side, and Eason imitating motions in space on the other side. The space background they built is very cool."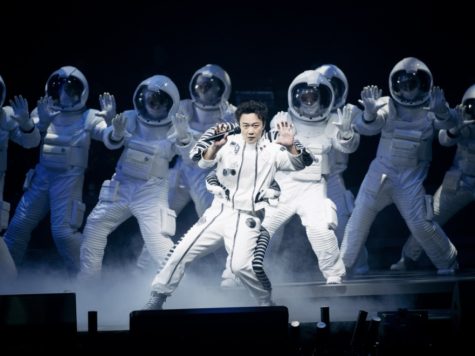 In fact, Eason's team invested significant effort to achieve this effect. The electronic screen used for displaying the space backdrop was 71 by 14.5 meters, extended to the top of both sides of the stage. Its massive size reached a new record for the Coliseum show and local concerts. According to the Hong Kong media, there was a screen-falling accident in the Coliseum only a few months ago, making Eason Chan's use of this technology riskier. However, the screen's visual impact created a phenomenal effect and allowed all the audience to see the stage clearly. 
 In addition to the remarkable performance of Eason and his dancers, Dora also echoed the enthusiasm of the audience. She recalled that at one point during the show, Eason's in-ear monitor malfunctioned, which caused him some frustration because he couldn't present himself to his fans in his best state. "His fans are all so supportive," Dora said. "They clapped and shouted and cheered him up." 
Eason's many fans are long-term followers, willing to support his career. However, this overwhelming popularity had also made concert tickets and merchandise purchases unfavorable for some fans. Scalpers monopolized concert ticket distribution channels and sold them at inflated prices for profit. Although the original ticket price was relatively reasonable, many concertgoers doubled the money or even paid more for their tickets.  
This ticket inflation hindered Dora's family from sitting together. Her mother, a fan, purchased the more expensive inside floor tickets, while Dora enjoyed the concert from the nosebleed area. "My original ticket price was HK$480 and it actually cost over HK$800." Dora said. "My mom's ticket was HK$680, but she spent more than a thousand for it." 
Similarly, Eason's merch T-shirts, especially the limit-edition-colored T-shirts, canvas bags, and pins, were also monopolized by fans or scalpers and sold at a higher price. "I didn't even find where to buy it," said Dora.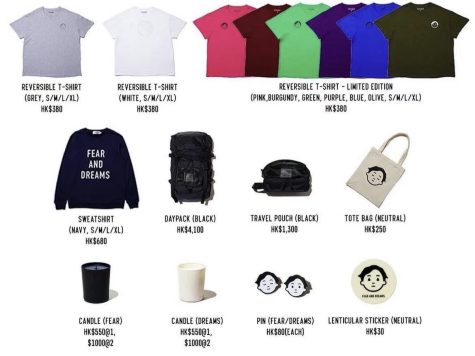 The large number of sales reflected the success of this concert. "I am impressed by him," Dora said. "He sang for almost three hours straight that night, and he needed to sing for more than 20 concerts on this tour, all full-house." 
The concert was also an accomplishment for Eason Chan himself. "I used to keep working and never stopped, so I didn't have much time to think," he said. "I have waited for this show for 3 years, and I don't know when my next tour is. The more I thought about it, the more scared I became. I didn't want to make this show great."  
Fans have not had the opportunity to attend Eason's physical concert for more than three years, and since the venue was not overly restricted with Covid protocols, the audience could immerse themselves within the musical experience. This may also contribute to people's appreciation and enthusiasm for this concert.  
In addition to Eason Chan's concert, many Webb students have also watched concerts for the first time since the pandemic recently, such as K-pop groups Blackpink and Aespa. It is precious to be able to bring everyone back together during this special time to enjoy their preferred music and dancing. With the opportunity to go to concerts, students' lives outside of school are gradually recovering from Covid.