Flipping your fortune: The Business of Reselling Streetwear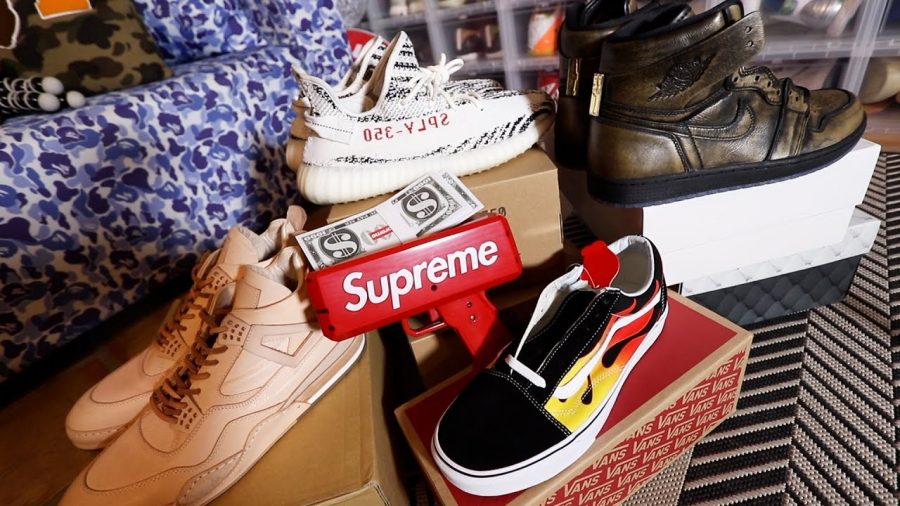 Remember the days when you'd wait for hours online or in front of a store to get your hands on the most beautiful t-shirt, hoodie, jacket, or pair of shoes? You couldn't wait to put it on and stunt on everybody who missed out on the chance to purchase such a gorgeous item. Well, now there's a new type of flex–the flex of reselling.
An essential element of reselling is hype. Hype, the extravagant or intensive publicity or promotion of a brand or object, drives resellers to make the largest profit possible.
The Process
  Here's how the reselling process works: a brand with limited supply releases an item at retail price. Because the supply is low and the demand for a product is high, the luxurious appeal of the said object increases exponentially. The item usually sells out immediately, making it difficult for a wide range of people to get their hands on the product. Once the item is secured, the lucky resellers begin looking for potential suitors for "their" product. Resellers mark up the price of their items by hundreds of dollars. The supply of the item might diminish, but the demand will only increase. That's how resellers have been able to make a living for over 20 years.
  Brands such as Supreme, Nike, Adidas, Bape, and Off-white have followed the 'low supply, high demand' business model for years. Knowing this, it's no secret why these brands are as hype as they are today. Everybody wants a piece of the clout, but there's not enough clout to go around.
When Supreme began in downtown Manhattan in 1994 as a small, urban skateshop, their product immediately began making waves in the streetwear industry. Although the brand has expanded since its conception, one thing has remained the same: the quantity at which Supreme sells its product.
  Resellers have discovered new ways to ensure that they'll never miss out on their chance to cop the most highly demanded item on the streetwear scene. In order for resellers to purchase the limited product, some use technology to gain advantages over their competition.
  Internet bots are a form of artificial intelligence that can perform automated tasks quicker than humans. Resellers use these bots when a brand drops a new item or collection to get a leg up on their competition by intruding a website, collecting website information, and purchasing items efficiently. To ensure that resellers get the products they're looking for, they may use more than one bot to accomplish this unlikely feat.
Although waiting in line is a way of the past, some stores still utilize in-store drops to sell their products. Resellers line up a day in advance and camp out outside of the store. Usually, only the people in the very front can get their hands on the product, but regardless of the facts, lines can go out of the store for miles.
Reselling: Becoming a business
  Some resellers make their living from selling high-end street clothes, meaning that they'll go above and beyond to secure the best products possible. Reselling is a competitive business, so any advantage resellers can get is the difference between a successful business and profitless hobby.
  Some of the best spots where you can find resold products are actual stores. Round Two, a streetwear secondary store, has brought reselling to the streets of some of the most fashionable cities in the country.
  Established in 2013 in Richmond, Virginia, Round Two is now one of the most popular stores in the streetwear scene. Since coming to Los Angeles in 2015 and then New York in 2017, Round Two has become the place where celebrities go to find vintage streetwear, sneakers, and accessories. Although most of Round Two's inventory comes from the owner, Sean Wotherspoon, who spends most of his time at thrift stores and flea markets, the store also accepts items from resellers.
  Round Two has its own YouTube show, which chronicles the typical business day at the store. The show features resellers who come in and sell their rare products to the store for a profit. Round Two pays people for products, so they can take ownership of the product, and resell it for a higher profit. A majority of the people who buy their product from Round Two, usually keep it to flex on their own, but a small percentage of people buy from Round Two to resell. Reselling has become a cyclical process between stores to buyers that won't end until someone decides to keep the product. The downfall to that–you lose your chance at an undeniably attractive profit.
Websites such as StockX and Grailed also allow people to create stores to sell their product. Resellers have capitalized on the internet and social media to connect with customers and make a profit.
The Reality
  Reselling can bring in a sizable profit, but turning it into a career is harder than people think.
"It's not for everyone," said an anonymous reseller on the Complex documentary, "Sold Out: The Underground Economy of Supreme Resellers'. "Everyone can try to be a reseller but not everyone is going to be a reseller."
  If you're passionate about streetwear and feel like you want to profit from the industry, then go ahead and try your hand at reselling. However, the industry is crowded enough as it is, and as mentioned before, there isn't enough clout to go around.