Webb welcomes WLSA students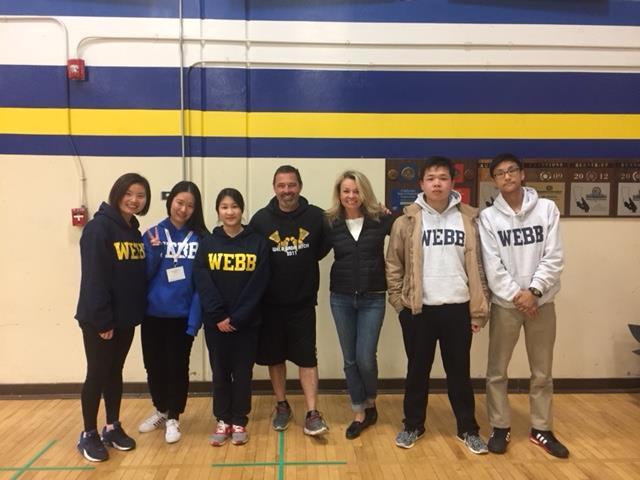 On February 8th, a van brought students from The High School Affiliated to Fudan University in Shanghai to the Webb Schools as part of an exchange program. The group of students included Andy Yang, Helen Yang, Amanda Wu, Brian Zhang, and their chaperone, Betty Wang. After a short orientation and a tour of the campus, the group cheered on WSC soccer at their last home game.
The World Leading Schools Association, WLSA, is a worldwide collaboration of 50 schools. WLSA brings together schools, teachers, and students of different cultures, who share and develop a curriculum to help students experience a fulfilling education.
Saying goodbye to small dorm rooms shared by four people and eight classes, ending at 9 pm daily, the four students began their two week exchange program at Webb.
After watching the boy's soccer game, there was a pizza party in Jackson hosted by the ISL, for the students to get to know the faculty, their academic hosts, and residential hosts. That night, they went back to their dorm rooms and prepared for the next day.
On Friday, the students became acquainted with Webb's curriculum, following Chris Haliburton ('20), Rebeca Castro ('20), William Deng ('20), and I, through their academic days. With their hosts, they participated in IPC labs, harkness discussions, and read the Great Gatsby.
In the afternoons, the WLSA students participated in the afternoon activity of their choice: museum, badminton, theatre tech, etc.
Chris Haliburton ('20), Brian Zhang's academic host said "It was different: I'm walking to class and someone's with me or we sit next to each other all the time. I did make friends though."
Personally, I found it slightly challenging to connect with Helen. She was shy at first, and it seemed like she didn't want to bombard me with questions. As we spent the next few days with each other, walking to breakfast together became less awkward and saving a seat for her next to me seemed like second nature.
On the weekends, WLSA went out to eat, visited the beach, had fun at Disneyland, and celebrated the Chinese New Year. ISLs prepared weekend activities to allow the group to see the most that LA had to offer. At night, just like boarders, the students followed rules of doorways and learned how to be a good dorm neighbour.
At the end of the program, Helen Yang said that she, "[made] up [her] mind to work harder and participate more [actively], which means telling others what [she thought] about something freely and not be shy, which [she] could hardly [do] before." Her favorite afternoon activity was museum, where she got to work with fossils which was something she has never experienced before.
Sally Mingarelli, Director of Experiential Learning, said, "Part of our interest is in trying it out as hosts first and wondering if a reciprocal exchange could planned in the near future."
About the Contributor
Summer Chen, Editor-in-Chief
A bonafide Libra, Summer Chen ('20), the Editor-in-Chief of Webb Canyon Chronicle, believes herself to be emotional, caring, and guided by her intuitions....