VWS Class of 2020 conquers a strenuous first day of retreats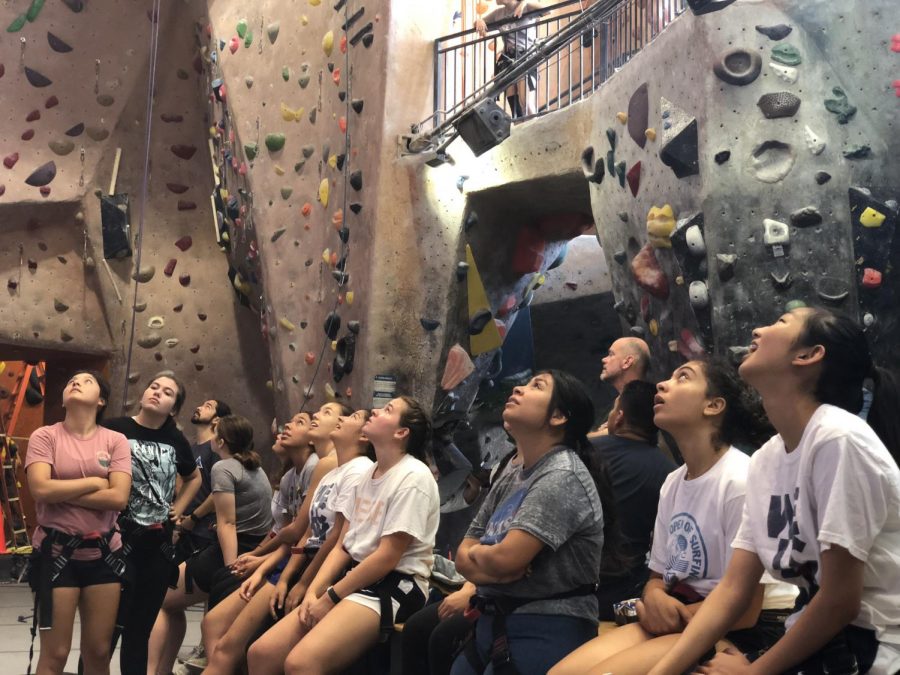 On Monday, August 20th, the VWS junior class kicked off their start-of-year retreat with a meeting in Liu Cheung Theater. Lead class advisor Dr. Elizabeth Cantwell opened with few motivational remarks of advice regarding the transition into becoming upperclassmen.
Working in small groups, students then completed a creative activity that required them to use art supplies to innovate and share a community in which they wish to be a part of. While one group invented a community of superheroes with legendary powers, another group created a 3D box filled with cut-out words and explained how it metaphorically represented their idealized community. The purpose of this activity was to show that while students may not have the ability to read minds like the superheroes in one of the group's idealized community, juniors still have the agency as upperclassmen at Webb to enact radical change and push younger students in the right direction.
Isabelle Saad ('20) commented, "This activity was a great collaborative way to reunite our class after summer break and get us thinking about our role as leaders and "community-builders" of Webb on campus. It was lovely to see how groups of students from different backgrounds each developed unique communities while maintaining and representing the same core beliefs of hope, trust, and honor."
After spending around an hour indoors on personal reflection activities, it was time for some active fun. Students split into two groups according to their advisory. Half of the students took the vans and headed east to Hangar 18, a local rock climbing gym in Upland. Meanwhile, the other half hiked up to Faculty Field to learn how to employ a compass while creating a scavenger hunt for another group. Students got the opportunity to try both climbing and orienteering while interacting closely with their advisory groups.
Kara Sun ('20), who tried rock climbing for the very first time, shared her personal growth experience at Hangar 18. "I started climbing up the footholds super slowly, feeling kind of insecure because my sweaty hands kept forcing me to lose my grip. I was about to go down before I reached halfway, but then two of my friends, Sydney and Michelle, started to cheer me on. Hangar 18 revealed the importance of friendship because one of my personal goals for junior year is to surround myself with those who bring me up, push me to try new things, and help me to conquer my fears."
Kate Guernsey ('20) remarked, "I enjoyed the orienteering activity because it prompted conversations of reflection in my advisory. While walking outdoors, I got to learn a lot of casual things about the people in my advisory. To fully function as a support group, I think it is important for us to spend part of the retreat building trust amongst one another–and that starts with us getting the time to talk, spend time, and figure out problems together."
Following the rock climbing and orienteering activities, students debriefed within their advisory groups about their initial reactions to the first day of retreats. At 5 p.m., the WSC and VWS junior classes united after a long day outdoors for a pool party complete with modern music, loud laughter, and tasty tacos. Finally, after a long day of physically demanding activities, junior boys and girls were invited to sit back, relax, eat popcorn, and watch Thor: Ragnarok on the comfy, homey sofas of South Hutch Lounge.
If today sounded strenuous, juniors will surely need to rehydrate, rejuvenate, and replenish their electrolytes to fuel them through a five-mile scenic hike tomorrow throughout Crystal Cove and Laguna Beach.
About the Contributor
Sydney Wuu, Editor-in-Chief
Imagine being Editor-in-Chief for the Webb Canyon Chronicle, VWS all-school president, co-captain of the varsity tennis and water polo teams, and a big-time...