Drew Hersch ('19): it's not me it's u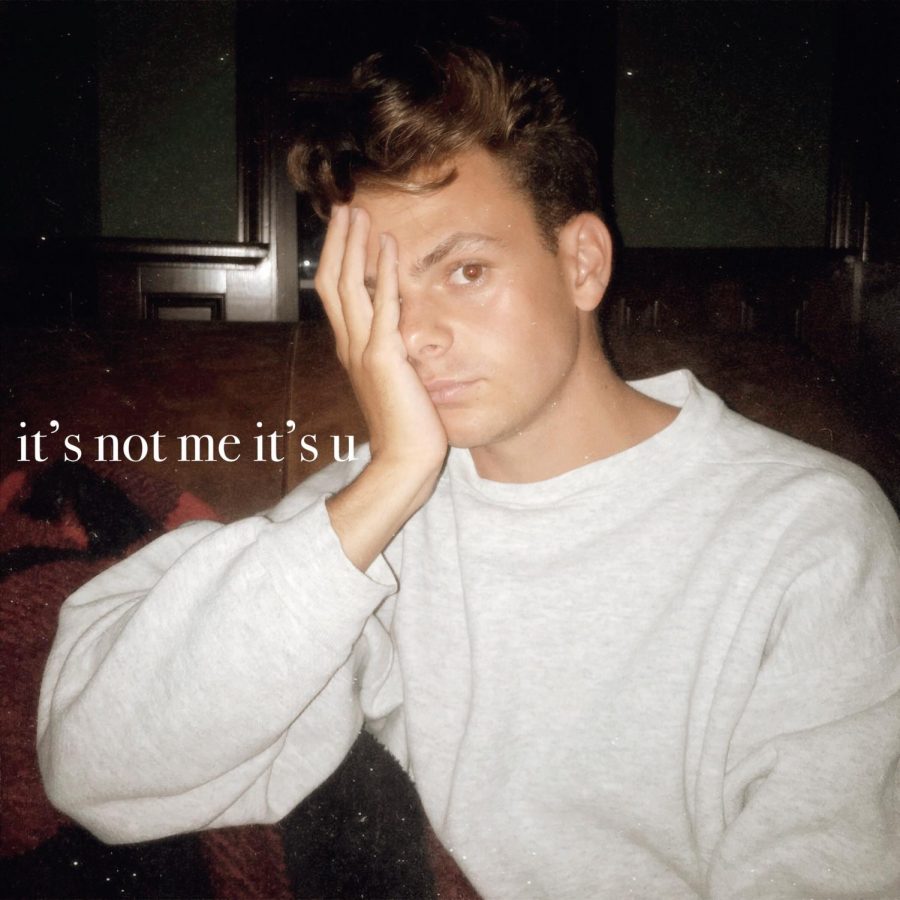 An interview with Drew Hersch ('19) about his EP: it's not me it's u.
J = Janitza
D = Drew
J: Can you describe what an EP is and how you released it?
D: I released an EP, it's not me it's u, on Spotify and iTunes. An EP [extended play] is an album with five to six songs, so it's not a full album. I wrote it during the end of last year and throughout the summer, and I recorded and produced it all by myself. It was the first time I released original music.
J: What inspired you to create this EP?
D: I have always wanted to create music, but I haven't known what to write about. Spring break of 2018 gave me a enough inspiration to write about it all summer. I used my experiences, put all my emotions into it, and it eventually turned into this album.
J: How do you think that channeling emotions into songwriting is a beneficial experience?
D: Because music is taken more casually, when people listen to devastating songs, they assume "it's just a song." It ends up being a really casual way to represent your deepest feelings. It's not just putting your lyrics out there, or writing an Instagram caption. They aren't just focusing on the words when you create a song–they also hear the tune, the instrument. It masks your personal meaning, while still giving inspiration.
J: How did you go through the process of writing?
D: I wrote everything on the ukulele. I went on two trips to Catalina Island this summer, and I just spent my time on the back of the boat, writing everything. I had the idea to start the EP at the end of my junior year, but I wrote it all within the span of a month this summer. I started by thinking of a lyric in my head, and then I would use that as the base to create a new song. For example, I woke up at 3 a.m. one morning in Catalina to write "I am in love with the version of you that doesn't exist" in my notes. The next day, I made it into a song. Another example was the lyric "It's a war that I'm willing to fight but by the time it pays off, I'll be dead." Some songs took hours to come up with hooks and lyrics, and some took weeks.
J: Can you describe the different facets of your EP?
"
After listening, people have told me that if Billie Eilish, Rex Orange County, and Frank Ocean had a baby, it would be my EP."
— Drew Hersch
D: After listening, people have told me that if Billie Eilish, Rex Orange County, and Frank Ocean had a baby, it would be my EP. It consists of five songs. I tried to compile a variety of music: one song is completely stripped with piano and vocals, a good-vibe acoustic, a wannabe EDM, and then a catchy pop type.
J: Do any of your songs stand out to you the most?
D: My favorite song is currently "butterflies" which is second on the album. It's ironic because the lyrics are the most depressing, but it is definitely the most upbeat song on the entire project. Many people will think that "nonexistent" is most depressing because it fits the category of a sad song, but the lyrics to "butterflies" are the most sad.
J: How do you integrate your music into your social media presence?
D: For me, it helps to know that I have people that care about my creations on Instagram. If I did not have a following, releasing an album may have been more difficult but because I had people to post to and hype up, the process was so nice. I was able to announce the countdown when there was a week left, and a couple hundred of people were waiting until midnight so they could listen when [the album] was released. It helped to have people excited about what I was creating.
J: What advice do you have to someone at Webb or someone reading this article that wants to share their own music?
D: Put as much out there as possible. A lot of people think that you need a producer or connections in order to grow a following and then release music. People have the idea that they need to build that following and then release music once it's perfect, but my following and engagement are relatively small. I know I will look back on this EP in a few years and see what things I could have done better, but I am just going to keep releasing and releasing because that is how people will know what I am all about.
To check out more of Drew Hersch:
About the Contributor
Janitza Luna, Editor-in-Chief
Standing at 5'0"ft tall, Janitza Luna ('20) embodies the persona of small and mighty. Born into the Aries astrological sign, her fiery determination...