New VWS students embrace tradition at Signing In Ceremony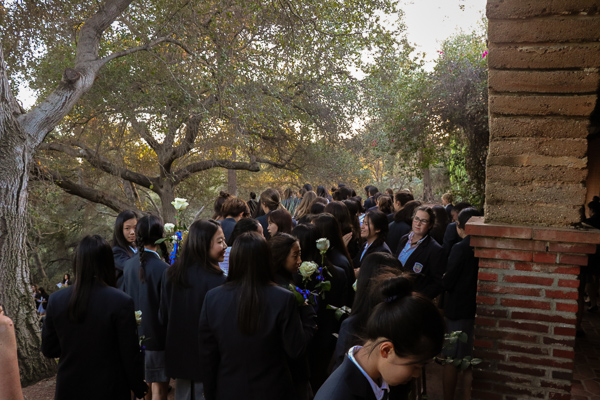 It is the time when the air starts to feel cooler and everyone adjusts to the school year, especially the new students. The chapel bells ring and the wooden benches squeak. Everyone sits in silence, watching their new peers officially become part of the school. These new freshman sit anxiously, hoping they do not trip or cough at the wrong time.
On September 12th, 2018, 50 new students cemented their bond with their class and the school through a ceremony. New students signed their names in an old enrollment book. The tradition started on September 11th, 1981, and the same book has been used ever since. Vivian Webb School started with 34 students. Originally, the ceremony was a simple event on the front steps of the school. Now, the Signing-In Ceremony is held in the Vivian Webb Chapel, the school's sanctuary of comfort and personal reflection.
Ms. Sarah Lantz, Dean of Vivian Webb School, said, "The Signing-In Ceremony is a turning point in the year for the new students to feel part of the community. It officially welcomes them into the school."
Dr. Theresa Smith, the Assistant Head of Schools, said, "The ceremony commemorates a momentous event in the school's history. They wanted the Vivian Webb School to have its own traditions and values … and for the girls to feel welcomed in the community."
Mia Baldwin ('22) said, "It was surreal. My brother went to Webb and I thought our experience would match each other; it doesn't. Webb really emphasized their value of community that night, and I am among one of the many who felt that."
Mary Davis ('19), an Honor Cabinet member, had a different perspective on the ceremony her freshman year. She recalls "not knowing what it meant or realizing how important it was." Now, as part of the Honor Cabinet, Mary understands how uniting and sentimental the ceremony is. She said, "It's about acknowledging the first women to enter the school."
Although one student challenged tradition and refused to sign, the ceremony continued the tradition of welcoming new students into the school. A special thanks to Ms. Mary Tarushka, Ms. Cindy Jeantete, Ms. Sarah Lantz, and the Honor Cabinet for organizing the event.
Hang on for a minute...we're trying to find some more stories you might like.
About the Writer
Isa Flores, Staff Writer
Isa Flores ('21), an Upland native and crime/detective thriller aficionado, is a new addition to the Webb Canyon Chronicle staff. She is a book-lover...