88rising changes "History" for Asians in pop culture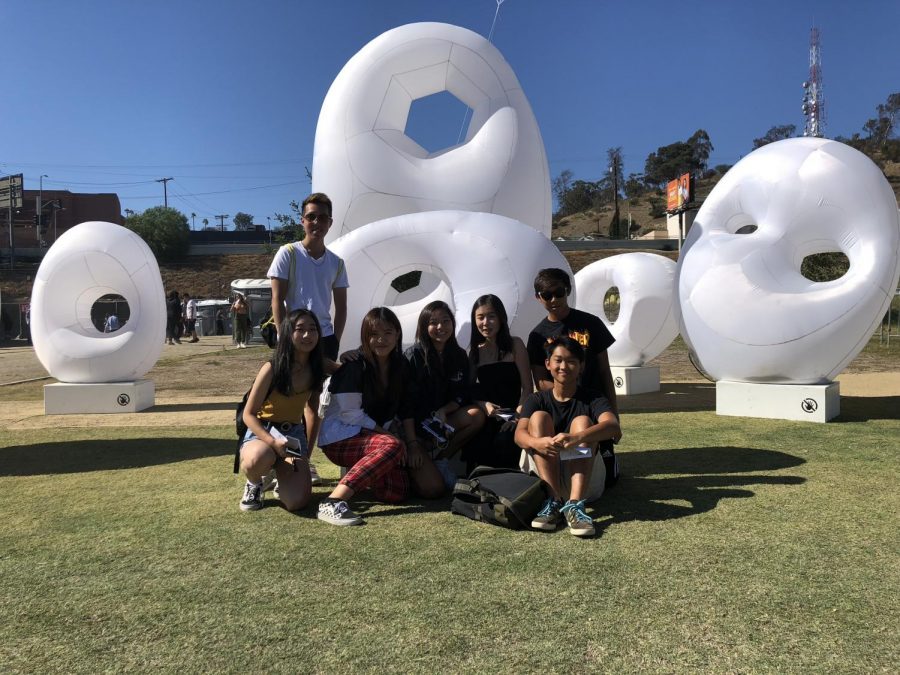 88rising has one main goal: to feature more Asians in pop culture. In 2015, Sean Miyashiro founded the "hybrid management, record label, video production and marketing company" that now promotes acts like Rich Brian, Joji, NIKI, Keith Ape, Higher Brothers, and more. The artists sing and rap in English, Chinese, and Korean.
On September 22nd, 88rising inaugurated their music festival, Head in the Clouds, at the Los Angeles State Historic Park. The festival featured artists like Yung Bans and Yung Pinch in addition to other artists in the group. Following the festival, 88rising began their global tour.
Many Webb students attended the festival to experience in the excitement. Adrian Leong ('19) said, "As an Asian, I was very excited to see 88rising, which is mostly consisted of Asian members and serves as a really good representation of our community in the industry."
Although she did not attend the festival, Allison Lilley ('19) said, "They're the only Asian hip-hop artist I know that aren't KPop. Immediately, I was drawn to them and their music because it showed representation. I like the references and I like Rich Brian because he's funny and talented."
Recently, 88rising has spiked in popularity after the release of their first album, Head in the Clouds, in August of 2018. Listeners have also been drawn to music from the individual artists, as well as listen to collaborations with more well known (non-Asian) artists like 21 Savage, Trippie Redd, XXXTentacion (rip).
Some fans are only familiar with certain artists of the group. Jill Ji ('20), a fan of Higher Brothers, said, "I feel like the hip-hop subculture is on the rise in China right now, and I think they're one of the best ones in terms of the music quality and their skill…It's cool how other people can appreciate Chinese hip-hop music, especially when hip-hop music isn't what people associate China with. They're breaking that stereotype and sometimes in their songs they will mention things related to Chinese culture."
Sean Miyashiro founded the company, formerly known as CXSHXNLY, to promote and represent Asian artists in pop culture. Miyashiro's vision was to create "Vice for Asian culture." A year later, the company released their first Youtube video under a new name, 88rising. In Chinese, 88 means "double wealth" and "double happiness."
Each artist in the management has their own career, but have united under 88rising. According to Miyashiro himself, their hip-hop music is intended to change the perspective of Asians around the world "just like Obama did for African-Americans."
A movement to showcase more Asians in music was initially met by skeptics who did not believe that Asians could rap. Rich Brian smashed this doubt when he released his rap song, "Dat $tick." The rap song made it to the top 5 of the Billboard US Bubbling chart.
Since their listeners are mainly Asians who are not accustomed to Asian artists in the trap scene, 88rising has been criticized as being too Westernized. However, Miyashiro is bridging the divide between Eastern and Western music cultures.
The company has also faced pushback from appropriation of black culture despite their intent to spread appreciation. For example, Rich Brian used to be known as Rich Ch*gga, a play on the existing racial slur for people of color. He responded to the criticism and said, "I wasn't trying to offend anyone." He claimed to stay away from the slur in his future raps.
In the future, 88rising hopes to sign Chinese stars and work in film. These bigger platforms will allow the company to become "the Disney for Asian culture." 88 will be collaborating with its team in Shanghai and office in Los Angeles to create more crossovers of Asian and American pop culture.
Across Webb's campus and beyond, music from 88rising can be heard streaming through earbuds, phones, and speakers. Webb has a large population of Asian students, and these artists act as people they can relate to in popular culture. Just as the casts Crazy Rich Asians and Black Panther shine as a beacon of hope for more ethnic representation in visual media, 88rising's mission of integrating cultures in music shows the importance of accounting for more diversity across the wide spectrum of the entertainment industry.
About the Contributor
Summer Chen, Editor-in-Chief
A bonafide Libra, Summer Chen ('20), the Editor-in-Chief of Webb Canyon Chronicle, believes herself to be emotional, caring, and guided by her intuitions....