Adventures of the Peccary Pals
On October 17th, I flew to Albuquerque, New Mexico with Juliana Base ('19), Euphy Liu ('19), Olivia Vasquez ('19), and Ben Martinez ('19) to attend the Society of Vertebrate Paleontology (SVP) conference. This annual conference is held in different countries every year for paleontologists worldwide to present new research, learn, and network.
Dr. Andrew Farke, the teacher guiding us through our projects and a board member of SVP, said, "SVP is the networking event for paleontologists."
Euphy Liu ('19) and Olivia Vasquez ('19) researched an Edmontosaurus's beak and presented their findings at a poster session. They found that Edmontosaurus beaks most resemble modern turtle beaks, but because different species of turtles with similar beaks eat different diets, it is still difficult to determine what the dinosaur ate.
Olivia Vasquez ('19), an avid participant in the paleontology program and an involved volunteer in the museum, said, "The poster presentation was interesting because we were presenting to professionals and they were interested in our research. That is because we actually have the resources at Webb to carry out research. We are now focused on writing the manuscript for our paper that we intend to publish by the end of the year."
Juliana Base ('19) and I presented our poster on two inner ear bones of the Hyaenodon mustelinus, an extinct carnivore originally found in the Brule Formation of Wyoming. We spent our junior year making 3D models of the malleus and the ectotympanic bone. We presented our models along with models of other carnivores on our poster as comparisons.
The students who attended the conference enjoyed themselves. Ben Martinez ('19), a second-year Peccary Scholar, said, "It was very interesting to see the wide demographic of people from Japan, China, the UK presenting their individual and unique research. It also was very nice to see some familiar faces such as Dr. Atterholt and see Ms. Lepore present on Tyrannosaur coprolite. We also attended a presentation on the functional evolution of trunks through different species including the dik-dik."
We received feedback from top paleontologists and PhD students on our posters. Inspired by the quality of work at the poster session and with blessings from the authors of papers we cited, we returned to Webb ready to work on publishing our papers this year.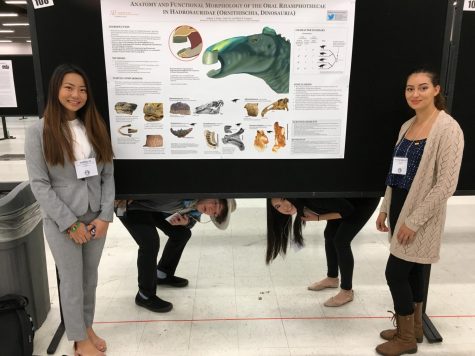 About the Contributor
Cathy Yan, Co-Editor of Features
Cathy Yan ('19) is a senior boarding student from Beijing, China. She calls Beijing home, but has also lived in Canada and the United States. Although...