YouTube bans challenge videos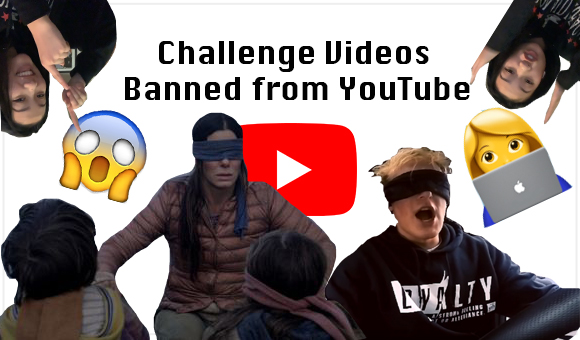 A vehicle drives recklessly on Baseline, speeding at 60 miles per hour. Cars blare their horns and pedestrians scramble for their safety. Little do they know that the driver is blindfolded and laughing as they film a video for their YouTube channel. This is the Bird Box challenge.
Over the past few years, there have been a number of "challenges" that have emerged from YouTube. From the more recent Bird Box challenge to the cinnamon challenge back in 2012, all of these challenges have moderately endangered both the challengers and the people around them to some extent.
The Bird Box challenge, which involves blindfolding oneself while doing everyday acts, is inspired and named after the Netflix original movie Bird Box. Popular YouTubers such as Jake Paul  and Morgan Adams participated in the Bird Box challenge, receiving millions of views and inspiring tons of people to follow suit. YouTube is an extremely accessible website that influences 1.3 billion people from seniors to young children, which is why these challenge videos can be rather problematic.
Ryan Bridges ('20), who injured his hand while participating in the Bird Box challenge in Fawcett Library, said, "This will definitely have a better impact [on the world] because these are dangerous challenges and they won't be as popular. For social media, it will probably take away some numbers for YouTube, but for personal health, it's a better option."
These kinds of challenge videos not only inspire people to follow in others' reckless footsteps, but they also influence people to record their versions of the challenges and share them with others. Eventually, the videos go viral with the whole world following right behind.
YouTube said that they worked with "child psychologists to develop guidelines around the types of pranks that cross this line" and found that a lot of YouTube's content is not suitable for a major audience group: young children.
With this statement in mind, YouTube has decided to ban all challenge videos that include dangerous content. YouTube made an announcement on January 15th, 2019 and said, "We've updated our external guidelines to make it clear that we prohibit challenges presenting a risk of serious danger or death, and pranks that make victims believe they're in serious physical danger, or cause children to experience severe emotional distress."
Stephanie Baron, who works in the health center and is a mother of two, said, "I think this is a pretty good thing and having a little bit of extra help from the outside is really good. A lot of parents aren't even aware [of the ban] so I think that if the people who run social media can help out then that's even better."
YouTube's new ban will not only improve the safety of the Webb community, but it will also help people throughout the whole world understand social media's impact on the well-being of others.
About the Contributor
Emma Lin, Editor of Culture & Lifestyle
Emma Lin ('20) will be entering her senior year at Webb. Embracing her new role as the Editor of Culture & Lifestyle for the Webb Canyon Chronicle,...