Chinese tutors bring Chinese culture to Webb for 春节 (chūn jié)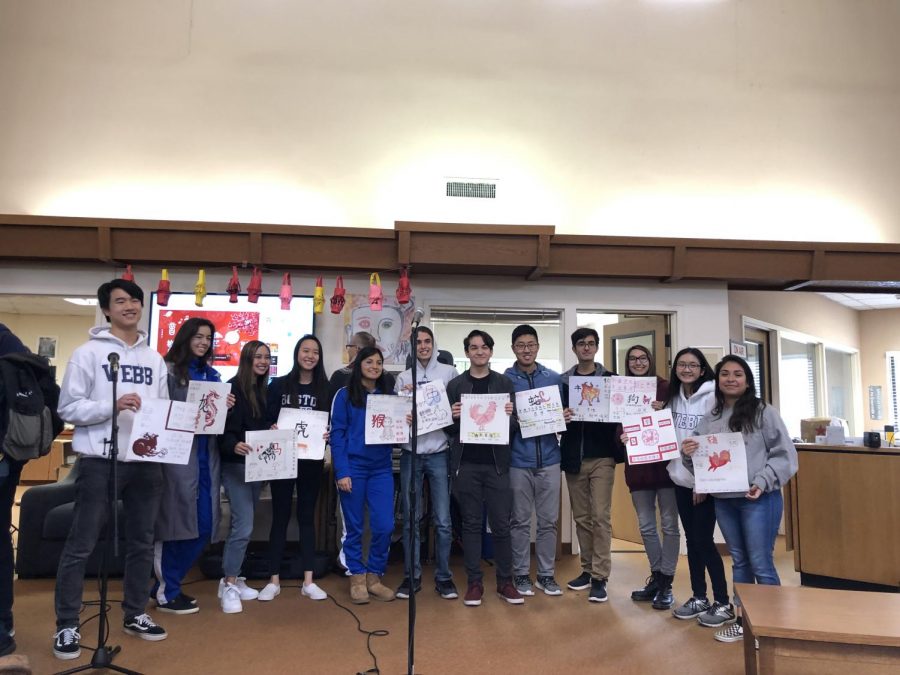 Family members and extended family crowd around an overpiled table filled with pan-fried veggies, dumplings with all sorts of fillings, sweet and sour fish, and bowls upon bowls of rice. On the TV, CCTV New Year's Gala (春晚 chūn wǎn) shows celebrities and performers dressed in festive outfits singing and staging skits. The long awaited Lunar Chinese New Year is finally in full force.
In China, the New Year is the most important holiday. Families from all over the country travel for hours to be with their families and jump start the new lunar year. Children receive red envelopes (红包 hóng bāo) filled with money from their elders in celebration.
This cultural event is celebrated mostly in China and its surrounding countries, but with the diaspora of Chinese people and culture globally, its festive atmosphere has spread around the world, even to Webb.
Euphy Liu ('19), a Chinese tutor and Beijing native, said, "As a China-born Chinese, traditions are huge part of my life. Being able to share them with my friends at Webb is very meaningful to me. To me, making dumplings or celebrating new year with calligraphy and paper arts are family traditions. The Webb community is my family here, and I want to share my joy and Chinese culture with them."
Due to the changing lunar calendar, Chinese New Year falls on different days of the spring season. Chinese New Year includes three important days: the day celebrations begin, preceding last day of the year (小年 xiǎo nián), Chinese New Year's Eve (除夕 chú xī), and New Year's Day. Respectively, the three days fall on February 3rd, February 4th, and February 5th.
Webb's language department and chinese tutors worked together to create a Chinese week, bringing Chinese New Year to Webb. The events start on Sunday, February 3rd, and end on Friday, February 8th. For students reluctant to attend, not only are events a great way to spend free time and learn about Chinese culture, each student who attends the full event will be given a culture point!
About the Contributor
Summer Chen, Editor-in-Chief
A bonafide Libra, Summer Chen ('20), the Editor-in-Chief of Webb Canyon Chronicle, believes herself to be emotional, caring, and guided by her intuitions....