Renny Jiang makes VWS history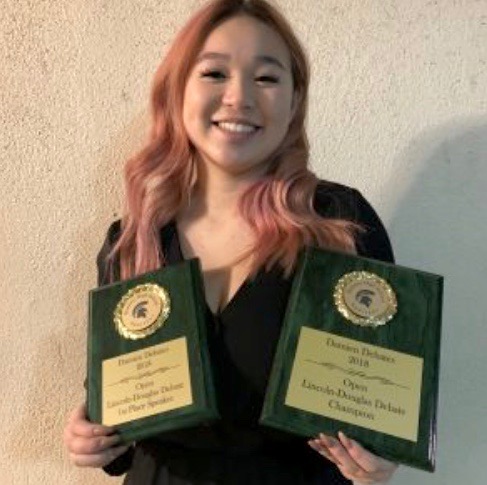 Renny Jiang ('20) speaks with aggressive rhythm that builds up to "the fatal flaw in the opposition's case" or "the reason we win this debate." After she effectively deconstructs each of her opponent's arguments, she pauses, and everyone in the room is unsure whether the brief silence is the calm before the storm or a moment for everyone to savor and process the power of Renny's words.
Webb competes in bimonthly tournaments with schools in Southern California, and Renny attends every one of them. At tournaments, the hundred or so students that compete know her as "the girl with the pink hair". For most debaters, winning First Place Speaker and receiving a gavel is a once in a lifetime experience; winning two is extremely rare. For Renny, it is almost expected, since she is the first speaker in VWS history to win four gavels in her three short years in debate.
She was not always a stellar speaker. She said, "I think that everyone has a learning period. Mine was relatively quick and it was the entirety of freshman year. I don't think it's necessarily about learning the format or info. You have to focus on you as a speaker and learning the style of speaking you prefer and being confident that you know the information."
She further developed her skills by recording her own speeches and critiquing herself from the perspective of a judge. Renny said she learned the most by "not being afraid to admit you are wrong and looking at yourself through the judge's perspective."
According to Jessica Fisher, Webb's debate coach, "Renny is one of the most talented debaters I have had the pleasure to work with. She cares deeply about the topics we discuss, she is committed to mentoring newer debaters, and she shows tireless dedication in improving her own craft."
However, Renny is humble about her accomplishments. "I acknowledged the fact that getting a gavel does not demonstrate how good of a speaker you are. If you're a good speaker you would be recognized by your teammates. That's more important than any object I could get. I just got lucky. I have a very open perspective on the meaning of winning a gavel. It only confirmed that I was a good speaker, nothing else."
Renny has since branched out from the High School Public Debate League most Webb debaters participate in by joining the National Speech and Debate Association. She received first place speaker in her first tournament, first place debater in the second, and both first place speaker and debater in the third, adapting brilliantly to the new experience.
On January 26th and 27th, she competed alongside Charlie Chen ('19) and Jacob Passalaqua ('19) in an invitational college debate tournament held at the Claremont Colleges. The team did incredibly well, coming in fourth overall against college teams and Renny won her fourth gavel against the high school speakers. Her next frontier to conquer is the International Public Debate Program, Team USA Debate. After auditioning and receiving confirmation of her spot on the team, she will start practicing for the tournament this spring. In the meantime, she will continue HSPDP, travelling to schools ranging from Claremont McKenna College to Compton High School to convince judges with her confidence, intelligence, and skill.
Not only has Renny found her voice on Webb's debate team, but she has also developed a strong passion for women's rights after observing the gender discrepancies in the debating community and arguing countless topics about women oppression. As one of only two young women at Webb to win the gavel, she founded her Women in Debate club on campus to encourage other girls to learn the necessary skills to articulate their beliefs. In college, she plans to pursue Gender Studies and advocate for women's rights around the globe.
About the Contributor
Cathy Yan, Co-Editor of Features
Cathy Yan ('19) is a senior boarding student from Beijing, China. She calls Beijing home, but has also lived in Canada and the United States. Although...