Students commemorate Parkland victims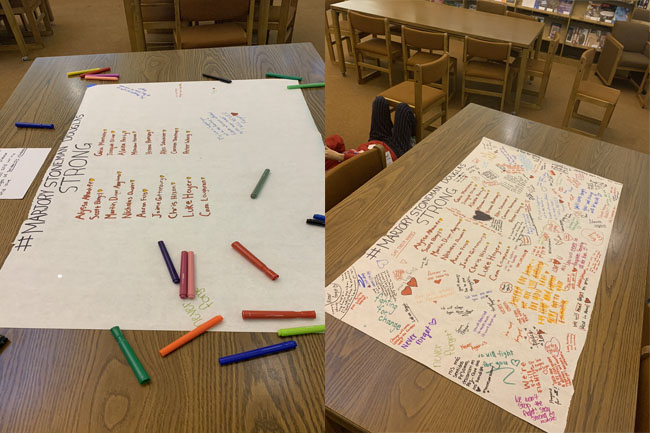 "We will never forget you – and change will be made."
Students crowd around a table in the library, extending condolences and sentimental messages with colorful markers on a blank poster. Their words surround the names of the 17 victims of the shooting one year ago at Marjory Stoneman Douglas High School.
Empowering Student Voices Initiative (E.S.V.I.) played an essential role in organizing this memorial event. On behalf of the club, Chris Haliburton ('20) sent a STAS email on Outlook, encouraging people to contribute to the poster and write their own note.
He wrote, "On this rainy Thursday morning, we celebrate Valentine's Day, but it is also the one year anniversary of the Stoneman Douglas High School school shooting in Parkland. E.S.V.I. is putting a poster [in Fawcett Library] so the community can write messages of support for the students of Parkland. We would greatly appreciate the participation of the community. The poster will be out all day. Thank you!"
Chris said, "Hunter [Lange ('22)] asked Ms. Mani if there was something we could do for Valentine's Day since it was the one year anniversary of the Parkland shooting. He wanted to do a poster so we could put it in the library and students at Webb could write messages of support and we could send that off to the students at Marjory Stoneman. As a group we went and talked to Mr. Farrell and Mrs. Lantz and asked them what we could do on campus. Today we got the poster board, we got the markers, and this morning I sent an email to the student body to let them know there would be a poster in the middle of the library."
Along with this poster, Webb boarding students and faculty members honored the victims during community dinner on Wednesday evening. Keigan McCullagh ('21) and Hunter Lange ('22) read the 17 names aloud while the community took a moment of silence and reflection.
At 10:17 a.m., students in high schools all across Florida joined in a moment of silence for the victims. The significance of this time was chosen to honor the 17 people killed, along with the 17 injured. Although the shooting actually began around 2:20 p.m., school officials picked a different time because Stoneman Douglas students were being dismissed before 2:20 p.m. local time, the moment the shooting began a year ago, to avoid being on campus at the time of the shooting. Marjory Stoneman Douglas did not hold regular classes today, instead opting for a "Day of Service and Love."
We stand strong with Marjory Stoneman Douglas High School, and we remember the victims of this tragedy.