Ted Bundy: the killer no one could escape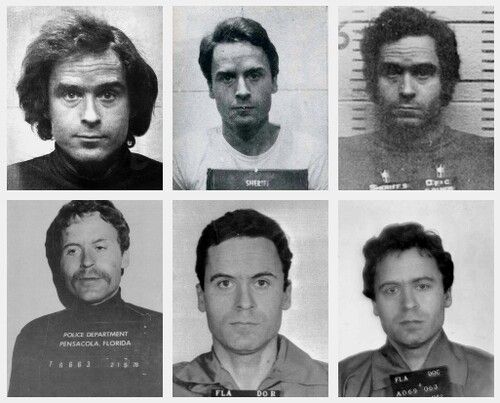 Charismatic, charming, and handsome. "He just doesn't look like the type to kill somebody," one woman said. The name "Ted Bundy" may sound familiar, as he is one of America's most notorious murderers, and the subject of a recent major motion picture as well as a Netflix documentary series.
Born on November 24th, 1946, in Burlington, Vermont, Bundy had a difficult childhood. He had a strained relationship with his stepfather and he was abused by his grandfather. As a child, he was also a frequent target for bullying.
However, as Bundy grew older, his intelligence and acquired social skills enabled him to have a successful college career studying psychology at the University of Washington. He grew up to become an articulate, bright young man, as well as establish several long-term relationships with a handful of women.
Bundy was the perfect psychopath. Preying on the kindness of strangers, his murderous tirade began in 1974.
Bundy's victims were generally young, attractive women with long, dark hair parted down the middle. His method was to approach his potential victim with the pretense of an emergency and ask them to help him carry books or packages. One of his more common approaches was to lead his victims to a secluded area and knock his victim overhead with a crowbar, stuff their bodies into his car, strangle them while they were unconscious, and sometimes engaged in necrophilia.
Part of the reason why Bundy was so difficult to catch was due to the fact that his face changed like a chameleon.   
There will always be an undying fascination with serial killers. Since Bundy first pioneered the term in the 1970s, their great presence in our media shows that the topic is one that sparks interest in many. When people watch documentaries about serial killers, it offers a glimpse into the other side of life: the dark side. People can watch this content all from the safety of their living room.
The disconnect between appearance and reality came to be seen as a defining trait of serial killers and is one of the main reasons why the world finds them so fascinating.
One reason why the everyday person is drawn to the violence of serial killers is because we ourselves cannot understand their actions and what might motivate them. There exists an innate human tendency to empathize with all things, good or bad. This curiosity can explain why documentaries on serial killers are so popular.   
Netflix has just recently come out with a new documentary series, Conversations with a Killer: The Ted Bundy Tapes. The show focuses on gaining insight into the serial killer's mind, as well as previously unheard of recordings and interviews from Bundy himself.
Bundy agreed to the recording of these tapes in exchange for a re-examination of his cases, which he believed would prove his innocence. However, instead of using the interviews as an opportunity to explain his motives, Ted refused to talk about the cases; his only concern was himself.
For over a decade, Bundy had refused to confess to the murders.  Maintaining his innocence, it was not until journalist Stephen Michaud came up with the idea of conducting an interview in the third person. This third person narrative became an opportunity for Bundy to reveal the motives behind his crimes as well as the thought processes, without the punishment of outright confessing.
This moment is when the tables turned. Right before Bundy was sentenced to death, he ultimately confessed to 36 murders, yet investigators have estimated there are many more. The true total is estimated to be over 100.
Despite the appalling nature of his crimes, Bundy became something of a celebrity. Right before his first escape from custody in Colorado in 1977, his charm and intelligence drew significant public attention over the course of his trial. The popular media had transformed Bundy into a romantic figure.
One man that is featured in an interview from the Netflix trailer said, "he had very blue eyes. When he really got going, his eyes went absolutely black."
His pleasant demeanor and endearing blue eyes could help explain how Bundy managed to kill at least 36 women before he was caught. Even then, people had a difficult time believing was guilty.
Following a well-publicized trial, he was sentenced to death in 1979 for the murder of two college students. In the following year, he again was sentenced to death, this time for the rape and murder of a 12-year-old girl. Bundy was executed in Florida's electric chair in 1989.
"He was charming, good-looking, smart… are you sure you have the right guy?" said an unnamed woman from the documentary.
"
'He was charming, good-looking, smart… are you sure you have the right guy?' said an unnamed woman from the documentary."
Following the Netflix series, Ted Bundy's life will also be illustrated in the upcoming movie, Extremely Wicked, Shockingly Evil and Vile, starring Zac Efron. The film will also be directed by Berlinger and is said to be told through the eyes of Elizabeth Kloepfer (Lily Collins), Bundy's former girlfriend, as she realizes the true nature of her lover.
Following the release of the 90-second teaser trailer, critics blasted the filmmaker for glorifying Bundy by over-emphasizing his charm and good looks.
The public continues to be fed this idea that white male serial killers are endearing, debonair characters — that they are just misunderstood, incomprehensibly complex people who also happen to have a strange proclivity for the dark and gruesome. While there is nothing wrong with being curious about what drove them to commit these horrific acts, that curiosity becomes an issue when movie or TV producers opt to completely gloss over the lives of the victims in favor of an easily digestible "outsider" narrative.
When we focus so much on the murderer — their neuroses, their troubled pasts — we ignore the fact that the victims of these crimes were also people. By romanticizing the men or women who commit these crimes, we end up forgetting that these victims were actual people. Victims' names are often forgotten, while their killer is publicized in the media.
The criticisms against the movie, along with the documentary series, are actually very common when you look at most movies about serial killers. American Psycho, Hannibal, and Monster all have received similar critique for glorifying killers. For many of the victims' families, these films can feel intrusive on the memories of their loved ones.  
However, Berlinger says the film is an exploration of Bundy's supposed everyman charm, and how people can find themselves to be so easily seduced by a psychopath. The Ted Bundy Tapes, Berlinger's documentary project on Bundy, also examines how law enforcement, the media, the courts, and other institutions of power interpreted the killer's persona — not to mention how he wielded whatever power and privilege that illusion afforded him over his victims, colleagues, and others in drawn into his personal circle.
"We serial killers are your sons, we are your husbands, we are everywhere. And there will be more of your children dead tomorrow." –Ted Bundy
About the Contributors
Emily Stepanian, Staff Writer
Emily Stepanian ('19) is a first-year staff writer for the Webb Canyon Chronicle. She was born and raised in California but oddly, prefers the winter...
Vanessa Casillas, Staff Writer
Vanessa Casillas ('19) is a senior boarding student from Upland serving as a staff writer in her first year in Journalism. Vanessa is a debate aficionado,...