Webbies celebrate Ramadan with the breaking of the fast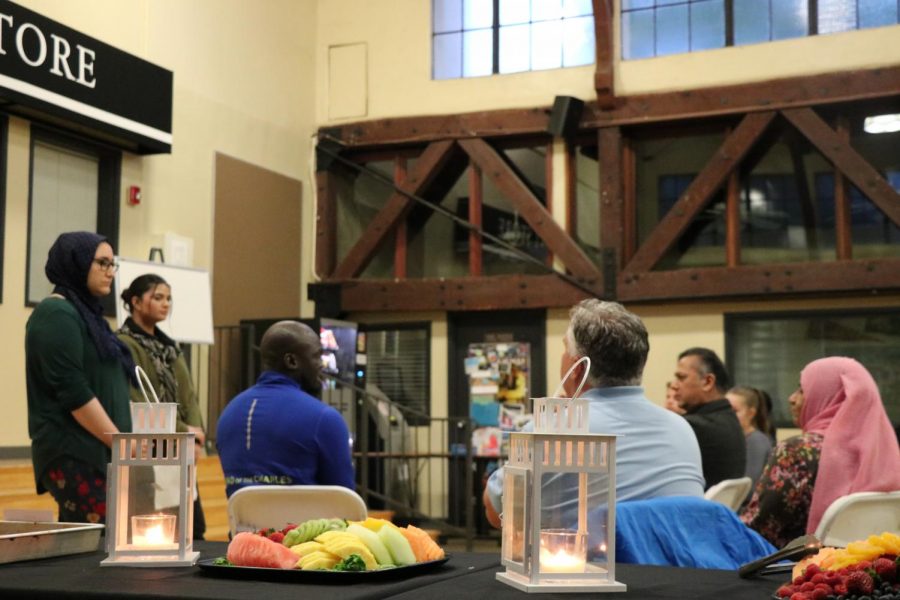 Ramadan is a pillar of the Islamic faith. On the evening of May 10th, 37 students gathered in Hooper Student Center to celebrate the ending of Ramadan with the traditional iftar, also known as the breaking of the fast.
Cheyaan Jamal ('21) organized the event with the help of some Webb parents, alumni, family friends, and Library Assistant Melissa Mani. After the attendees settled into their seats, Cheyaan elaborated on the history of Ramadan and its significance in the Islamic culture.
Cheyaan said, "At Webb, I've noticed that we haven't really had many celebrations for Muslim holidays or things related to Islam. I decided that since this month is Ramadan and such a significant time in our culture, we should probably do something to create awareness about it."
Ramadan is a month-long custom that is observed annually to commemorate the holy month in which the book of worship, the Quran, was revealed. In order to devote time to spiritual introspection, Muslims around the globe typically fast from sunrise to sunset. For Muslims, Ramadan is a time of reflection, praying, and giving back to the community to develop stronger relationships with God.
After Cheyaan concluded her opening remarks, Rahmi Mowjood ('90), a Webb alum and trustee, opened the iftar ceremony with a call to the sunset prayer.
Rahmi said, "I don't know if Webb has ever had a breaking of the fast on campus, at least not when I was a student, so it's really great to be able to see so many students that have an interest. Webb has always been very supportive in expressing and fostering an environment where people can share their culture and their faith, so to be a part of the Ramadan celebration now feels great."
On-campus events like this breaking of the fast bring together students, alumni, parents, and faculty and help raise cultural awareness about different faiths. This Ramadan celebration ran hand-in-hand with the culture point program at Webb and was one of the last opportunities of the quarter for students to fulfill their requirement.
Melissa Mani said, "For me, my favorite part about this event is how it widens perspective. Seeing the support here and how everyone here is coming to learn warms my heart, honestly. It's important for us to know each other in a time when we don't much about each other, and these kinds of events open those doors for people."
Laura Li ('22), an event participant, said, "Coming to this event has really made me think about all of my Muslim friends in Saudi Arabia. I greatly admire their strength and willpower to fast. Not only does it bring them closer to God, but it also reminds them of the less fortunate who suffer, so Ramadan Mubarak to all those who celebrate!"
Alum and attendee Namath Hussain ('97) said, "My favorite part of Ramadan is the family togetherness. We have a lot of feasts where we get together, see family that we haven't seen in a while, and it's a good time to remember everything we should be really thankful for."
This cultural event has helped shine a light upon the Muslim community at Webb. The crescent moon and star along with many other religion symbols that are illuminated on the dove at the front of Webb's non-denominational chapel remind students of the many different religions celebrated on campus.
As seen this past weekend, the Webb community is making great strides towards showcasing the diverse values, faiths, and traditions of its students and faculty.
About the Contributors
Sydney Wuu, Editor-in-Chief
Imagine being Editor-in-Chief for the Webb Canyon Chronicle, VWS all-school president, co-captain of the varsity tennis and water polo teams, and a big-time...
Isa Flores, Staff Writer
Isa Flores ('21), an Upland native and crime/detective thriller aficionado, is a new addition to the Webb Canyon Chronicle staff. She is a book-lover...