Student in Focus: Nick Johnson, Football Player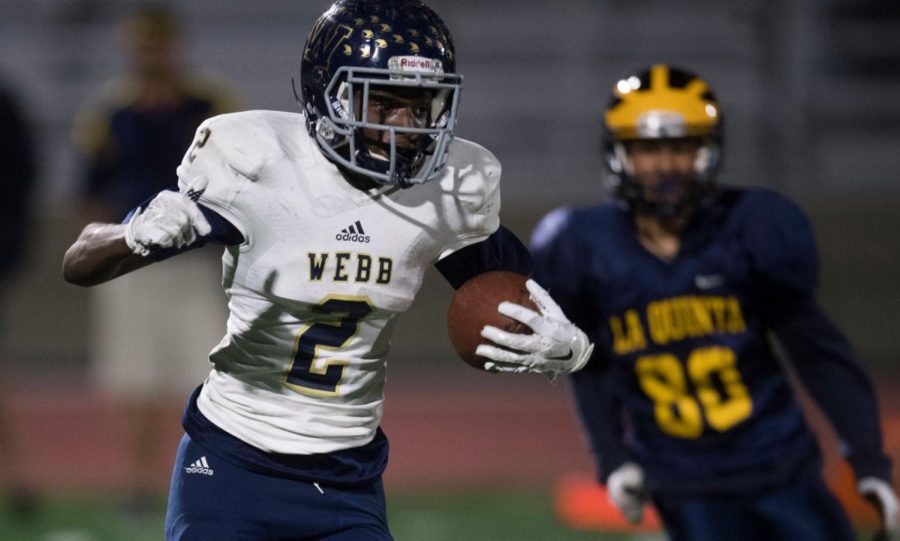 With two Division I national championships, seventeen conference championships, three PAC-12 championships, fourteen bowl game wins, and more than 200 NFL players, including five NFL Hall of Fame players, Arizona State University (ASU) football has to be one of the most successful programs in the NCAA. Webb student athlete, Nick Johnson ('19), has committed to ASU to continue his academic and football career.
Two weeks before the college offer deadline, Nick received a phone call from ASU recruiting him to play football for them. Looking back at this long process, Nick said, "For the entire time I just stayed hopeful and humble, [after getting several DII offers] I knew I was capable of doing better, so I just like held out, and I had faith in God that He would make my dream come true [to play DI football]."
After Nick's dream came true, Nick said, "First of all I want to thank God, nothing will be possible without Him. Second of all, I want to dedicate that to my grandma, she always believed in me, she passed away right before my senior season. Then also my family, they always supported me throughout the process, and without them I couldn't be able to do what I do today."
This spring, Nick took some time off to visit ASU's campus and observe its football program. Nick said, "The campus is huge, and definitely pretty. I loved their football program. Coaches are really nice, they treated me like family. I feel like I'm really happy to be there to continue my education and my football career."
Imagining a future relationship with his future teammates, Nick said, "It's really exciting to know that we can travel together, we can workout together, it builds up bonds for a lifetime."
Besides his new school, his new coaches, and his new teammates, Nick will also play football in a new position at ASU. When asked about the transition from playing high school quarterback to college receiver, Nick said, "I'm just working on it now. I played receiver before I played quarterback, and I just have to get stronger."
Amahl Thomas, head coach of Webb's varsity football team, said, "Nick Johnson is arguably the most gifted athlete that I have coached. However, what often gets overlooked, is his toughness! Nick has demonstrated on many occasions how tough of a competitor he is. It is because of his athleticism and his toughness that he has an excellent chance to be very successful at ASU. There will be an adjustment phase for sure as he adapts to the rigors of Division I football, but if he can endure that initial adjustment, he is destined for greatness."
Nick will depart for Arizona this July. Speaking of the time before he leaves, Nick said, "I just have to grind you know, get bigger, get stronger, and just get ready for the competition in the future."
So get your popcorn ready, and don't be surprised if you see Nick Johnson playing in the NFL in a few years.
About the Contributor
Stephen Li, Chief Editor of Media
Stephen Li ('21) is the Chief Editor of Media this year for the Webb Canyon Chronicle. He only started photography recreationally four years ago, but...