Without dinner, there could be no community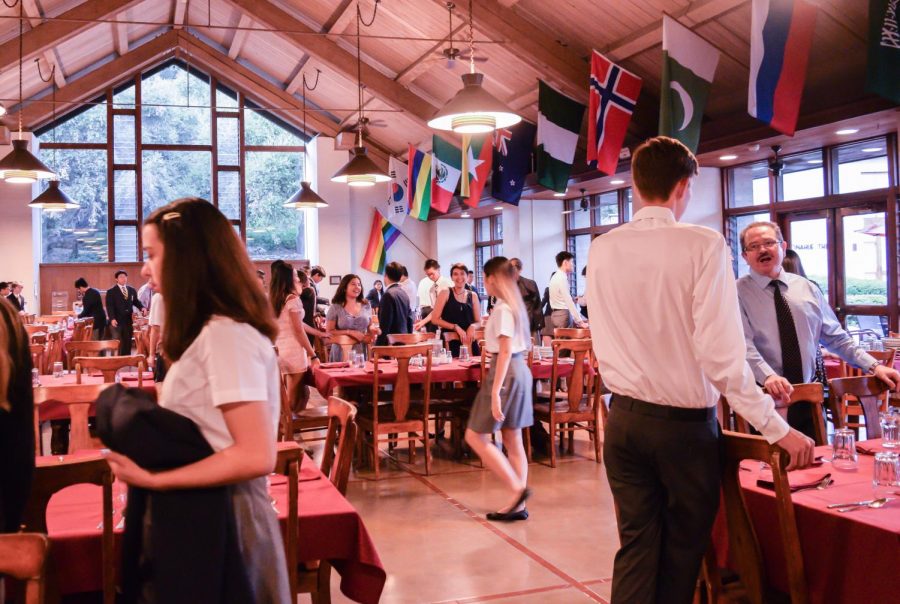 All boarders are familiar with the wrinkle-free tablecloths decorating the Price Dining Hall on Wednesday evenings, with silverware and glass cups arranged for each table. Some Wednesday evenings require students to rush out of their dorms in their school uniforms following afternoon activities, while others are celebrated for being "academic dress" dinners. Webb community dinners evoke positive and negative feelings for different members of our community. 
Community dinner is an important time for us to engage with other members of the Webb community. Without the tradition of mid-week community dinners, we would not have the ability to meet and bond with the people we pass by during our walks around campus but do not normally interact with often in our everyday lives. 
Nancy Lin ('23) said, "I think that it helps you meet people and develop friendships with upperclassmen that you wouldn't really talk to in general because you think that they seem intimidating."
Community dinner certainly plays a significant role in maintaining these ties between the people of Webb despite the distractions that can limit our interactions with each other.
Ken Rosenfeld, Dean of Campus Life, said, "In order to feel like a community, you need to spend time with each other outside of the classroom and outside of the meetings. Sitting down for a meal is a very human thing to do in order to go ahead and form connections and a community." 
Webb is mostly known for being a boarding community, encapsulating the 65% of students who reside in dorms. The events can remind these students to step outside their studies or Netflix binge-watching to experience personal exchanges for at least an hour, especially during a particularly busy week. 
Some students do not particularly appreciate the events that unfold during their Wednesday evening community dinners because they believe it is time-consuming.
Will Li ('22), a WSC boarding student, said, "Community dinner takes up too much time, especially as an assistant waiter. The work should be better divided among waiter and assistant. I just don't like that." 
While most students dread going to community dinner after a long day of classes and afternoon activity, they are not alone. 
Even Mr. Rosenfeld said, "I don't look forward to every community dinner, but in all honesty, once I'm there I really enjoy it."
Community dinner also teaches Webb students important life skills, such as appropriate behavior and proper etiquette at dinnertime and cleaning up afterward. The typically frustrating assistant waiter rotation allows different students to take on the responsibility of cleaning up right after eating, and this task is important for instilling the value of "leaving a place better than they found it." Having the ability to function at a formal dinner is increasingly important for future careers where interpersonal skills are highly valued. 
When you are sitting down with people you do not know very well, the hope is by the end of the four, five, or six dinners shared together, you will actually get to know each other and potentially expand your friend group. Not only are participants getting to know faculty members, but students can also meet peers in other grades that they hardly see in classes, advisories, or afternoon activities. 
Nancy Lin ('23) said, "I think it's a great bonding experience and a great way for you to meet upperclassmen you would otherwise not meet. I think that it's a really great way to bond with your peers and meet teachers." 
Mr. Rosenfeld said, "It's a great opportunity to go ahead and teach Webb students how to behave during a formal dinner or how to behave during a dinner with other people." He references other instances in which students can reflect on their manners from community dinners, such as, "a business meeting over a meal or when they're going to be meeting their future in-laws." 
Charlie Chen ('19), a former WSC all-school president, said, "[Community dinner] makes me feel more comfortable talking to upperclassmen at lunch tables on campus."
This school year marks a significant shift in the rules for day students at Webb, including a change in their participation at community dinners. All day students on campus on Wednesday evenings are expected to notify the dining hall through a sign-up sheet sent by Romana Quick, Student Services Coordinator, prior to attendance. From now on, day students who attend will be assigned a table and expected to adhere to the guidelines of community dinner. 
Head Day Student Prefect Andrea Phung ('20) said, "It's important for day students to participate in community dinner because they are a part of the Webb community. In previous years, it was a little weird when day students would sit in and have dinner in Hooper when there was a community event going on. Now, with the inclusion of day students in community dinner, it feels like there is less of a divide between boarders and day students."
Community dinner may not be the most enjoyable experience at Webb, especially after a hard day of classes, when no one wants to put on a uniform and sit for another hour, but it does have many benefits. Webb students develop important social skills, build good habits, and expand their social circles. Community dinner is a vital part of the Webb experience that reiterates many of the values and mission that the school was founded upon, despite being portrayed as a drag at the end of the day. 
About the Contributor
Sharon Xu, Staff Writer
Sharon Xu ('22) is a new sophomore staff writer for the Webb Canyon Chronicle. Although she is a resident of South Hutch, Sharon is from Rancho Cucamonga...