Nintendo Switch: the next Webb phenomenon?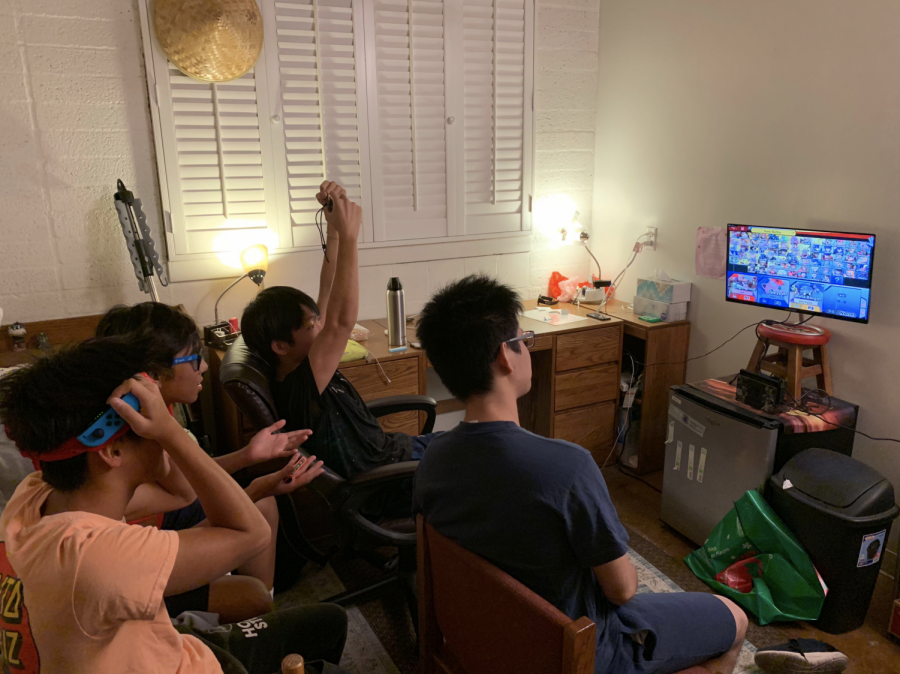 It is a Friday night, and instead of leaving your dorm room, you sit there apathetically on your phone. Suddenly, you hear loud knocking outside your door. Out of the corner of your eye, you see your friend bring out a Nintendo Switch! Shocked, you grab it without hesitation and shuffle through the many genres of games. The joysticks slide off, the switch is then set up to your monitor, and before you know it, you and your friends are playing a fierce game of Mario Kart. 
It seems like almost every Webb student is obsessed with Nintendo Switch, always carrying it in their back pocket and ready to put it on display. The Nintendo Switch is a portable video game console that is loved by many people at Webb. This simplistic rectangular design, with blue and red controllers that can be taken off, seems to be the center of everyone's attention. However, why is the Switch such a loved device across the Webb community? 
Kush Arya ('20) said, "I absolutely love Nintendo games like Mario Odyssey. It's one of the most useful consoles due to how compact and small it is; I can take it to class whenever I want. I actually have it in my bag right now."  
However, not everyone is passionate about the Switch. For some people the game library is not big enough, even though the Nintendo Switch does support a large variety of different games like Splatoon, The Legend of Zelda, Super Mario Odyssey, and even Pokemon Sword and Shield. 
Mert Albeyoglu ('21) is baffled at how many students play Switch on campus. He said, "I just don't like playing the Switch. Not only is the quality low, but there isn't a wide variety of games that I'm interested in. I feel like a lot of boarders play the switch due to social reasons and just get addicted to them overtime." 
Yet, it seems like a common ground between the lovers and haters of the Switch  is found in Super Smash Bros., a fighting game designed with 74 different characters. 
Clifford Khowara ('21), a Switch hater, said, "I just feel as though the console is constantly breaking down, and that I would rather settle with the PS4 than the switch. I only play the switch for Super Smash, but that's just about it." 
While Super Smash Bros. seems to be a middle ground for both Switch haters and Switch lovers, a Super Smash Bros. enthusiast talks about his love of this game. Max Urias ('20), a lover of Super Smash Bros. Ultimate said, "I play the Switch constantly with my friends, 2-3 times a week of course. If I were to own a Switch though, I would need to get the classic games: Legend of Zelda, Mario Kart, and of course, Super Smash!" 
As seniors are becoming more stressed with college aps, juniors with AP and Honor classes, sophomores adjusting to IPC, and freshman to Webb, Nintendo seems to be a great way to relieve stress for the Webb community. Together, everyone gathers around in dorms or in Berry Center to play their beloved games on this tiny device. These moments truly make Webb into the community it is today.
About the Contributor
Kara Sun, Co-Editor of Media
Kara Sun ('20) is an all-out foodie. Like any typical SoCal girl, her favorite food is In-N-Out. Deciding to explore her passion of discovering new food,...