Student support energizes VWS varsity volleyball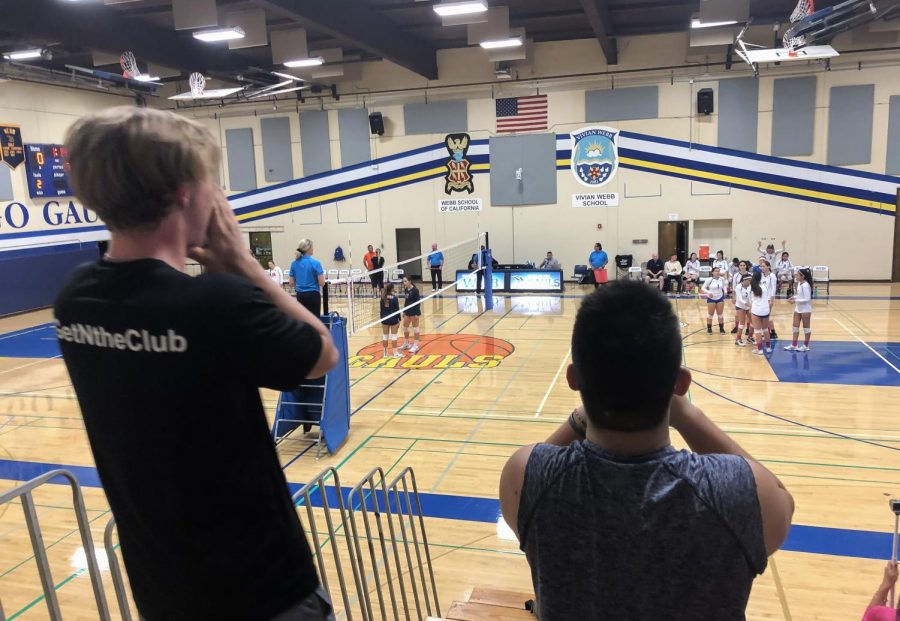 With every serve, every point scored, and every volley of the ball, the Les Perry gym is flooded with the roar of the crowd as students in the bleachers cheer the VWS varsity volleyball team to victory. From the "V-W-S" chant to the stomping and clapping as the opposing team serves, Webbies have no shortage in their arsenal of cheers as they relentlessly support their team.
The league championship game against Pacifica Christian High School was no different, as students' cheering and support reenergized Webb's team while they fought to earn their second league championship title.
Chiara Filart ('21), VWS varsity volleyball team co-captain, said, "[Students cheering] means a lot to our team. Having energy in the stands helps a lot when we're low on energy on the actual court, so having a big crowd and being able to pack the stands really means a lot to us. We like having that support, and we like feeling that our school is behind us when we play."
Supporting the volleyball teams means just as much to the students in the stands as it does to the players on the court, because the cheering allows students to let loose and have some fun while still encouraging their friends.
Cayden Lazier ('20) said, "[Volleyball games] are a place to relax and have fun and really cheer our hearts out. That fun is what encourages a lot more people to come out… I love clapping and making noise when the other team is serving; I love our 'V-W-S' chant, which is one of our signature chants. When there are a lot of people, we have really fun chants. Like we'll have one person go down and do push-ups, and everyone else starts counting. And it's just a lot of fun stuff like that."
Students see volleyball games not just as a place to relax, but also as a time where they can show their peers the support they deserve.
Cayden said, "When I came as a freshman, there was an average attendance of around 2 people per game, and I thought that was horrible because our volleyball team is actually really good. So I made it a point to show up with my friends to games and watch them strive, and it means a lot to be able to come out and support."
Student support in the stands can change the tide of a game, as was seen in the October 14th league championship match against Pacifica. Webb was down by eight points in the last set, and it was only after the student section of the stands erupted with cheers that Webb took the lead.
Stephen Caddy, VWS varsity volleyball coach, said, "I would say the crowd got us through that last set. We were down 20 to 12, and the crowd started to get a little bit hyped when we got a couple points and definitely pushed the girls to get that victory and clinch our second ever league title."
Malika Neogi ('20), VWS varsity volleyball player, said, "The cheering for sure brought the morale up a lot because I know that if [the students] weren't here, and it was quiet then it would definitely get in our heads. We would not be hearing people cheering for us and getting us to a place where we want to be. I would give a lot of credit to the people cheering because they keep us happy when the court gets quiet."
Whether it is on the court or in the field, student support and cheering from the stands can mean the difference between a demoralized and defeated team and a determined team full of energy. Hearing their friends and classmates cheer them on can give the players the encouragement and motivation that they need to help lead their team to victory.
About the Contributor
Mohammad Igbaria, Editor of News
Mohammad Igbaria ('20), popularly known as Mo, is a senior day student. A Claremont native, Mo has lived in this city for most of his life, with the...