All-In: A Casino Night Story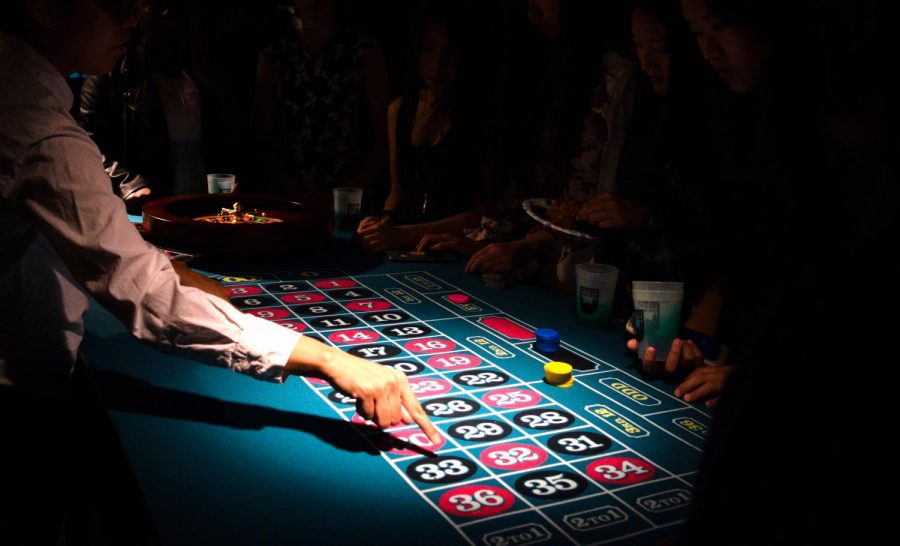 My Casino Night started at 11 a.m. Student government members and Jameson prefects came together mid-Saturday morning to lay down the groundwork for the night. We hauled mats from the gym to line the patio, set up couches on Jameson lawn, and plugged in lights. Thanks to many hands, we finished our work within the hour and were released for lunch. 
Then, we returned at 6:15 p.m. in formal attire to finish up some last minute items. Ken Rosenfeld, Dean of Student Life and Jameson dorm head, gave the WSC student government members rainbow bow ties to pull together their outfits. We grabbed snacks from the OD Room, and organized them on the patio. 
Once it reached 7 p.m., it was time to get the show on the road. I started my shift at the check-in table, and began to notice an unusual pattern: only underclassmen were checking in for chips. There were hardly any seniors or juniors in sight! 
Dr. Theresa Smith, Assistant Head of Schools, noticed the imbalance and came over to check on us. She said, "The upperclassmen always like to be fashionably late. They'll show up eventually." 
After thirty minutes at the check-in table, my fellow student government officers and I moved to the drinks station. Keeping up with our sustainability campaign, we stocked the bar with the infamous, color-changing sustainability cups, and began to pour Sierra Mist, Coke, Root Beer, or Crush into each one. I grabbed a plastic silver tray and walked around Jameson Patio yelling, "Soda! Soda? Soda!" I watched as the gamers grabbed a cup one by one and carefully sipped on their drinks while deciding on their next moves. 
At 8 p.m., my work was finally finished and I had time to play! Over the past three years, I have discovered that I always have the most fun with fast games, so I headed straight for the blackjack table. I found one of my close friends, Ava Sinha ('20), already at the game table. She proudly showed me her five black chips and said, "Wow! My luck's pretty great tonight. I think I have a good shot at winning the raffle." 
Every student started the night with two black chips, the equivalent of $200 in the casino or two raffle tickets. Most students gamble for a few hours, cash in their chips for raffle tickets, and hope for a chance to win a prize. That night, the best prizes included a $25 In-N-Out gift card, a $25 Target gift card, and free Starbucks from Dr. Smith. Pretty good, right? 
After seeing Ava's good luck, I realized that I needed to increase my chances at winning, so I made a decision. I was going to pool my chips and tickets with some friends and hopefully split the raffle prize. My friends and I branched off into the various gaming tables and played as if our lives depended on it. 
As the night concluded, we had amounted around $10,000 worth of chips, or 100 tickets, as a team. We split the total, got our raffle tickets, and ran over to Jameson lawn to see if we were the lucky winners of the night. 
I memorized my raffle ticket numbers and gleefully watched as the sophomore class officers announced each winning ticket. I waited for at least one of our tickets to be called, but our numbers never came. At one point, we were off by only one digit. 
Although I was disappointed by our horrible luck, my night was not finished quite yet. We still had to clean up the event. Just like set-up, clean-up finished in less than thirty minutes since we had a ton of help from Jameson prefects and students who had volunteered to stick around. 
The next day, Mr. Rosenfeld said, "This has been the greatest collaboration in the history of the world. Great work, everyone!" And with that, my last Casino Night was over. 
About the Contributor
Emma Lin, Editor of Culture & Lifestyle
Emma Lin ('20) will be entering her senior year at Webb. Embracing her new role as the Editor of Culture & Lifestyle for the Webb Canyon Chronicle,...