Webb Canyon Chronicle staff meets Michael Barbaro at Scripps College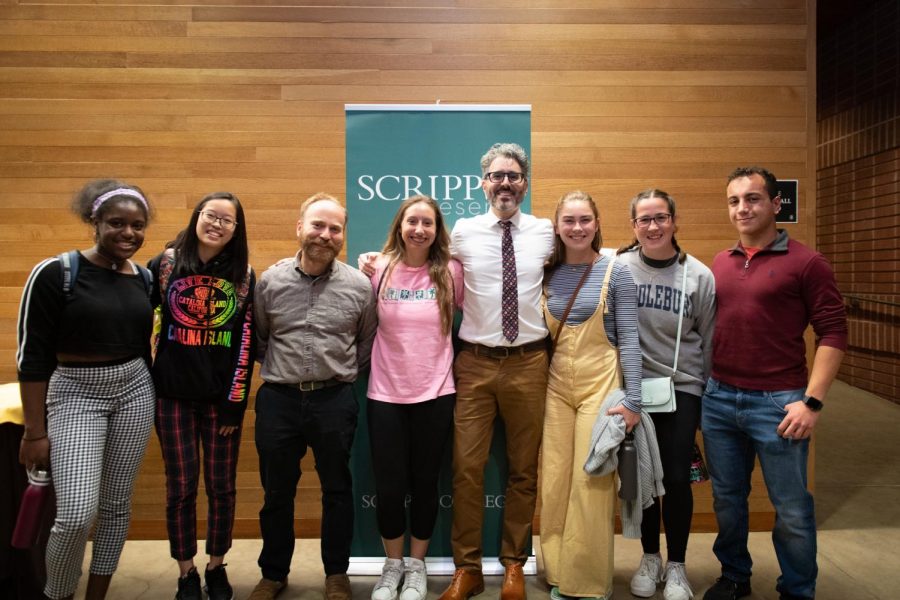 The journalists from Webb Canyon Chronicle had a busy night. Instead of going out for Tuesday dinner or working on homework, we attended a "Scripps Presents" talk featuring Michael Barbaro, the host of The Daily, a free twenty minute podcast on the New York Times.
Dr. Mark Dzula, adviser of the Webb Canyon Chronicle, encouraged us to attend the event so that we could hear a professional journalist's personal perspective to reporting on news. Instead of reading news headlines, The Daily tells a story that engages the audience through audio. Barbaro hosts interviews and works with a team of journalists to bring stories to life for his listeners. 
Barbaro is the voice that more than two million people listen to everyday. He told the audience about the three main rules he adheres to that help him while writing his podcast: creating a narrative, finding a character arc, and having a general guiding idea or focus.  
During the sixty minutes he spoke, the journalists in the audience learned a great deal about how The Daily runs, Mr. Barbaro and his life, and the stories and motivations behind the successful host. For example, he talked about interviewing the store manager of the gun shop where the man responsible for the 2007 Virginia Tech shooting bought his gun. Instead of conveying a sense of criticism in the interview, Barbaro showed great respect to the store manager even though he indirectly led to the tragic story.
After the presentation, journalists introduced themselves and the Webb Canyon Chronicle to Michael Barbaro and were able to ask questions that redefined their view of a successful journalist.
When asked about what makes a podcast successful, Barbaro emphasized the importance of being curious, showing genuine interest in the topic of discussion, and remaining unbiased. To tell a great story, details like the pauses between conversations and questions are important. Barbaro explained that the power of voice distinguishes audio podcasts from traditional articles, as the voice itself can completely shape or change a story.
Barbaro's talk helped students find a new way of looking at news articles and challenged their preconceptions of what it means to be a journalist in the modern world.