VWS tennis battles in league individual prelims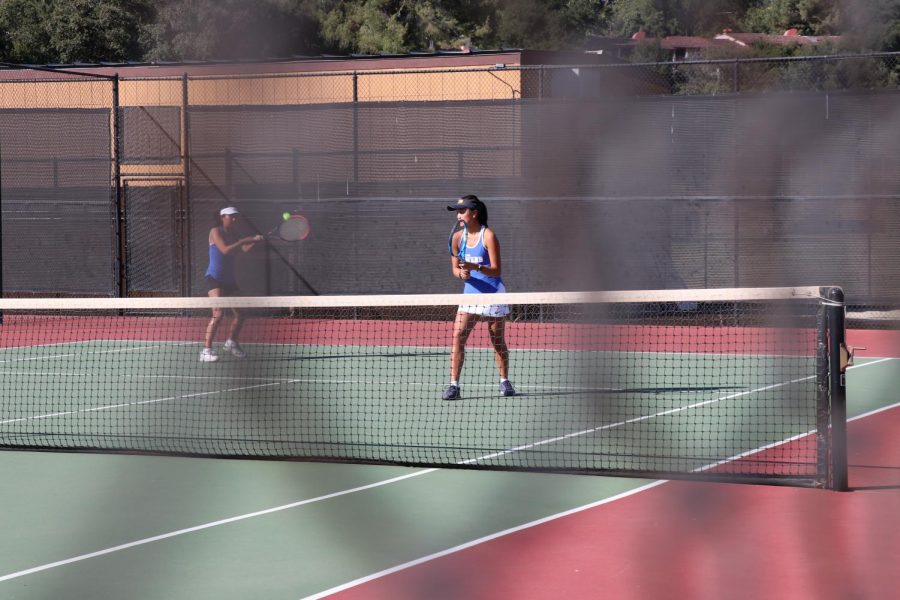 Singles: 
VWS varsity singles, Mariia Lykhtar ('22), Vivien Xi ('21), and Sarah Balanza ('22) battled fifteen top singles players from five different schools in the San Joaquin League. On Tuesday, October 29th, they traveled to Sage Hill School in Newport for the San Joaquin league prelims individual singles tournament. 
While the winds down near Newport beach initially affected the consistency and confidence of each player, they all won the first round with herculean effort; Mariia, Vivien, and Sarah each triumphed with set scores of 8-5, 8-4, and 8-2, respectively. However, in the second round, the three players encountered two nationally ranked singles players from the Tartans, losing with set scores of 0-8, 0-8, and 0-8. 
Mariia, VWS varsity tennis singles No.1, said, "Once I found my motivation, I enjoyed rallying freely with the nationally ranked SMES player. My serves were much more consistent and my shots were very well-angled."
The Monday night prior to league individual prelims, coaches from each school initiated a conference call to discuss the game specifics. Sage Hill School and Saint Margaret's Episcopalian School (SMES), the top ranked schools in the league, had the priority to pair up players according to their personal records throughout the season. 
Doubles:
The next day, October 30th, VWS doubles faced off with opponents from Sage Hill, SMES, and Fairmont Prep at their league prelims hosted on Webb's campus. Representing VWS were teams Sydney Wuu ('20) and Kara Sun ('20), Jenna Zhao ('20) and Andrea Phung ('20), and Gaby Trauttmansdorff-Weinsberg ('22) and Faith Ferry ('21). All three teams fought hard to play up to their potential, and hopefully book a spot in league finals.
Gaby, who took the place of starter Jenna Hawkes ('21), said, "I'm kind of nervous for the game because I haven't been playing that much this season so I'm a little bit out of practice, but hopefully the warm-up will help me get ready… Sage Hill is definitely a hard school to play."
After warm-up at the upper courts, the teams headed down to the lower courts to face their opponents. In the first round, Andrea and Jenna won 8-4, Sydney and Kara lost 4-8, and Gaby and Faith won 8-3. Andrea, Jenna, Faith, and Gaby advanced to the second round while Sydney and Kara cheered them on. In the second round, facing top-ranked players from the San Joaquin League, Faith and Gaby lost 0-8, and Jenna and Andrea lost 1-8.
Jenna, after winning her first match with teammate Andrea, said, "We started off slow at first but we got our heads in the game and focused really hard on good teamwork."
Not only did each of the VWS tennis players demonstrate focus, commitment, and teamwork during their matches, they also displayed the utmost sportsmanship as many players aimed to just do their best and play well. With losses for both singles and doubles, the VWS tennis team is headed back to the courts to practice for their CIF team wildcard match in the week of November 4th.
About the Contributors
Nichola Monroe, Staff Writer
A citizen of the United States and Switzerland, Nichola Monroe ('22) is a global traveler, activist, and leader. She is joining the staff of the Webb...
Vivien Xi, Co-Editor of Media
Introducing Vivien Xi ('21), Co-Editor of Media! Vivien has lived in many different places including Seattle, Vancouver, and Shanghai. As a member of...