Haunted tours debut on Webb campus
From dusk till dawn, Webb campus descends into darkness and a night of horror awaits. This year, the VWS Prefect Council – which includes VWS day student and dorm prefects – along with other student leaders took their Halloween game to a whole new level. They introduced the haunted tours to Webb's campus for the first time ever! The 15-minute walking tours turned out to be a resounding success. As soon as the signups were released, the spots were quickly filled and there was instant demand for more. 
Kate Guernsey ('20), co-chair of the VWS Dorm Council who helped organize the tours, said, "Every tour was full, and there was always a waiting list to get on to the next one. It was really successful."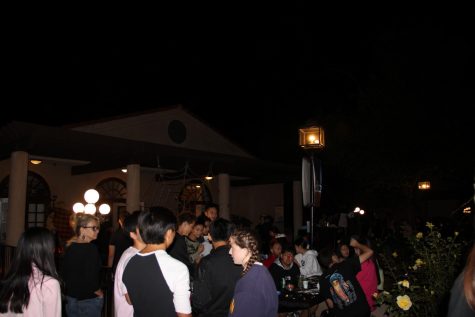 During the tours, prefects led Webbies into the unknown side of Webb. Tied together with a single red rope, groups of students walked in a single-file line through the darkest corners of campus such as the laundry room in the Health Center.
At each location, student leaders and faculty members disguised themselves as scary characters and used creative techniques such as suspenseful horror music, terrifying props, sudden jump scares, and spooky lighting.
For the actors, there was only one objective: to make people scream. The haunted west tour was especially successful in that aspect.
Lydia Toy ('20), a North Hutch dorm prefect who worked as a tour guide, said "[Dean Lantz] was screaming and crying the whole time. We walked into the Dean's office with Mrs. Lantz. Nothing too scary was happening, it was just Elaine dressed up as a ghost person, and Mrs. Lantz started crying and screaming and wouldn't move into Mr. Duque's office. It was probably traumatic for her, but it was funny for the rest of us."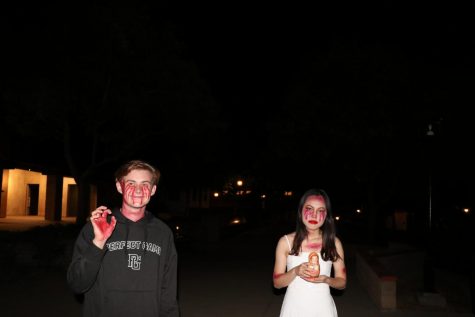 Many Webbies shared Dean Lantz's nightmarish experience. Emily Wang ('22) is usually not a fan of anything scary, but she was brave enough to challenge herself to sign up for the west tour. And without a doubt, the tour succeeded in scaring her enough that she abandoned her second sign-up for the east tour. 
Emily said, "I get scared of everything. The dean's office scared me the most but I also had the most fun there. The students there were dressed really bloody and that scares me a lot. Mr. Duque scared me too with his nun costume and that creepy doll with blood stains on it."
One of the scariest spots throughout the tours was the Health Center laundry room on the west tour. 
Lydia said, "They have people go in, and when I was telling them to come back out, someone popped out from the top of the cabinet and started banging. I heard a lot of people were scared of that… Our proudest moment was scaring Ms. Bauman in the laundry room with Chloe. Ms. Bauman has a very high fear-tolerance, so that was pretty cool."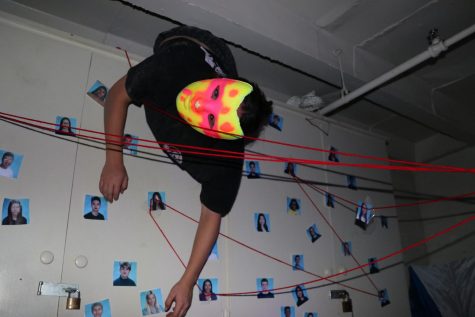 Not all Webbies were so easily frightened. 
Ivy Yan ('23) said, "I was not really scared but I think that the locations were gorgeously decorated. It was all really creative and I liked that the themes were all different."
As a new Webb tradition, organizing the haunted tours for the first time was an extremely challenging process, but the results exceeded expectations and were highly rewarding. 
Kate said, "This being the first time, it was hard to figure out what we needed to do and what we didn't need to do. I think just planning an event for the first time is hard by itself, especially on a massive scale like this and when we were working with three or four other leadership groups."
Lydia pointed out specific challenges she encountered such as the rope being too tight and the lack of practice tours before the event officially started.
The significance of the event extends farther than its success as it was the first time that the VWS Prefect Council took charge in organizing an all-school event. In the past, different leadership groups worked separately, but the success of this event exhibits the huge potential for Halloween Happenings when everyone cooperates. 
Kate said, "We [the VWS prefects] have always been our own independent group, so this is just another step in helping the community recognize that. I think we did a really good job and it wasn't a problem for us. We had the creativity, we had everything we needed, all the resources. I was really proud of what we did."
The haunted tours this year united the students with horror, unleashed Webb's unbounded creativity, and successfully set an example for all future events. 
Leave a Comment
About the Contributor
Cathy Wang, Editor-in-Chief
Cathy Wang ('22), an international boarding student from Shanghai, returns to Webb this year not only as the Editor-in-Chief for the WCC- but...