The comedy show named the Democratic debates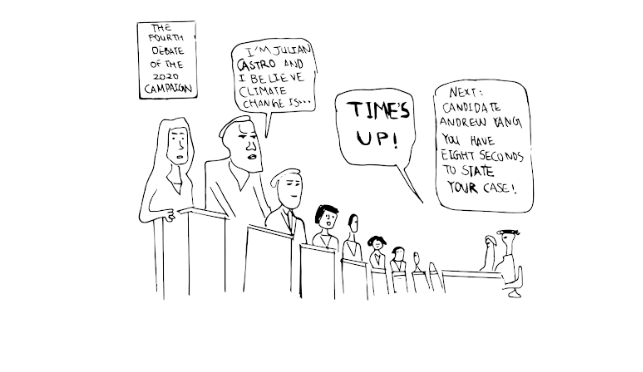 Democrats have been railing against the conservative establishment ever since Trump ran for office. They have lambasted the conservative media for promoting shaky viewpoints while inciting the masses. They have blasted President Trump for his inflammatory, crude, and non-stop tweeting, as well as his inability to accept any opinion other than his own. Yet, the fourth Democratic debate on Tuesday, October 15th made it ironically clear that the Democratic Party is incapable of holding the high standards it claims to bear. 
First of all, there was an extreme disparity in speaking time during the fourth Democratic debate. While Warren had more than 22 minutes of speaking time, Yang received less than 9 minutes. This disparity not only contradicted the concept of equal opportunity, but also demonstrated NBC's heavy bias against those who do not conform to the Party's main agenda. Such manipulation – the direct opposite of the promotion of independent and critical thinking – choked fresh, valuable opinions before they even got a chance to breathe. Instead, the Democratic debate repeatedly fed people the same policies, such as Medicare-for-all or immigrant protections, from the same handful of politicians. They subtly influenced the viewers to support these policies that align with the Party's main agenda. 
Some may argue that the Democratic Party strategically gave more speaking time to the most popular candidates, assisting those who have the highest chance of winning the 2020 election. At first sight, it did seem that time was distributed based off of popularity: Joe Biden and Elizabeth Warren, both of whom are front runners, received lots of speaking time. However, Andrew Yang – who received the fourth least amount of speaking time out of 12 candidates – polled better than Cory Booker, Amy Klobuchar, and Beto O'Rourke, all of whom received more speaking time than Yang. It seemed as if the Democratic Party was just picking favorites, because these candidates had political views that aligned much more with traditional Democratic values. 
The Democratic Party really did not have any excuse for this unequal treatment. Allotting equal speaking time for everybody, cutting off Kamala Harris' mic when she went overtime for two minutes, or preventing Pete Buttigieg from interrupting others would not have been difficult tasks. Giving every person equal speaking time would ensure every candidate an equal chance to present their vision of the country's future. It would potentially allow voters to make an informed, fair appraisal of the range of people running for president. 
Second of all, as candidates understood that the debate platform was not mainly focused on reasoning or logic, they often infused their orations with pathos. The debate eventually turned into an event where everyone was prattling about fighting against big corporations, supporting those stuck in poverty, eradicating racism, guaranteeing affordable (or even free!) healthcare for all, and protecting the environment. However, practically no one is talking about how they're going to do it. 
Undoubtedly, charisma is important in an election. A president needs to be able to inspire their people. But it is certainly not everything. A candidate's plan and proposal indicate their capability to think logically and act effectively, and therefore are just as important as their ability to impress a crowd with rhetoric. By making such a significant event an all-out contest for who can come up with the best sound bites, the Democratic Party sent the message that empty promises are more important than concrete plans. 
Ultimately, the limited speaking time during the debate prevented people from understanding the specific plans of each candidate, and thereby prevented people from determining who would be the best president. Instead of hearing the intelligent dialogues that viewers deserved, the audiences were subject to the same old boring stories and vague promises of hope. 
To change this situation, Democrats can start by reforming the debate format. Candidates should be allotted equal and sufficient speaking time. They should be limited from constantly cutting off each other. With these measures, viewers may get an actual chance to watch intelligent, civil discussion. However, without any changes, the primary debates will merely resemble a reality show. 
About the Contributor
Vivien Xi, Co-Editor of Media
Introducing Vivien Xi ('21), Co-Editor of Media! Vivien has lived in many different places including Seattle, Vancouver, and Shanghai. As a member of...