VWS varsity tennis ends historic streak into CIF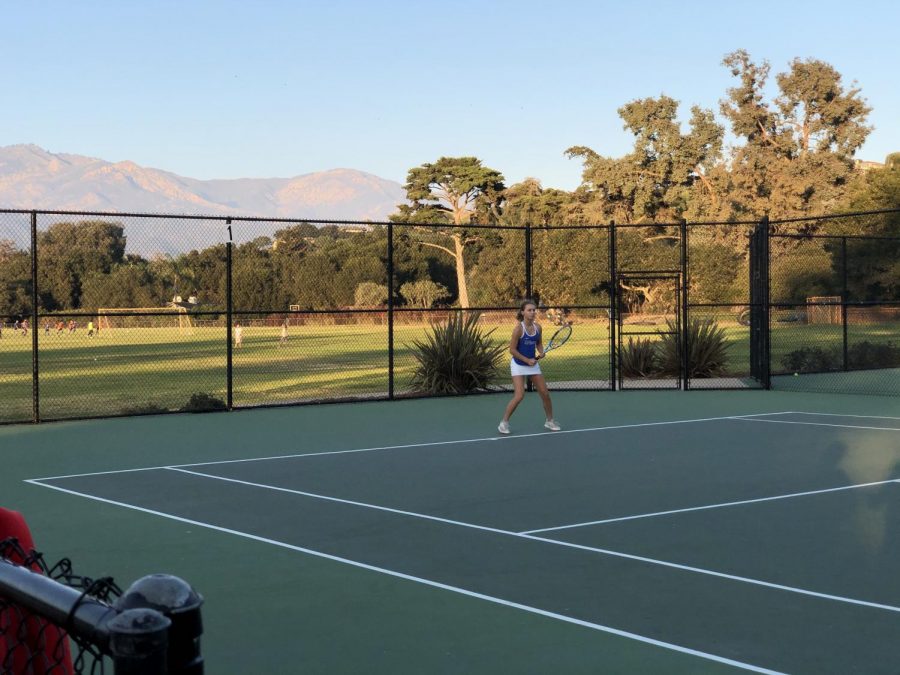 It was an eventful final week for VWS varsity tennis, as they competed in three grueling CIF games within the span of five days. For the past few years, the team has not made it past the first round after the wildcard match. However, this year was an exception.
After Monday's wildcard CIF win against South Hills, the team departed campus at 10 a.m. for an 11-hour away game excursion to coastal Santa Barbara, where the Gauls upset #3 seed Laguna Blanca with a final score of 11-7. Later, the team stopped for wood-fired pizzas at Lucky Penny Santa Barbara to celebrate a well-earned victory.
Alice Phung ('21) said, "After winning the tenth game, the whole team surrounded the score sheet, carefully counting our wins. It went silent and Jenna, one of our captains, suddenly screamed, 'Oh my God guys, we won!' We all jumped up and down, hugging and screaming, and, as we all squished into one table at a pizza place to celebrate, I've never felt more like a part of a team before."
On Friday, November 8th, the Gauls faced Marshall Fundamental Secondary School for the second time this season. After falling short to them back in September by two points during a friendly match, the Gauls knew it was going to be a challenge, but felt more motivated than ever to bounce back and give it their all on the courts. 
The score remained neck and neck throughout the entire game as chants of "Go Webb, go Gauls!" echoed off the spectator stands. As the November sun dimmed on the pool courts, the entire team gathered in the fading light to cheer on the last game of doubles, Jenna Hawkes ('21) and Faith Ferry ('21), as they secured an overall score of 9-9.
After meticulously adding up individual sets, VWS varsity tennis lost by a handful of games. This heart-wrenching loss marked the end of the season, as teammates gathered on the pool court to high-five the other team and say their tearful goodbyes.
Sarah Balanza ('22), singles #3, said, "Friday's game was extremely intense and everyone really tried to play their best. It was a really fun season and we all thought we would be able to win, so it was disappointing once everyone realized that our last game of the season would be lost by a tie."
Looking towards the future, losing four seniors on the team opens room for the young, up-and-coming players as the team continues to grow and hopefully progress even further into CIF next season. In addition, this year's initiation of a tennis clinic as a winter afternoon activity encourages both VWS and WSC Webbies to keep up their game during the off-season. 
Tony Gao ('21), a VWS varsity tennis team manager who spends all three of his seasons on the courts, said, "It's my first year managing the girls' season, and this experience has taught me how to communicate with team members while assisting with any issues the team may have. I'm also joining tennis clinic this winter because I get to work on mental toughness, a very essential aspect of tennis, and it'll help prepare me for the boys' season."
Although the transition into winter season is inevitable, the girls will never forget the hugs, tears, cheers, and pictures that encapsulated their 2019 varsity tennis season. The annual team party is on the horizon, but until then, congratulate the girls on a historic CIF run! 
About the Contributors
Sydney Wuu, Editor-in-Chief
Imagine being Editor-in-Chief for the Webb Canyon Chronicle, VWS all-school president, co-captain of the varsity tennis and water polo teams, and a big-time...
Vivien Xi, Co-Editor of Media
Introducing Vivien Xi ('21), Co-Editor of Media! Vivien has lived in many different places including Seattle, Vancouver, and Shanghai. As a member of...