Webbies explore California Institute of Earth Architecture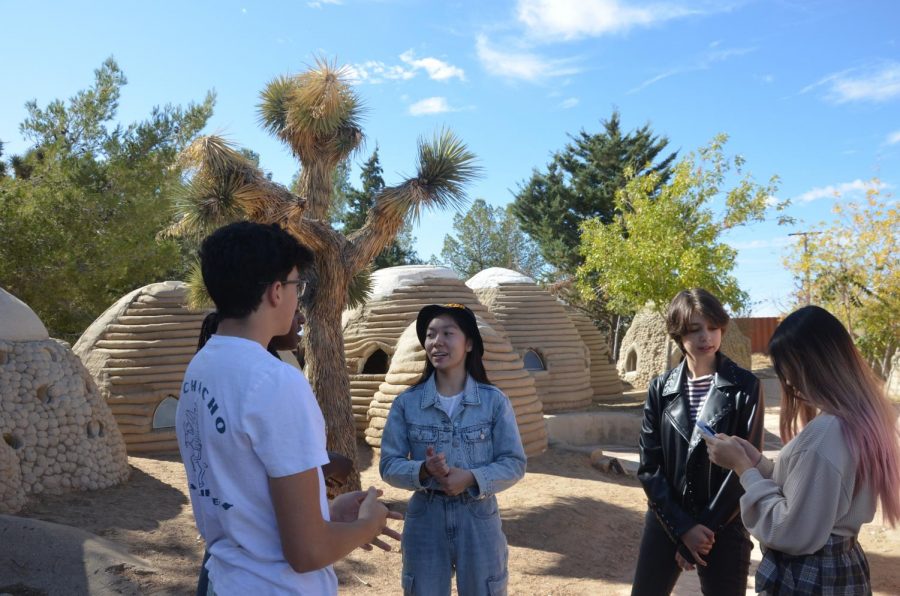 What would you do if you knew you could build homes using the materials beneath your feet? The Environmental Club hosted a weekend trip to see an institute that inspires people to build with natural resources. 
California Institute of Earth Architecture is a research site and classroom combined into one. Founded in 1991 by Nader Khalili and located in Hesperia, California, the institute builds structures using natural materials found in the ground beneath them. They take sandbags and soil to create what they call SuperAdobe structures.
Shuci Zhang ('23), founder of the regenerative committee within Webb's environmental club, visited the institute over October break and wanted to return with Webb students.
Shuci said, "My sister and I visited and enjoyed the experience a lot, and it was too cool not to show other people. For the past month I organized this event. I reached out to the club and they thought it was cool. I did a speech during a Flex Time and on Monday I did a public stand to show people. Coming back with Webb students was the best Saturday I have had. I know the organization is doing amazing things and I was so happy to share with other Webbies. I wanted to help get people inspired about environmentalism and opportunities that are open to them."
On Saturday, November 2nd, 2019, members of the Webb community went to visit and explore the site. The campus is a working classroom, so the Webbies got to see the buildings as they were being built. The campus also has models of their previous projects, including refugee villages, various possible housing structures, and a full vaulted home.   
Nnenna Ochuru ('21) said, "I found it interesting the way they use what is under them to live on. It's very sustainable. I think it is inspiring how they are trying to help refugees and homeless people. My favorite structure was the residential home. If people saw it, they could see that living sustainable will not change their way of living. It still looks like a normal home." 
After the tour, Webbies heard from the founder's daughter about the mission and history of the institution. She shared the story of her father who believed everyone deserves a place to live and that those places could be built up from the ground. She also spoke about the institute's goals, which include: teaching communities to build houses out of materials around them and creating models for homes that can be used around the world. 
Hunter Lange ('22) said, "I am very interested in climate change and what humans can do. It was cool to see how they are using resources around them. The highest cause of carbon emissions is transportation so this institution takes what is beneath them so there really is no transportation costs."
The weekend trip provided Webbies with an opportunity to learn what options are available when creating sustainable homes and other buildings.   
About the Contributor
Laura Haushalter, Editor of Sports
Laura Haushalter ('21) is a jack of all trades: captain of the VWS swim team, future participant of the LA marathon, lover of Spanish language and culture,...