VWS and WSC cross country runners sprint their way to CIF Finals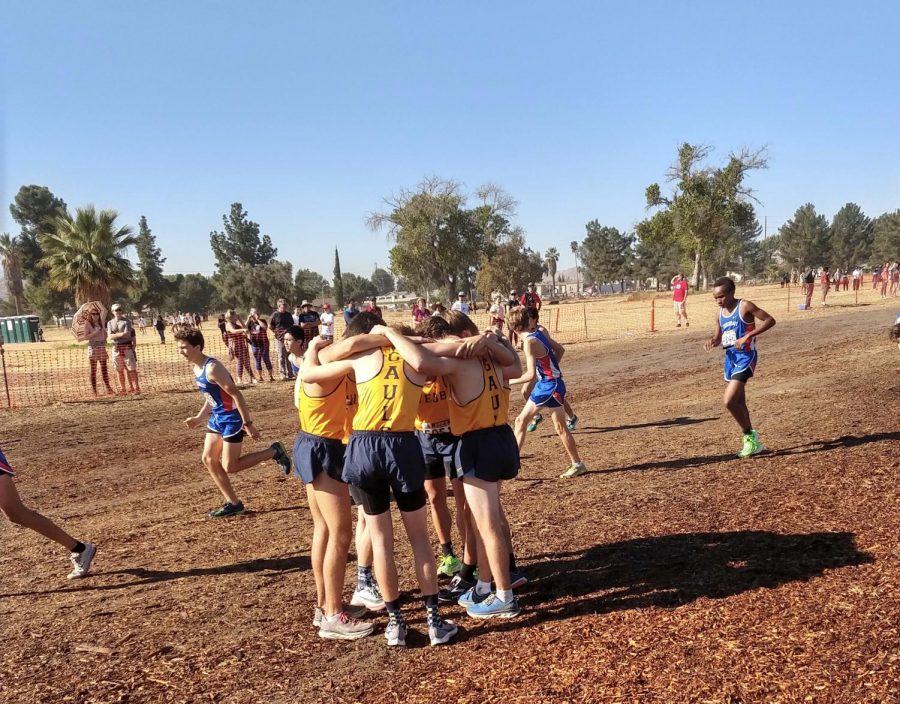 Three weeks after the start of the winter athletic season, varsity cross country runners from both VWS and WSC can still be seen running on Thompson Creek Trail, darting up and down Webb Canyon Road, running through Marshall Canyon, making their appearance in the Claremont Colleges doing tempo runs, and finally, racing in CIF Prelims at the Riverside cross country course.
From enduring the heat at the start of the season, triumphing in their one and only home meet, attending night races such as the Woodbridge Invitational, running through the rain in Griffith Park, traveling to Catalina to compete in league meets, making the way up the hilly course at Mt. SAC Invitational, securing league champion titles, to advancing towards CIF Finals, the cross country runners worked extremely hard throughout the season.
In fact, the season even started before August for some runners. Many attended spring training during the last two weeks of the 2018-2019 school year, while others did individual summer training to stay in shape.
Frank Hu ('20), co-captain of the WSC cross country team, said, "For the varsity runners, our season started as soon as summer started. We have been consistently putting in good mileage throughout summer, so when the season started, we were ready to do the workouts normally saved for mid-season. I think this is the difference between us last year and this year and the reason we might make State this year. I am very proud of the team."
As a result of their hard work and mental toughness, the varsity VWS and WSC cross country teams advanced to CIF Finals on Saturday, November 16th. VWS finished 9th out of 24 teams in Division 5, and WSC finished 4th out of 24 teams in Division 5.
Even though some of the top runners were sick, both teams still qualified with six runners on the start line. 
Gregory Gerken, the assistant coach of the WSC team, said, "I think the boys did a fantastic job. They were missing two of their top five runners, but the entire team really stepped up… Dean [Woelfle ('21)] had a superb race; Frank had a strong finish; JD [O'Donnell ('20)] was sick but pushed through; Johnathon [Maschler ('21)] and Nick [Theobald ('22)] came in very close together."
Michelle Gerken, the assistant coach of the VWS team, said, "The girls did amazing. We were struggling because one of our top runners was too sick to compete. Every runner stepped up and did their best. With Lily Miller ('21) coming in second, it really pulled our score up… [the race] was a great testament to their perseverance and ability to work together as a team."
Frank said, "We did great, especially considering the fact that we were missing our two fastest runners. Everyone ran with incredibly and really wanted to qualify for the finals. For me, that's all it matters: work as hard as possible and run to the fastest of our ability so we can say that we have no regrets." 
On Saturday, November 23rd, both teams will be competing against all the other teams that qualified in Division 5, which will determine if the season ends here or if runners are moving on to compete in the State Championships. The top seven teams out of the 24 that run at CIF Finals will move on to State.
Dean said, "We were hoping that this year we might be able to make State because the boys cross country team has not made it to State for several decades. We have a decent shot this year, so I am hoping that we can make it."
Frank said, "Obviously we are aiming to qualify for State. To do that, though, all of us must PR in the next race. Personally, I hope to run sub 17 [minutes]."
The results are important, but in the end, cross country is about being strong, having fun, believing in oneself and other team members, and doing one's best.
Geoff Owers, the coach of the VWS cross country team, said, "If I could tell that the girls put in their best effort, that's all that matters… Anything [that] happens at CIF Finals is great. I can not ask for more."
Mrs. Gerken said, "My expectations are just that our runners go into it, feeling their best, running their hardest, working together as a team, and enjoying their race."
The season has been very successful for both teams, and runners enjoyed the sport itself. Dean said, "Our team this year is really good when we are all healthy. Everyone has improved a lot, with different people stepping up and dominating different races… We had a lot of fun."
Marshall Olmos ('21) said, "Cross country is really fun, and that's why I am still happy to come to practices even after the official season ended."
Mrs. Gerken said, "I loved the season. I enjoyed running with the students. I loved the competitive spirit and the community spirit of the sport."
No matter if the teams advance to State Championships or not, the runners have proven themselves as athletes with strong mentalities and persistent spirits throughout the season. There is a chance the season might finally come to an end, but these Webb runners will keep working and pursuing future destinations in life with strength and confidence.
About the Contributor
Sunny Yu, Co-Editor of Opinion
To Sunny Yu ('22), nothing is impossible. Boasting the impressive titles of co-editor of Opinion of WCC, VP of the Bookworm club, and editor of her own...