Webb rocks around the holiday tunes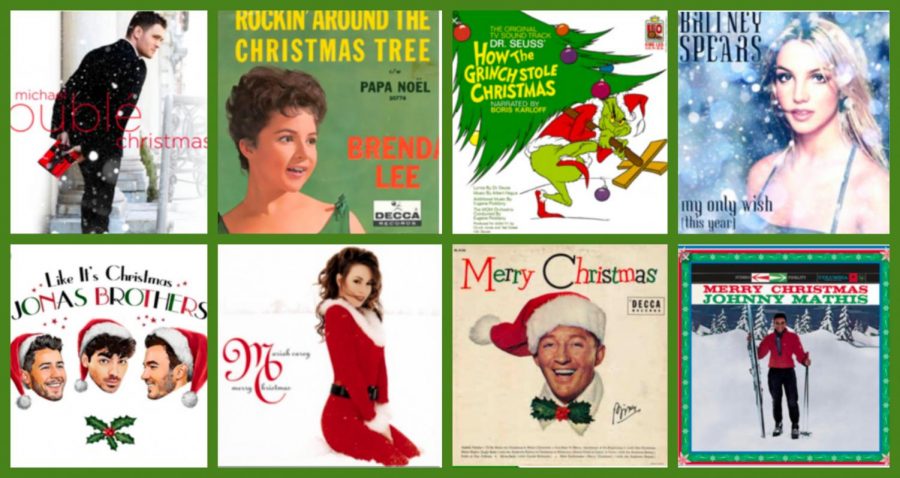 As the Thanksgiving season comes to a close, December brings holiday spirit and holiday tunes.
The Webb Canyon Chronicle has set out to make the ultimate holiday playlist for you by compiling a few students' and faculty members' favorite songs.
Members of the Webb community celebrate Christmas, Hanukkah, New Year's Eve, and more. 
Aliza Tyndale ('21) said, "Christmas is about getting together with all your family and embracing the love, which you usually do not get to do."
Caleb Novak ('22) said, "Hanukkah is a time to be very thankful. Christmas is more of just having a good time with my family."
Melissa Mani, Library Assistant, said, "I listen to [Muslim] holiday songs because they uplift my spirit."
With this playlist, the Webb Canyon Chronicle team hopes that you will enjoy the holiday season all the more. Perhaps when you roam the dorm hallways and hear the playlist playing, it will spark hope in you to power through and celebrate the end of the semester. 
<iframe src="https://open.spotify.com/embed/playlist/1uK8VwuvzekwEIbEYZMV4p" width="300″ height="380″ frameborder="0″ allowtransparency="true" allow="encrypted-media"></iframe>
Joanna Yap ('22) – "It's Beginning to Look a Lot Like Christmas" by Michael Bublé
Eva Paniagua ('22) – "Baby It's Cold Outside" by Dean Martin
Aliza Tyndale ('21) – "All I Want For Christmas" by Mariah Carey
Laura Li ('22) – "Mistletoe" by Justin Bieber
Sasha Theder ('22) – "Jingle Bell Rock" by Bobby Helms
Koki Mashita ('22) – "Last Christmas" by WHAM!
Ken Rosenfeld – "Let It Snow" by Dean Martin
Maya Dholakia ('21) – "Santa Tell Me" by Ariana Grande
Mia Wang ('20) – "Santa Claus Is Coming To Town" by Micheal Buble
Michael Hoe – "I'll Be Home For Christmas" by Bing Crosby
Alec Xiao ('21) – "It's the Most Wonderful Time of the Year" by Andy Wiliams
Gabe Hong ('20) – "Boy With Luv" by BTS and Halsey
Mariia Lykhtar ('22) – "Sleigh Ride" by Johnny Mathis
Will Li ('22) – "You're A Mean One, Mr. Grinch" by Thurl Ravenscroft
Howie Kalter – "The 12 Days Of Christmas" by Straight No Chaser
Maya Gutierrez ('21) – "It's Like Christmas" by Jonas Brothers and "The Little Drummer Boy" by Bing Crosby
Paige Woodard ('21) – "I Saw Mommy Kissing Santa Claus" by The Jackson 5
Sonsoles Cardillaguet – "Caroling Caroling"
Emily Wang ('22) – "It's Not Christmas Without You" by the Victorious Cast
Sarah Lantz – "White Christmas" by Johnny Mathis
Nancy Lin ('23) – "Have Yourself A Merry Little Christmas" by Sam Smith
Caleb Novak ('22) – "Dreidel Dreidel" and "Silver Bells" by Johnny Mathis
Candy Gao ('20) – "Chestnuts Roasting On An Open Fire" by Andy Williams
Michael Szanyi – "My Only Wish This Year" by Britney Spears
Nicole Chen ('21) – "Here Comes Santa Claus" by Elvis Presley
Cayden Lazier ('20) – "Frosty The Snowman" by Bing Crosby
Aidan Guterriez ('23) – "Grandma Got Run Over By A Reindeer" by Elmo & Patsy
Melissa Mani – "Ramadan Is Here" by Raef
Angie Zhang ('23) – "Silent Night" by Bill Crosby
Aidan Helgeson ('23) – "Winter Wonderland" by Bing Crosby
Ryan Bridges ('20) – "Merry Christmas Happy Holidays" by NSYNC
About the Contributor
Nichola Monroe, Staff Writer
A citizen of the United States and Switzerland, Nichola Monroe ('22) is a global traveler, activist, and leader. She is joining the staff of the Webb...