Webbies apply their architectural talents to gingerbread houses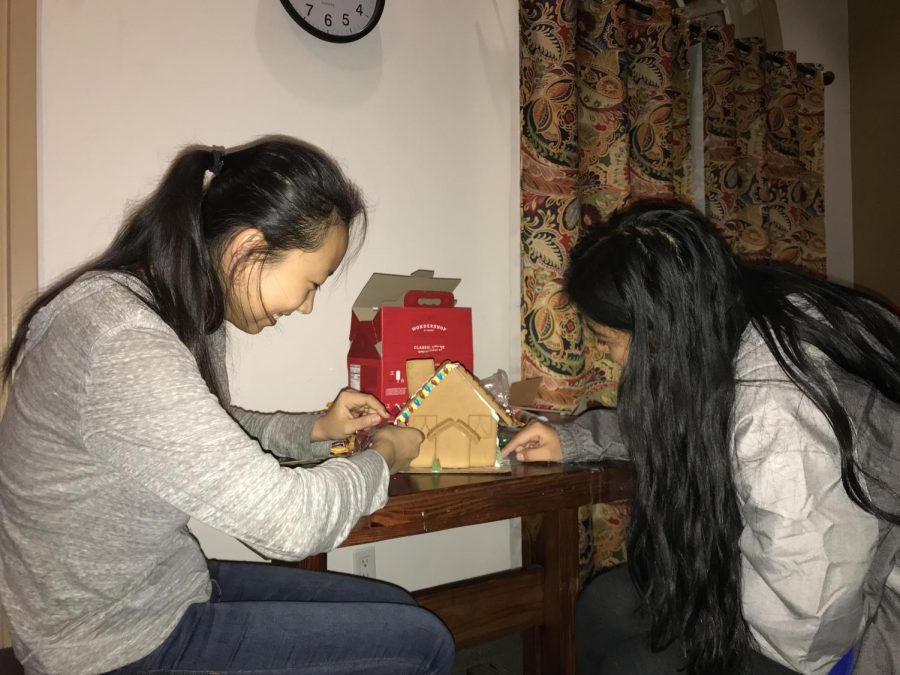 As the holiday season approaches, one can never forget the classic Christmas activity of making gingerbread houses. This year, one of Webb's new faculty members, Michael Hoe, Director of Studies, tackled the daunting task of satisfying students' needs for sugary decor. 
Students gathered in the South Hutch Lounge on a Saturday night, ready to conquer the Target-bought gingerbread walls, frosting, and assorted sprinkles. In the center of the table lay a large train of Reese's, Rolo's, Hershey Kisses, Sour Patch Kids, and a variety of other types of sweets. 
The sugar-rushed Webbies unleashed their creativity and architectural skill, as the structural integrity of their gingerbread houses would surely be put to the test. As the evening progressed, more and more roofs slowly slumped off the walls which were held together by piped lines of royal icing. Giving in to the inevitability of destruction by wet icing, the brave gingerbread architects began to consume their creative masterpieces. 
Will Li ('22) said, "I was really fun playing with Mr. Hoe's kid … she appreciated my architecture of the [gingerbread house]."
Mr. Hoe's fun-filled evening of gingerbread house decorating was a successful event and a great way to end the first Saturday back from Thanksgiving break. 
About the Contributor
Nichola Monroe, Staff Writer
A citizen of the United States and Switzerland, Nichola Monroe ('22) is a global traveler, activist, and leader. She is joining the staff of the Webb...