Shootings at military bases spark new debates over gun control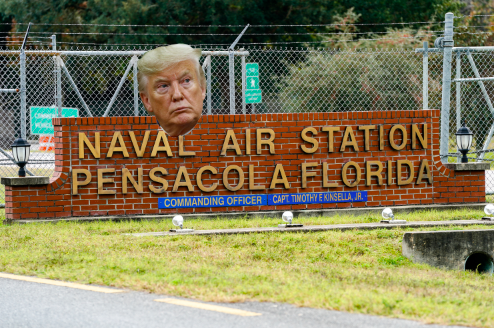 "I, [name], solemnly swear that I will support and defend the Constitution of the United States against all enemies, foreign and domestic; that I will bear allegiance to the same orders of the President of the United States and the orders of the officers appointed over me, according to regulations and the Uniform Code of Military Justice; So help me God."
Every military service member must vow to honor an Oath of Enlistment before they enter the armed forces. It mandates that all military personnel must be willing to lay down their lives in order to defend their nation. 
On December 4th and December 6th, there were two shootings on military bases. On December 4th, a sailor killed two civilians at Pearl Harbor Naval Shipyard in Hawaii before committing suicide. Just two days later, the Naval Air Station Pensacola in Florida was shaken when a Saudi National opened fire on the base, leaving three people dead and eight injured. 
The shootings have left government officials with a huge question; Should military bases still be "gun-free zones"?
Military bases are "gun-free" zones, which means that you are not allowed to bring a firearm onto the base in normal circumstances. Military officials that serve as security for the bases are allowed to use a gun, though laws may vary on different bases.   
Making military bases into "gun-free zones" has allowed for a "safe" area that has prevented shootings from happening in the past. Only 20 shootings on military bases have occurred since 1993. In comparison, throughout the past 46 weeks, there have been 45 school shootings.   
Proponents of the "gun-free zone" law say that 20 military base shootings are too many. Opponents of this law argue that the heavy restrictions on gun usage on military bases have allowed for more dangerous situations. In response to the shootings, President Donald Trump has vowed again to make Americans safer as he states, "I will get rid of gun-free zones in schools – you have to – and on military bases." He believes that weapon-free zones have given attackers the license to "destroy innocent lives unchallenged." 
President Trump has proposed a more immediate defense against shooters. He said, "An attack has lasted, on average, about three minutes. It takes five to eight minutes for responders, for the police to come in, so the attack is over. If you had a teacher who was adept at firearms, they could very well end the attack very quickly." 
President Trump believes his plan could also be applied to military bases because he thinks that gun-free zones invite shootings. Every service member should be required to carry firearms. The soldiers have already proved willing to protect themselves, so the government should now legally protect their efforts. 
But to adopt this plan would mean an end to gun-free zones. 
An end to gun-free zones may not come as easily as President Trump may expect. The Gun-Free School Zones Act of 1990 prevents a person from bringing or discharging a firearm within 1,000 feet of a public or private school. Congress, including many of the members who are gun-rights supporters, has currently shown no inclination to repeal the law. 
The President does appear to have support from the United States populace. Current polls reveal that 56% of Americans believe that the country would be safer if people were allowed to carry concealed weapons, and with gun rights organizations promoting the idea that ordinary citizens can stop gun attacks, fear of gun violence is at an all-time high. The terror that Americans feel when faced with the threat of shootings may encourage them to support the president's plan. 
Getting rid of gun-free zones would allow for more people to have access to firearms. But, the President must make sure that through solving a problem, he does not create a new one. 
Malika Neogi ('20) said, "I do not like guns. I personally do not think that it is right for everyone to have a weapon. It is a privilege to carry a gun that should be earned by a person proving that it will be used for the right things."
The government continues to argue whether or not gun-free zones should remain gun-free. 
With 385 shootings occurring in the United States over the past year, the nation should first come together and decide who earned that right.  may the first band together to decide who truly earned that right.
About the Contributor
Janina Akporavbare, Staff Writer
Janina Akporavbare ('22) loves to write, so her choice to join the Webb Canyon Chronicle as a staff writer is a perfect choice. During her leisure time,...