Environmental Club's Community Dinner promotes sustainable diets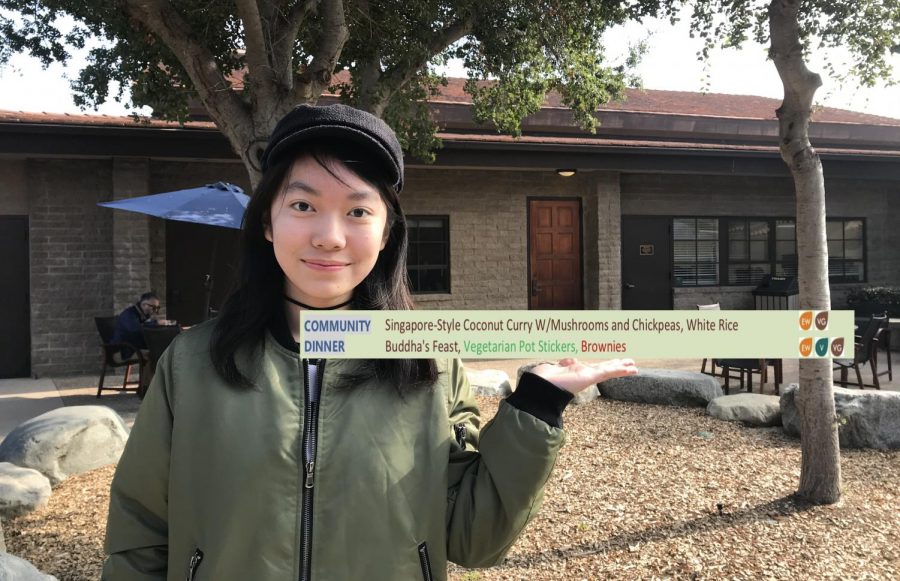 To kick-off 2020 at Webb, Shuci Zhang ('23) of the Environmental Club proposed and hosted a vegan community dinner. As part of January's campaign on regenerative agriculture, this dinner promoted a plant-based diet for students and faculty. 
As a school that typically serves meat up to three times a day, it can be difficult to recognize the many plant-based options all around the Price Dining Hall. The community dinner was an effort to help students recognize that reducing meat consumption is not as hard as it may seem, and vegan meals can be pretty tasty too.
After hearing Jackie Leishman, fine arts department faculty, speak for Sunday chapel about her efforts to help raise awareness about climate change through collage art, students quickly filed into the dining hall to their assigned tables. On the menu of January 12th, 2020 was rice with a chickpea curry, mixed vegetables, flatbread, vegetable dumplings, and apple pie – all completely vegan.
There is often a perception that vegan food is boring or not flavorful because plants do not have the same depth of flavor as meat does. 
"I always thought vegan food was like baby food that people had to make themselves," Logan Causley ('22) said.
"I think it's important that people understand the vegan and vegetarian food is not boring," said Jenna Hawkes ('21), President of the Environmental Club. "A lot of what people do not understand is that you can build flavors without meat and animal products. I think the dinner did a great job of showing that!"
Many students were open to eating a vegan meal, and though it was not everyone's favorite, they respected the effort and the message.
"[The food] was okay, I liked the curry, but I did not like the chickpeas so much," said Elaine Liu ('20). "It was basically a normal meal, but it helped people to think more about the environmental aspects of vegan diets."
"I really liked the vegetable potstickers, they were my favorite, and everybody else at my table like them too," said Maya Gutierrez ('21). "It felt good because sometimes I feel like meat is not the best energy source for me. Having a meal that I did not have to rely on meat for was really nice. I knew that I was eating clean and ethically."
The Environmental Club's goal for this community dinner was to introduce students to vegan food and ideally convince some students to consider a vegan lifestyle.
"I would be interested in it trying out," said Sam Zeiden ('23).
"In the future, I would love to abstain from eating meat as much as I can," Maya said.
"Not really," said Logan, when asked if he would like to reduce consumption of animal products. 
The Environmental Club is planning future events for the entire campus.
"This semester we are going to put in more of a focused effort into our local Webb environment," said Jenna. "Next week the Environmental Club is going to be working with the Book Worm Club on a recycling initiative so that students and faculty can see how much plastic we generate. The money earned from giving the plastic back to the city should go to charities."
Although the outcomes and impact from Sunday's community dinner varied, the Environmental Club hopes the seed was planted, and will hopefully contribute to a more sustainable campus and Webb.
About the Contributor
Nichola Monroe, Staff Writer
A citizen of the United States and Switzerland, Nichola Monroe ('22) is a global traveler, activist, and leader. She is joining the staff of the Webb...