Webb students are energetic about Sushi Day
When Webb students discovered that Friday, January 24th was Sushi Day, they were extremely excited. Sushi Day offers students a large variety of sushi that they would otherwise have to pay money for outside of school. It rarely happens within the school year so when it is announced, students lose their minds over it, creating pandemonium in the quad! 
"I love Sushi Day because it is probably one of the best meals the dining hall [staff] produces for the students," said Gregory Tolmochow ('21). "I like the variety of rolls they offer and sushi is one of my favorite foods."
"I like to eat Webb's sushi because they offer many different varieties that I don't have to pay for," Malachi Cassel ('20) said. 
Sushi Day makes it easier for teachers to convince students to finish classwork because students ask to be let out early in order to beat the swarm to the food. Therefore, teachers make deals with their students to get out of class early in return for finishing the agenda for the day.
"I'm not going to lie that there has been times in years past when I have motivated my students to work diligently throughout the middle block period in order to release them 10 minutes early to get sushi," said Sarah Lantz, VWS Dean of Students. 
Even Webb alumni lose their minds when they hear the announcement of Sushi Day!
"I was already coming onto campus for Teja Reddy's chapel talk, but when I heard it was Sushi Day, I became extremely excited," said Lawerence Mao ('19), Valedictorian of the WSC Class of 2019. "It was my favorite meal at Webb."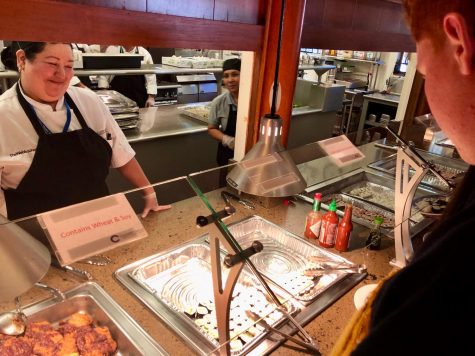 If you missed out on Sushi Day, you missed one of the most anticipated meals to come out of the dining hall. The next time it comes around, be sure to join in on the pandemonium and eat some delicious food. You will not want to miss it!
About the Contributor
Christopher Haliburton, Co-Editor of Opinion
Christopher Haliburton ('20) is enthusiastic about his new position as Co-Editor of Opinion for the Webb Canyon Chronicle. This year, Christopher decided...