Nadya Okamoto inspires students at Health and Living meeting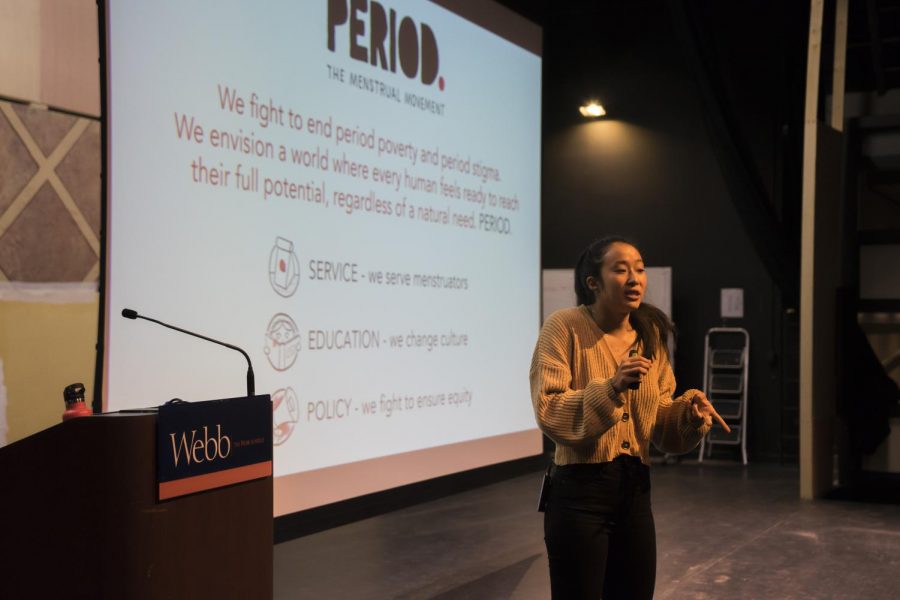 "How many people know what menstruation is?" asked Nayda Okamoto. Giggles and side conversations scattered throughout the audience of sophomores, juniors, and seniors. Before Nadya's Health & Living talk, the topic of female health may have seemed taboo, but by the end students openly shouted "PERIOD" alongside Nayda.
This past Wednesday, January 22, 2020, the Webb guidance counselors and peer advisors welcomed Nadya Okamoto as the Health & Living speaker. 
Health & Living is a space for various speakers and groups to come into the Webb community and share their stories. While past speakers such as representatives from ACE Los Angeles, Phillips Exeter faculty member Alex Myers, and representatives from Freedom from Chemical Dependency, have provoked discussion, nothing could compare to the inspiration and excitement following Nayda's talk. Many students posted photos of Nadya and her organization on their Instagram stories with words about how much her talk influenced them. 
"[Health and Living] was really amazing because she was so relatable," said Sofia Centeno ('22). "When we have other speakers they seem like a completely other being who knows exactly what they are doing… She was in a position just like us and went out there and made changes in the world which is really awesome."
Nadya Okamoto is a young, social entrepreneur. Her accomplishments include founding the non-profit Period., running for city council in Cambridge, Massachusetts, working as a CBO of a Generation-Z consulting agency called Juv Consulting, and writing the book Period Power: A Manifesto for the Menstrual Movement. Her Health and Living session was a call to young students to take action about the ideas that they are passionate about. 
Right away, her talk captured students' attention with her unfiltered language and enthusiasm. Intertwined with personal stories, Nadya first shared how she started her non-profit Period. As a rookie to running an organization, Nadya relied on the internet to help her learn how to run a non-profit.
After sharing about starting her organization, Nayda shared the accomplishments Period. has achieved. Period. has grown into a global organization that is working to end period poverty and fight the stigma around menstruation. The organization also hosted the first-ever "National Period Day" on October 19, 2019. 
"My biggest takeaway from [her talk], was just saying the words period and menstruation can actually help end stigma," said Ian Igleheart ('20). 
After Health and Living, students stayed behind to ask Nadya questions and learn more about her journey.  
"It is really hard to imagine how much she was able to do at a similar age as me but it was also really inspiring to hear her story," said Leo Cheng ('21). 
Nayda's passion was female menstrual health, but her story and journey could be applied to any form of activism. Nadya encouraged Webbies to pursue their passions based on what inspires them to make a difference. 
About the Contributors
Laura Haushalter, Editor of Sports
Laura Haushalter ('21) is a jack of all trades: captain of the VWS swim team, future participant of the LA marathon, lover of Spanish language and culture,...
Stephen Li, Editor of Photography
Stephen Li ('21), a boarding student from Beijing, is Editor of Photography, which is a new position at the Webb Canyon Chronicle. He loves football,...