Webb students reunite in Beijing and Shenzhen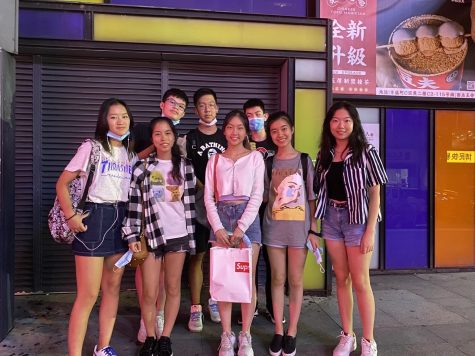 For most evening students, a typical school day looks something like this: they wake up early in the morning to participate in afternoon activities, eat breakfast, attend three blocks of live academic sessions, and have lunch with their family. In the afternoon, they complete their assignments and projects, and maybe go out for a walk. Most of them have not seen many of their friends from Webb for months and can only communicate with them through text messages and occasional video calls.  
While Webb students lamented a lack of social life and in-person interactions during the online learning module, international students, both new and returning, organized meetups in Chinese cities to compensate for their loss of face-to-face interaction with their peers during the pandemic. 
On September 12th, the Saturday of the first week of school, Hank Sun ('22) organized students located in Beijing for a meetup in a café where new students introduced themselves, got to know other students from Webb and played a couple of simple desk games. In total, thirteen students showed up to the event. 
"I thought that since we have gone online, everyone must be feeling isolated and only communicating with people on Zoom," said Hank Sun ('22). "Especially since we are not in the same time zone as everyone else, it makes it even more difficult to contact more people from school. This was an opportunity for people to reconnect with each other as Webbies." 
Meanwhile, on Sunday, September 13th, Jimmy Feng ('21) and Tina Rong ('22) assembled with other Webb students in Shenzhen and played a popular interactive detective game. During the game, each player was assigned a script and role, and together needed to find the "murderer" in the group while the murderer had to hide their identity to win. Throughout the game, each student "interrogated" others individually, discussed the details of their scripts, and shared ideas and thoughts on the logistics of the game. 
During the meeting, three new students were able to learn more about Webb by communicating with returning students, and the reunion was a chance for all participants to reconnect. 
"[I participated] because it would be nice to meet with other Webb students in Shenzhen especially during the online learning module and to have in-person interactions with other students," said Fiona Jiang ('22).  
Both the weekend events in Beijing and Shenzhen gave students a chance to step outside their house to interact with their peers in person, a rare opportunity during the online learning module.  
"It was great to be able to actually talk to people," said Hank. "Zoom has limited many aspects of communication. It felt even better to be able to answer new student's questions and concerns as well…. Everyone was excited to be able to talk face to face, and it didn't take much motivation to get a huge crowd." 
"This is a great way to meet up with friends I haven't seen for a long time," said Tina Rong ('22). 
For new students, the beginning of the school year presented unique challenges to their social interactions.  
"My biggest challenge in this special school year is definitely about making friends," said Rita Wang ('24). "The pandemic created more difficulties, especially for international new students, to get involved in the Webb community because we cannot have classes together with other Webbies in the U.S. The only time I can meet with other US Webbies is during my debate afternoon activity, PA meetings, Advisory meetings and other community events." 
With the regional gatherings, however, new students could talk to their peers from Webb and interact with members from the community.  
"I was lonely and isolated [before this event]," said Chloe Wang ('24). "I wanted to meet new friends from Webb. The event was really nice and relaxing, and it wasn't awkward at all." 
Although it was difficult to organize meetup events like these at first, many students expressed their interests in future activities that will bring students from the same city together. 
"I was hoping we could meet every 1 or 2 weeks on Saturday, making it a kind of regular meeting," said Hank. "It will not be forced upon anyone but a great opportunity to meet up and chat about life in general." 
"[I look forward to] having a meeting twice a month, doing more activities such as going to a park or other places rather than a café in the future," said Jack Zhou ('23). 
"I will be willing to go to similar meetup events once per two weeks or once per month," said Fiona. "We discussed math homework problems that we struggled to solve and about some interesting thoughts from humanities courses. It feels like weekend dorm life to me in some way." 
As students wait to return to campus, the offline activities provide them with opportunities to relax themselves, obtain a sense of community in their cities, and directly communicate with their peers.  
"Overall, I felt like it was just wonderful to connect with more people from school, and I can't wait to do it again," said Hank. 
"I feel that reconnecting with other Webb students in person during weekends can really help me to gain a sense of community even if we are not on campus," said Fiona. "I am happy to see these familiar faces and get to know new freshman through this event." 
Although the school year is nothing like many Webb students anticipated, students across the world are finding ways to compensate for their limited social life. On future weekends in Beijing, Shenzhen, and possibly other places, it will not be surprising to see a table of students getting to know each other, making new friends, talking, laughing, and having fun together. 
Leave a Comment
About the Contributor
Sunny Yu, Editor-in-Chief
Sunny Yu ('22) is a prime example of the protagonist personality. As a natural leader, she is active, thoughtful, caring, and serves as the Editor-in-Chief...