Intense Santa Ana winds blow through SoCal cities
Trees fell to the ground, cars shook on the freeway, large rigs flipped over, and students were left without power on Monday October 26— the culprit: the Santa Ana Winds. 
Webbies in Southern California had to deal with lost power, flying debris, and howling noises as they sat in online classes. Webbies in Upland, CA and Rancho Cucamonga, CA lost power during their morning classes as a result of the extreme wind. For some, the power did not return until much later in the day, after all academic classes had ended.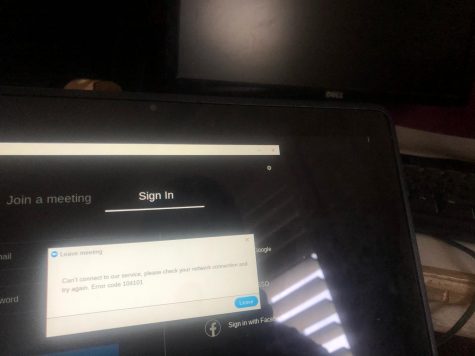 "I first realized that my power went out when my lights started flickering and turned off, then I looked at my Zoom and realized it froze, so I checked my internet connection to find no reception at all," said Katie Arzate ('23).  
Santa Ana winds are normally the most ferocious in October, as evident by Monday's grueling weather. Santa Ana winds start up north in higher altitudes and then flow downhill towards the coast. The wind travels from an area of very high pressure to an area of low pressure, stopping at nothing in its way. The wind is characterized as fast, warm, and dry.  
Santa Ana's are especially dangerous when it has been hot and dry, increasing the chance of fire and spreading already existing fires at unmatched speed. California is battling raging wildfires that are flying in every direction and the winds are only making it worse. In Claremont, the Wildness Park closed and will re-open on Wednesday October 28th due to the high risk or fire.   
Webbies in Irvine and Chino Hills are dealing with the threat of the fires that are being exacerbated from the wind.  
"The fire is really scary because I live 2 minutes away from the areas that got evacuated, but my family got really lucky because our house is right in between the areas that needed to be evacuated," Emily Wang ('22) said. "However, my sister and my mom can no longer go to work because roads are closed." 
The Santa Ana winds are another part of California, just like Los Angeles' earthquakes. Many well-known Los Angeles authors, such as Joan Didion and Raymond Chandler, have written about the eerie winds that blow in from the northeast that make the residents of Los Angeles go mad.  
"When the power went out in my house and I was kicked off of Zoom, my house was in hysterics as three other family members also got disconnected," Julia Patronite ('21) said. "I was sitting with only seventeen percent battery on my phone and no way to charge it and my worry increased. I realized that such a small event like a power outage has such a significant impact when both my social life and now my school life is online." 
On a survey sent to STAS, seventeen out of the seventeen students who participated reported being affected by the wind. In addition to losing electricity, some Webbies reported that their houses were covered in ash blowing from nearby wildfires. Others dealt with the lost electricity by driving somewhere that had WIFI. 
During a Santa Anna windstorm, it is best to be inside and away from anything that could fall. If you must go outside, be aware of your surroundings. More intense winds are expected throughout the week.  
Bianca Arteaga ('22) and Laura Haushalter ('21)
Leave a Comment
About the Contributors
Bianca Arteaga, Public Editor
Do you know many busy bees at Webb? If you don't, then maybe you haven't met Bianca Arteaga ('22)—a self-described bee, she is productive, cheerful,...
Laura Haushalter, Public Editor
Enthusiastic, positive, determined, and athletic, Laura Haushalter ('21) uses her passionate attitude to take on many leadership roles: captain of the...