Faculty in Focus: Brian Rogers (Author of The Whole of the Moon)
In September, Mr. Brian Rogers, a humanities teacher, published a novel called The Whole of the Moon. This book took me on a journey through six intertwined narratives. The characters in the novel are from different backgrounds and time periods, yet have each checked out the same copy of The Great Gatsby from the same public library. These characters reside within an hour of Hollywood; however, not everything about their lives resembles the stereotypical Los Angeles glamour and glitz. They endure many hardships, yet find hope and happiness in the things we commonly take for granted.
The setting is scattered east and west along the highways of Los Angeles county. From Melrose Avenue to the Inland Empire, this book dragged me on a quite an expedition throughout Southern California. Some familiar places include: Route 66, Foothill Boulevard, Orchard Supply and Hardware, and the Foothill mountain range.
More than just the setting may feel familiar. Mr. Rogers weaves in echoes of Webb into his plot. In the strand, The Comeback Kid (1993), Mr. Rogers references the VWS Honor Cabinet. "High school. Alcohol. The first time I stood before a jury of my peers and got put on probation" (82). The familiarity of Mr. Rogers' fictional universe transports readers into the lives of his characters.
Not only does Mr. Rogers weave echoes of Webb into the story, but he also includes a bit of his own background into one of his characters, a boarding school teacher in Claremont. In Cousin Billy (2001), he writes, "I was a prep school teacher living in a small campus apartment–I had never moved out of the one originally provided to me; it suited me fine and I am a creature of habit–and a party in the Los Feliz Hills sounded like a good antidote to poring over student papers or eating spicy tuna rolls alone at Shogun's" (116). When asked about his inspiration for that character, Mr. Rogers said, "There is a little bit of me in that character, but not entirely. I don't live on-campus, nor do I have a cousin who is a prime murder suspect. However, I did grow up with a cousin who is a bit Gatsby–esque."
My favorite quote from the novel is: "They never knew: at one time they had checked out the same library copy of The Great Gatsby, held the same book in their hands. Our lives intersect that way, little coincidences that we never know" (211). I love the theme of how our lives cross paths unexpectedly and in brief flashes. You never know what the universe has in store for you.
Mr. Rogers started his rough draft the day after Thanksgiving of 2015. It took him roughly two years to complete the writing, editing, and publishing process. When asked about his journey as an author, Mr. Rogers replied, "I didn't always dream of becoming an author. I became more serious about writing around the age of 30. Webb's school library inspired me to write The Whole of the Moon. I have always loved Fawcett Library's old fashioned cards, and I have been fascinated by the idea that a single book has passed through generations of Webb students. It's amazing that some of the books in our library have been read by students who graduated in the 40's or 50's."
The Whole of the Moon has a five-star rating on Amazon. Students and teachers can also access copies in Fawcett Library. When you borrow The Whole of the Moon, you add your name to the old fashioned cards. Who knows? Maybe someday our futures will align…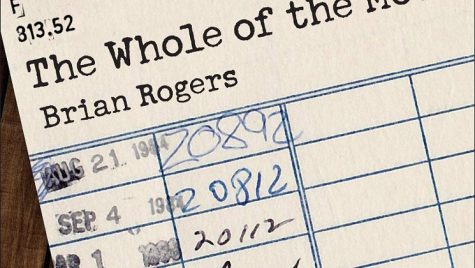 About the Contributor
Sydney Wuu, Editor-in-Chief
Imagine being Editor-in-Chief for the Webb Canyon Chronicle, VWS all-school president, co-captain of the varsity tennis and water polo teams, and a big-time...