The ultimate list of "Friends" Thanksgiving episodes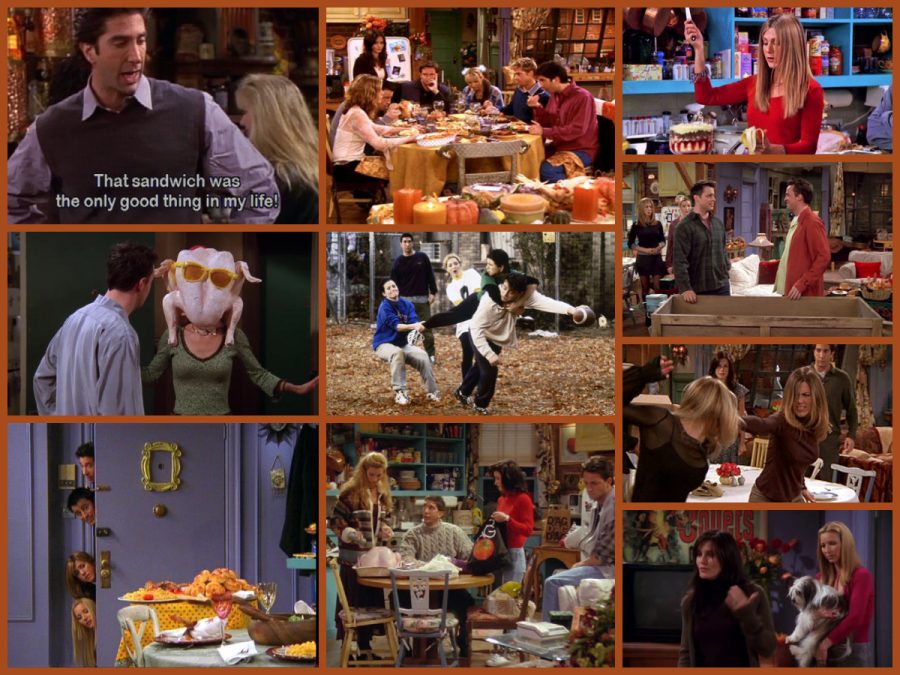 Turkey, gravy, and sweet potatoes are everyone's essentials for Thanksgiving, but for me, turkey time is never complete without re-watching the classic Friends' Thanksgiving episodes.  
Even though Friends first aired over 20 years ago, I feel as if I am part of the crew that sits at Central Perk and drinks coffee with Rachel, Phoebe, Monica, Chandler, Joey, and Ross. As someone who can quote Friends unprompted, who has seen every episode a gazillion times and relies on Friends for laughter, I am well qualified to give you the (my) ultimate list of Friends episodes.  
During Friends ten season run, the show produced nine Thanksgiving episodes and the fall holiday quickly became the defining holiday of the TV series. Each Thanksgiving episode invites the viewers into Monica's apartment for 20 minutes of laughter and holiday spirit.  
While you are stuck at home for this unique COVID holiday season, why not use it as a time to catch up on the funniest, craziest, and sweetest Friends' Thanksgiving episodes out there?   
9. The One with Rachel's Other Sister: Season Nine, Episode Eight
The only funny part of this episode is that Joey misses being in the Macy's Thanksgiving Parade, so I have ranked it in the number nine spot. Other than Joey's parade fail, the storyline revolves around who would get Emma if Rachel and Ross die. Rachel's sister makes a surprise visit, which just creates weird tensions around the table and ruins Thanksgiving dinner. Everyone has a self-centered family member that creates drama, and for Rachel, that member is Amy. Still a funny episode but definitely not the best.
8. The One Where Chandler Doesn't Like Dogs: Season Seven, Episode Eight
Overall, this episode is unmemorable. Chandler does not like dogs. Ross becomes fixated with naming all 50 states, and Rachel is obsessed with her assistant Tag. Other than that, this episode is mediocre.   
7. The One Where Underdog Gets Away: Season One, Episode Nine
Early in the first season, the show's actors were still figuring out how to develop and express their character; this episode reflects that. Monica works to create everyone's favorite holiday meal, but when the group runs outside to watch the Underdog balloon that escaped the "Macy's Thanksgiving Day Parade," they get locked outside. Dinner is ruined, and instead of eating a traditional feast, the group makes grilled cheeses and tomato soup. This episode proves that you do not need fancy traditional meals to have a good Thanksgiving. Instead, you just need one another.
6. The One with the Football: Season Three, Episode Nine
I love watching the friends play football. The friendly competition between the characters always gets me in the holiday spirit. An overall sweet episode, in which the friends fight on the field for the "Geller Cup."   
5. The One with the Late Thanksgiving: Season Ten, Episode Eight
This is the most bittersweet Thanksgiving episode because it is the last time the group will gather around Monica's dining room table for the holiday. Monica works tirelessly to create a grand meal for the friends, yet all of them show up over an hour late. Rachel and Phoebe went to a beauty pageant, and Ross and Chandler attended a New York Rangers game instead. The four friends try to apologize by sticking their heads through the door and are referred to as "floating heads." After an accident, all the Thanksgiving food is knocked off the table and is ruined. However, this episode has the sweetest ending, as Monica and Chandler find out their application for adoption went through, and the group ends up having a sweet dinner to celebrate the happy news.
4. The One with the Rumor: Season Eight, Episode Nine
Though often considered the best Friends Thanksgiving episode, I rank this episode as a solid number four. Brad Pitt guest stars as Will, Monica's old high school friend who also happened to be the president of the "I hate Rachel Green Club." Bringing up old high school memories, the Thanksgiving table has a lot of tension, but the funny dynamic between Brad Pitt and Jennifer Aniston saves the episode. Will even says the iconic line, "My two greatest enemies, Rachel Green and complex carbohydrates." In addition to the high school memories and drama, Joey deals with his own internal Mt. Everest. Monica wants to forgo cooking a turkey, but Joey, in a daring act, promises that he can eat the entire turkey if Monica makes it. After successfully eating a 19-pound turkey, Joey asks for pie because one always have room for dessert.  
3. The One with the Thanksgiving Flashbacks: Season Five, Episode Eight
Flashback episodes always generate lots of laughs, and this episode is no exception. The group reminisces about their worst Thanksgiving memoires. Chandler hates Thanksgiving and by far has the most negative memoires. The best part of the episode is seeing Joey and Monica wear turkeys on their heads.
2. The One with Chandler in a Box: Season Four, Episode Eight
When you hurt your friend, how far are you willing to go to save your friendship? After Chandler steals Joey's girlfriend, he will do anything to get Joey, his best friend, back. To show Joey how much he cares, Chandler spends Thanksgiving in a box. The rest of the group has great storylines, and this episode produces one of the most popular Friends one-liners, "Judge all you want but [points at Ross] married a lesbian, [points at Rachel] left a man at the altar, [points at Phoebe] fell in love with a gay ice dancer, [points at Joey] threw a girl's wooden leg in a fire, [points at Chandler] LIVES IN A BOX!" Besides the comedic value, this episode points to what Thanksgiving is all about: family and the relationships you form with one another. 
1. The One Where Ross Got High: Season Six, Episode Nine 
Rachel Green cannot cook, and, in this classic episode, Rachel is tasked with making a Thanksgiving dessert: a traditional English trifle. Unfortunately, Rachel's trifle includes a few extra ingredients like beef sauteed with peas and onions, which obviously does not go well with the recipe's layers of cream, custard and ladyfingers. In an attempt to not hurt Rachel's feelings, the rest of the group pretends to love her trifle, which leads to lots of hilarious acting. As the episode nears the end, the friends' secrets are revealed in a screaming match, a scene that may be familiar to any family. From Joey who just wants to go to a party, to Phoebe who is in love with Jacques Cousteau, every story line in this episode is strong and will leave you rolling on the floor with laughter. 
Honorable Mention: The One with Ross's Sandwich: Season Five, Episode Nine
This is technically not a Thanksgiving episode, but the main storyline of this episode is all about Thanksgiving leftovers. Ross, who is going through a difficult time in his life, has very few things going well for him. The one thing he is looking forward to is his "Thanksgiving leftover turkey sandwich with a slice of gravy-soaked bread in the middle," that unfortunately someone else ate. When Ross finds the culprit who ate his sandwich, he freaks out and shouts, "You ate my sandwich. My SANDWICH." Ross' obsession with Thanksgiving leftovers is relatable and this is the perfect episode to watch as you enjoy your own leftovers.  
About the Contributor
Laura Haushalter, Public Editor
Enthusiastic, positive, determined, and athletic, Laura Haushalter ('21) uses her passionate attitude to take on many leadership roles: captain of the...