Historical touchdown by Jackson He inspires Webb Asian athletes
Stephen Li, Chief Editor of Media
December 17, 2020
Arizona State University versus their Pac12 football rivals University of Arizona, seven minutes and 11 seconds left in the fourth quarter, ASU led by 56 — the game had long been out of reach before Jackson He made his debut. 
Believed to be the only Chinese-born player in the Football Bowl Subdivision, Jackson received the hand-off on the one-yard line and powered into the endzone for the first ever touchdown scored by a Chinese-born player. The sideline flooded onto the field to celebrate as if Jackson had just scored the game–winning touchdown. 
Hailing from Shaoguan, China, Jackson He came to the United States when he was 17 and had only played one year of high school football before enrolling at Arizona State University as a regular student. Jackson simply showed up at the football office after arriving at ASU and informed the coaches that he wanted to walk on to the team, not even as a preferred walk-on prospect.  
After reviewing Jackson's dazzling highlights tape that showed his quick footwork and ability to carry the ball, Jackson was offered a spot as the running back on the scout team for Sun Devils football. Working his way through the ranks, Jackson suited up for the Sun Devils for the first time on December 6th against UCLA before lining up for his first snap that resulted in a touchdown on December 11th, 2020 against Arizona.  
Speaking of the touchdown, Jackson was calm and acted like it was no surprise.  
"An opportunity came, so I just had to catch it," Jackson said. 
However, reflecting on his journey before this historical moment, Jackson had a lot more to share. 
"Being the only Chinese playing football at the FBS level, I always think I'm blessed and lucky," Jackson said. "However, with only luck I can't stay at this level. Discipline and hard work are going to keep you at this level or even go to the next level. When you want to go somewhere you really want to go, you should not hesitate to put in the work, and should not be beaten down by obstacles… work hard, work smart, do every little thing right, and always stay ready when your name is called." 
This historical touchdown received attention from athletes around the world. Among them, Asian celebrities and athletes were the most excited and beyond proud. Taylor Rapp, half-Asian NFL star and safety for the Los Angeles Rams, responded to this historic moment.  
"一切皆有可能! (Everything is possible), congrats lil bro, keep going!" said Rapp under Jackson's Instagram post on December 14th, 2020.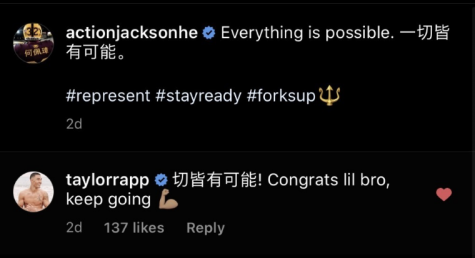 Boqiao Li, the first ever NFL International Player Pathway Program prospect from Beijing China, expressed excitement and his congratulations to Jackson on his Instagram as well. 
"I never thought it was possible for an Asian kid like myself to ever play football on national television," said Jimmy O. Yang, a Chinese American actor who starred in the movie Crazy Rich Asians. "So, to see an Asian brother do it, a Chinese immigrant, with his Chinese name on the back of his jersey, is truly a vicarious dream come true."  
Jackson's journey inspires many athletes, especially Asian athletes around the world to break stereotypes and barriers while pursuing their athletic goals. With a diverse community and a significant number of international students, Asian athletes at Webb expressed their excitement and felt motivated by Jackson's performance as well.  
"It was truly inspiring to hear about his story," said Kalman Dong ('22), captain of the WSC varsity basketball team. "It's great to see that representation as an Asian community."  
As one of the few Asian football players at Webb, Hank Sun ('22) was also motivated by Jackson He.  
"It makes me proud knowing that Asians are getting recognition in sports that are traditionally more American and lack the appearance of my race," Hank said. "It also gives me hope that I could continue playing the sport despite my race and the history behind it."  
There was no doubt that it was a big day for the Asian community, an event that will forever be ingrained in history. From Yao Ming to Jeremy Lin, it has always been inspiring to see an Asian athlete competing on the highest level of sports representing billions of people just like them.  
In history, there has never been a Chinese-born player to play NCAA division I football, or for the NFL. However, it is certain that someday, one of these "quiet and nerdy" guys will be representing this community, plowing through ignorance and sacking all stereotypes. 
About the Contributor
Stephen Li, Chief Editor of Media
Stephen Li ('21) is the Chief Editor of Media this year for the Webb Canyon Chronicle. He only started photography recreationally four years ago, but...