The ultimate review of Honey & Butter Macarons
The macaron. A simple, yet elegant dessert made with a handful of ingredients and a whole lot of patience and skill. Speaking from experience, it is difficult to perfect the art of making a macaron because of its delicacy and the various factors that influence the outcome.  
However, at Honey & Butter Macarons, they have perfected their art entirely, elevating the baking game by introducing never–before–seen flavors and even creating character macarons as well. Located at the Irvine Spectrum Mall, Honey & Butter is a gem for those who love tasty desserts with a dash of creativity. It is safe to say that it has become quite a hit among the locals, as lines quickly start to stretch during the prime time of the weekend.  
Once you step inside the cozy space, you are met with cute plushies and characters donning the pastel pink walls along with a picture wall with a swing. Due to COVID-19 regulations, the seating area and swing has been looped off.  
Moreover, the shop only sells macarons from Thursdays to Mondays, and on Tuesdays and Wednesdays, they only sell boba kits. Undoubtedly, the macarons are still the main attraction. As they rest in the chilled glass case, the variety of macarons are waiting to be chosen.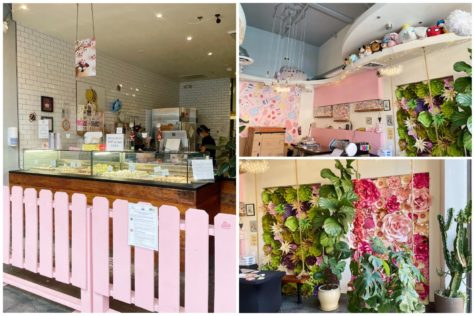 A unique aspect of Honey & Butter is that they have adopted a weekly rotation for the macaron flavors, meaning they change each week, some returning often and some coming back in the future. This rotation gives the shop a chance to not only introduce new flavors, but to always keep it interesting and have us coming back for more. 
"The goal of Honey & Butter Macarons is to [deliver] an experience of taste, quality, and the love we put in the cookies. We want customers to experience happiness when they have our cookies," said an employee working at Honey & Butter. 
I believe this to be very true, as the level of detail and care put into each cookie is remarkable, and I have never seen their level of skill anywhere else. I have seen them in action working in the kitchen during some of my visits, and they truly make masterpieces for us, the customers.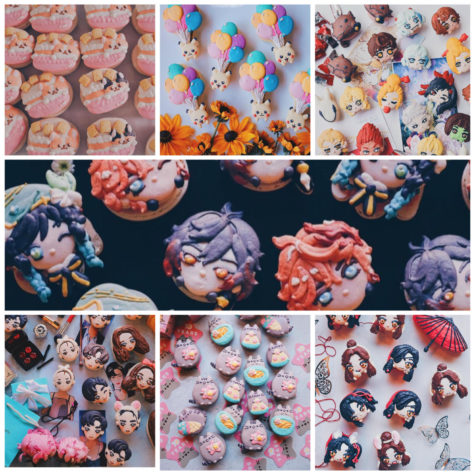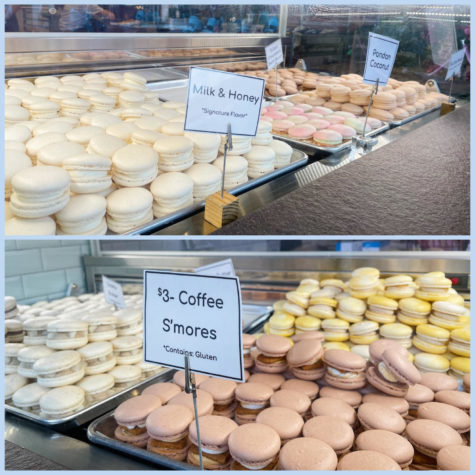 Now, because of the skill and work it takes to craft one of these macarons, these cookies come at a cost of two dollars and fifty cents per macaron, a fair price with some specialty macarons ranging from three to five dollars apiece. It is to be expected, as the bakers come in everyday at six o'clock in the morning to bake these macarons fresh by hand. With this price tag, it becomes important to narrow down the best few to ensure your money is well spent. Although no macaron is substandard here, there are some that definitely stand out.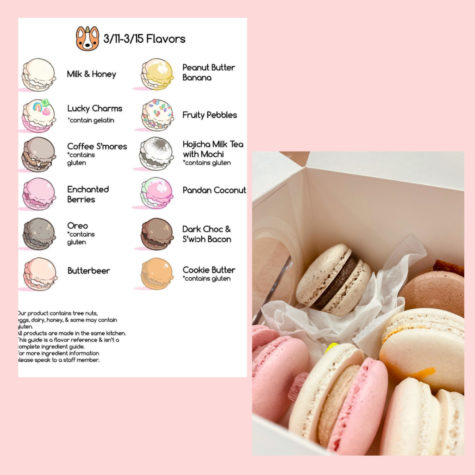 Based on this week's flavor rotation, I selected a just a few to give my personal and honest reviews. I did not buy any character macarons as they did not have any, but I got a mix of specialty and regular macarons to review on a scale of zero to five. I will be assessing taste, creativity, and availability for the initial rating along with giving a description of the composition as well.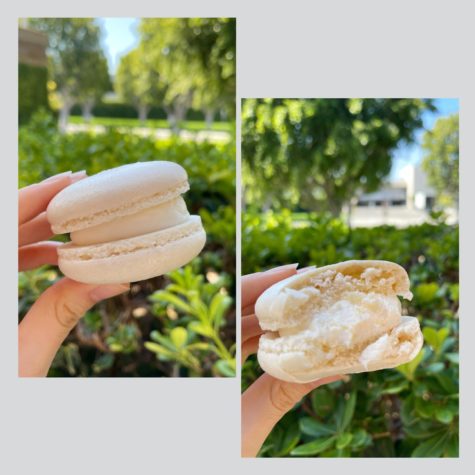 Rating 5/5  
This macaron holds high standards with its Biblical name, personifying the specialties of the promised land. The seashell white cookies and the filling are like a blank canvas, and there is not much to be desired when you first look at it. However, the milky, melt-in-your mouth filling paired with the subtle crunch of the shells makes for a rewarding experience. While it may not be the most complex of desserts, its simplicity is more than enough to make it shine. Because of this, it receives mostly mixed reviews, with some people saying it is too plain while others think it is a simple and sweet macaron. I think this macaron receives a 5/5 because of consistency, taste, and availability. Even though it is Honey & Butter's signature macaron, that is not the only reason to give this one a try.  I get this every time I go to Honey & Butter, so I can say with confidence that it is good. It is a fan favorite in my family, and the best part is that it never gets old or boring, no matter how many times you eat it. This macaron is a safe choice, but it will definitely not disappoint.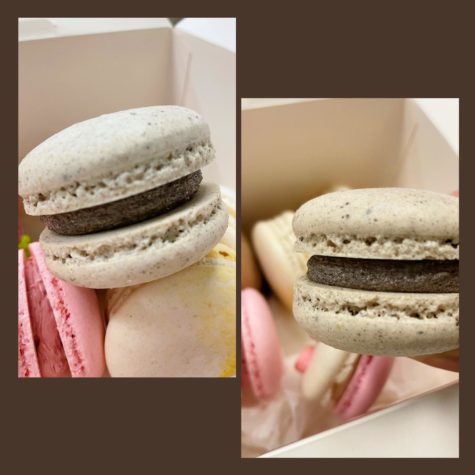 Rating 3.5/5 
Cookies and cream is a popular flavor, so milk's favorite cookie, Oreo, Is the star of this macaron. The macaron has a dark and creamy Oreo filling with gray cookie–infused macaron shells. Taking the first bite, I was almost convinced it was just an Oreo in disguise. Come to think of it, the Oreo cookie is technically a macaron, just with less steps and a little less fancy to pronounce. Anyways, if you are a big fan of Oreos, there are not many differences flavor–wise between the two. Personally, I am not the biggest Oreo fan, so this probably would not be my first choice among the other flavors. It is also a little redundant, and I feel like there were other ways to make this flavor a little more creative. Also, this macaron is included in the rotation very often, so I would opt to choose other flavors instead.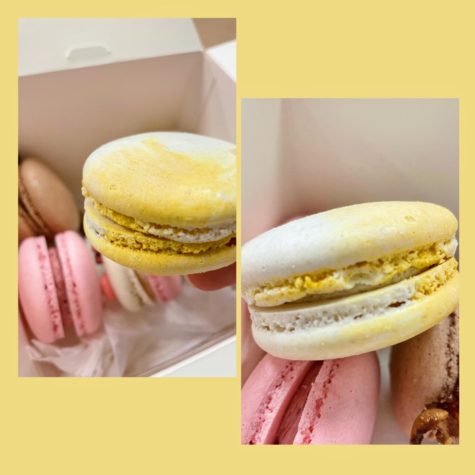 Peanut butter banana: another timeless classic flavor that almost everyone has tried once in their life. When it comes to peanut butter and banana, I feel like people either really love it or really hate it, and I am in the former camp. This macaron does the flavor justice, and although it is nothing new, the mix of the sweet banana and nutty peanut butter is addicting. The flavor tastes very clean and not artificial, which can be said about all of the macarons here. The shells of the macaron are brushed over with a yellow stripe and the filling inside is like a mini peanut butter banana smoothie. I have absolutely no complaints with this macaron. This flavor does not come up in the rotation often, so I would make sure to snatch one up when it does come around.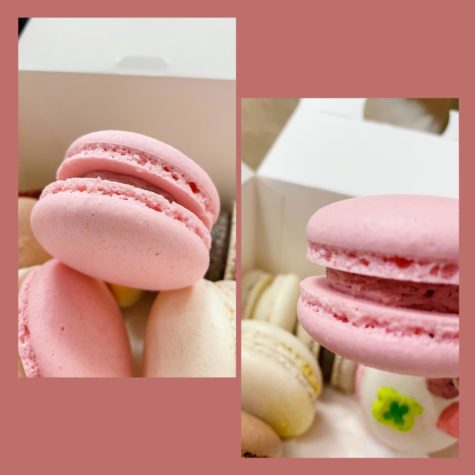 Rating: 4/5 
Even the name sounds appealing for this flavor macaron, and the flavor lived up to these high expectations. The pale pink cookie shells and the speckled raspberry filling were perfect complements to each other. I had avoided this one because it looked too predictable to me; it was just a berry flavored cookie. I was utterly wrong, and I am glad to be proven wrong. I am a big fan of a good sorbet, but sometimes, it does not provide the creaminess of ice cream that elevates the feeling of deliciousness. However, the Enchanted Berries macaron is like a splendid sorbet with the buttercream's delight following the initial tartness. This macaron is very clean and simple, but it is pleasantly delectable. It pairs well with the sweetness of the other macarons and provides the fruitiness not found in the others. In addition, it is a recurring flavor, often taking a well-deserved space in the macaron case.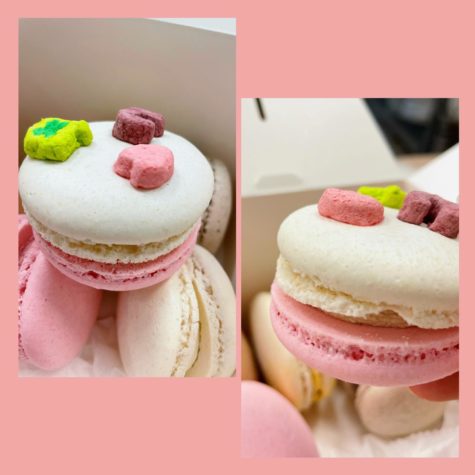 Rating: 2.5/5 
A returning flavor for the month of March, the Lucky Charms macaron dons three of the iconic marshmallows on top of the shell and sports a light beige filling made of the oats from the cereal. If this was a beauty competition, this macaron would rank very high up. However, never judge a book by its cover, because the filling did remind me of baby food because of its "pre-chewed" texture. It was a little less firm than I would have liked, but the flavor was spot on. It tasted like an already chewed version of the cereal, so I would much rather just stick to the cereal instead. The nostalgia factor gives it a tiny boost, but not enough to want to try again. Nevertheless, it was a good try, and they also have a Fruity Pebbles macaron that I have not yet tried but seems good. If Honey & Butter can accurately replicate this other classic sugar cereal flavor, it may be worth trying as well.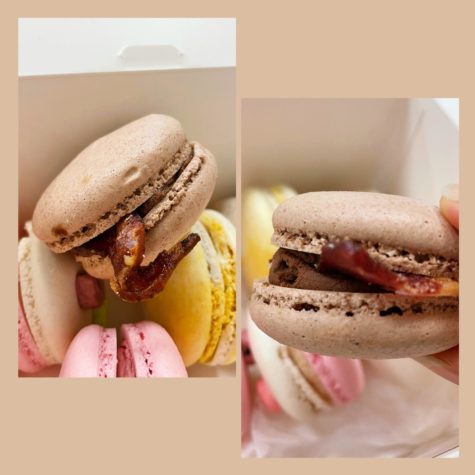 Rating: 3.5/5 
Bacon lovers and fearless foodies unite! This macaron was the result of a collaboration between S'wich Bistro, a local restaurant who provided the tasty bacon for the filling.  and Aalthough this flavor may be one-of-a-kind in the rotation, but the ability to make specialty macarons and make unique flavors work is something that must be judged. The monstrosity of a macaron has bits of bacon coated in chocolate ganache sandwiched in between cocoa shells. When you see the strips of bacon poking out from the sides, you may start to have second thoughts, but once you take a bite, it is unmistakable that it is just works out. Again, the salty and sweet theme dominates your tastebuds as both flavors hit you together at once. The filling did a melt a little fast, but I am assuming it is due to the fact that it is a ganache and not a buttercream. Overall, it is a good macaron to try for the sake of amusement and a surprisingly compatible experience.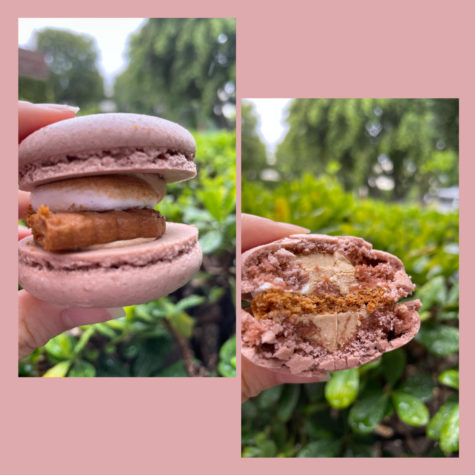 Rating: 6/5 
This macaron is a marvel of its own, appearing to be a s'mores tower–which. With its initial price tag of three dollars, I debated on whether or not the extra fifty cents would be worth it, but I am glad to have bought it. In truth, the words "coffee" and "s'mores" was enough to convince me of trying it anyway. The initial bite was not difficult considering the vertical height of the cookie, and it was only the beginning of my love for this macaron. The more I chewed, the more complex the taste became as the flavors blended together. The combination of the pillowy mini marshmallow and graham cracker cookie nestled between two chunky layers of light coffee buttercream is a glorified s'mores experience. The coffee notes elevate the macaron as a whole, accentuating the depth while adding that edge against the sweetness. This macaron is a top contender, and possibly a worthy competitor against my all-time favorite, Sea Salt Caramel. I have not seen it too often in the rotation, so when the time comes around again, I would recommend trying it as soon as possible. Probably anything with s'mores will not let you down at this location, and my one and only complaint is that it has not made more appearances in the case.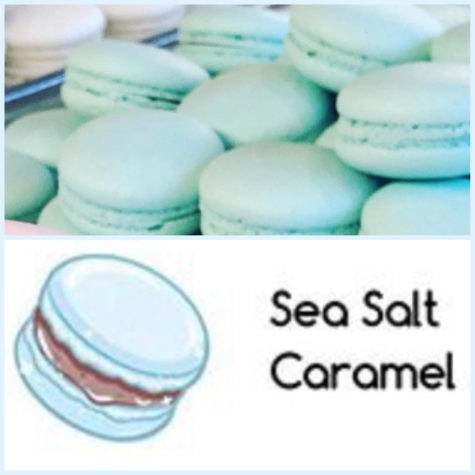 There is no macaron flavor more perfect than salted caramel. Sadly, this was not included in this week's rotation, but it must be featured in this list for reasons that will be explained. Whenever I say I want a macaron, I mean I want a Honey & Butter Sea Salt Caramel macaron. The baby blue shells protect a layer of a deep, amber-colored caramel with flakes of sea salt throughout. The texture, the flavor, the chewiness is all just perfect. The sweetness of the caramel paired with the chips of salt make for such a rewarding experience. The slight stickiness of the filling and the undertone of the rich, caramelized cream and sugar could not pair better with the firm cookie. Due to its popularity, this macaron runs out fast, and makes appearances pretty often in the rotation. I have seen people buy boxes of sea salt caramel macarons alone, so it is no joke that it is the most qualified contender for the best macaron. More than once have I rushed to buy one of them and left the store emptyhanded. Maybe not emptyhanded, but definitely with no salted caramel macaron. If you have the chance, get one to eat immediately and one more for the road. Never pass up a sea salt caramel macaron. 
If you are ever taking a stroll around the Irvine Spectrum Mall, pick up a treat or two at Honey & Butter Macarons. Now that you have my advice and some input, you can be sure to make the best selection the next time you stop by the shop. 
About the Contributor
Kaylynn Chang, Staff Writer
Kaylynn Chang ('23), a bonafide bookworm from Rancho Cucamonga, joins the Webb Canyon Chronicle this year as a staff writer. Besides reading and...