Part 2: Existential authenticity at Webb – tackling the Honor Code
A lot of factors influence authenticity at Webb, but I think the biggest is the honor code. Well, actually, I think it is more about how we interpret the honor code. It is very important that we make this distinction, because the actual text of the honor code gives students lots of room to be authentic.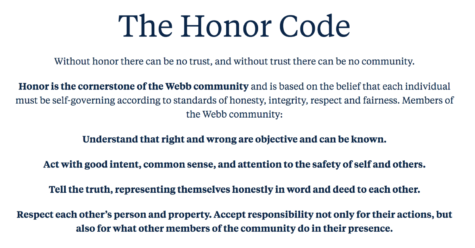 The honor code tells you to not do things that are totally out of line and make sure other people do not act out of line either, meaning, "act with good intent and common sense." But the wording in the code is still clear, and it has certain indications. 
I am referring to the last line in the code about responsibility. The way the required acceptance of responsibility translates into our campus environment significantly influences the attitudes on campus; the way I have experienced Webb, students are always tiptoeing around the rules. For example, "if I in-text cited a source and use it again in the next sentence, do I need to cite it again? Or will I get an HC for plagiarism?" or "my roommate went hiking on the trails behind Webb without signing out, will I get in trouble for not saying anything?" It is these instances of harmless or good intent where we freeze up and reveal the extent to which the culture of the honor code has become something weird. I believe that the way we have built up our community and our expectations for each other because of that last line has made the honor code more invasive to our individual values.  
I think 'boundaries of responsibility' is a great indicator of how the honor code affects our community. First of all, the line is vague and confusing. When does something become my responsibility? Maybe if something happens that I believe was damaging to our community norms? But what I understand and believe is that community norms could be very different from how someone else feels. Would I then be overstepping my boundaries? 
Second, what if I do not want to accept the responsibility? Or what if I am not able accept it, because I have so much else to deal with and cannot spare the energy?  
What if I simply do not want to prioritize the collective, because in that way I would be assuming what is good for others, therefore stereotyping, which many students do not agree with. We can't always assume what is good for others, because we do not know what they are struggling with, and the way you handle a situation may not be helpful to someone in a similar situation, because they navigate difficult times differently. Sometimes good intent can be harmful to a person. 
And the looming threat of an HC meeting because I chose not to accept responsibility for the actions of everyone around me drastically inhibits my ability to be true to myself. Like I mentioned earlier, there are so many reasons a student may not be able to take on responsibility. Rather than punishing someone for that and putting "had an HC" on their record, which immediately puts a student on probation, it would be much more productive to provide struggling students with support and help them through trying times.  
Besides that, a culture of punishment instead of help creates a sense of distrust. If we want to create a strong community, we have to trust – honor, trust, community, am I right? (I would like to note that the HC system is very stigmatized, and currently the students involved are making great efforts to become more transparent and reduce stigma.) 
Friedrich Nietzsche believed that Western cultures developed this 'collective over individual' mindset from Christianity. Referencing back to when the Israelites were enslaved in Egypt, Nietzsche wrote that the emphasis on obedience for the greater good came about because Israelites could not disobey God.  
Christian morals grew from Israelites giving up on trying to obtain what they wanted and heroizing what they had; sexlessness became purity, weakness became goodness, inability to take revenge became forgiveness, etc. So, for centuries, Western cultures have been denouncing individuality.  
The "praise of impersonal activity" allowed us to "develop a fear of everything individual," Nietzsche wrote.  
But existentialists recognize that accepting the entirety of your individuality and the freedom from it is how we may become authentic. And part of being an individual is being responsible for your person. Basically, your choices and your ability to make them is carries weight, and is important. 
"Man is responsible for what he is. Thus, the first effect of existentialism is that is puts every man in possession of himself as he is and places the entire responsibility for his existence squarely upon his shoulders," said Jean-Paul Sartre, French existentialist, in a lecture in 1946.   
Students' adherence to a set value system, paired with the inability to develop their own values through experience or be responsible for their personhood significantly inhibits existential authenticity, and students recognize this.  
"The Honor Code definitely limits what the individual could do in the public sphere and dictates how people treat each other," said Angeline Zhang ('21), Chair of the Honor Cabinet. "In some lenses, like that of Nietzsche, that might be seen as a harmful thing, since you are bowing down to this anonymous monolith that is societal norms." 
Other students feel similar tensions between the honor code and authentic individuality. 
"The honor code definitely limits one's individuality because it forces students to follow a strict set of rules and act and live a certain way," said Hunter Lange ('22), a student who has not taken Advanced Studies Existentialism and the Human Condition. "While everyone may be different, there are many things about the honor code which make it difficult to distinguish and recognize peoples' individuality." 
But totally abolishing an honor code might also be counter-productive, as Nick Lee ('21) points out the importance of protective culture. 
"I think an institution, and especially a school, should protect its students above all else," Nick said. "Yes, that will impinge on a student's authenticity, but I feel like students can still explore and live authentically within a school atmosphere and environment." 
And Nick is right; Webb gives students tons of opportunities to try new things and step out of their comfort zones, be it in academics by taking Paleontology, in athletics by signing up for water polo, or joining the Dungeons and Dragons club. 
"Just because a person exists within the rules of a space does not mean he's being inauthentic within that space," Nick said. "The purpose of Webb is to provide structure and education to students, and I think their rules create an environment where you can push boundaries and live that cliche of 'unbounded thinking', as long as you're not hurting others or yourself. But if the goal were to be truly unconventional, I guess we should drop out of school completely, and pursue an institution-less life." 
The idea of a lawless school or society is a daunting one, and Nick is right in saying that it is Webb's responsibility to protect the well-being of its students. But, on the other hand, Webb specifically recruits students whom they believe would be able to thrive and contribute to our community; they recruit students who are kind and show some allegiance to Webb's values. They look for students who are honorable, trustworthy, and believe in community. In that sense, Webb is a somewhat homogenous community. So, if we all have fundamental values that are in agreement, like for example being kind to one another, maybe it is the perfect environment to give students freedom and allow them to develop their own values.  
Existentialism is a fairly anti-establishment sentiment, which is not always a productive way to make change. Completely abolishing existing structures and starting from scratch can become long and exhausting, which is why we so often here of reform. This reform can consist of rerouting funding, changing up rules, etc. And looking at just the system at Webb that already exists, the honor code allows students significant liberty to explore individuality, while also being protective of them. I believe it is the way the honor code is ingrained in Webb culture, with adults and the HC ready to enforce a more invasive code, limits students' individuality.  
So, in an existential sense, the honor code at Webb inhibits authenticity. But we have to take that knowledge with a grain of salt and recognize that existentialism cannot be productively applied to every situation.  
As my advisor, Mr. Gerken, has told me many times, students are essentially the consumers at a private school, so, really, we are the ones with the power. If you want something to change and you truly believe in it, fight for it. 
Leave a Comment
About the Contributor
Nichola Monroe, Chief Editor of Features
If you're looking for a Webb big sister, Nichola Monroe ('22) is the person for you. An experienced co-chair of the VWS dorm prefect council,...