LA's gloomy weather hits the Webb Schools with a wave of new changes and emotions
In the usually sunny California, Webb students have been covering themselves with puffer jackets and blankets to escape the downpour. Rain pelted the campus, as students found various ways to adapt to this change, with some using umbrellas and blankets to cover themselves from the rain, whereas others wore raincoats. Prior to last week, Claremont's weather remained warm with highs up to 80 degrees. During this week, however, the temperature dropped to an average of around 55-56 degrees.  
A sunny December was expected this year, but this was not the case. Southern California tends to experience more rain in December, but last year, the area did not receive nearly as much rain as it has this year.  
Heavy rainfall drenched the Webb campus earlier this week, making the sight of umbrellas more common. Yet, this phenomenon was not limited to Claremont. In Los Angeles County and elsewhere, harsh weather sweeps the area. LA County received one inch of rainfall overall, and it is forecasted to climb up to 3 inches. The streets have begun flooding and power lines in certain areas have been knocked out. 
The amount of rain Webb and the greater LA area received in the past week made some upperclassmen nostalgic of their time prior to COVID. Aspects from that time, such as eating inside the dining hall, returned to students, reminding them of their time as sophomores and freshmen.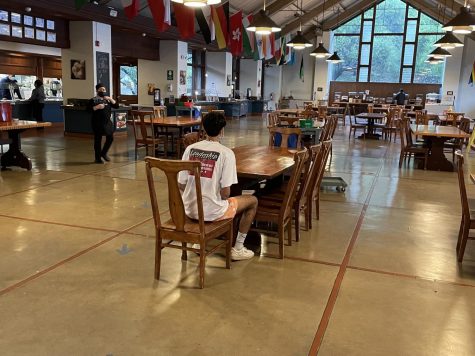 Students who arrived at the Dining Hall on the morning of Tuesday, December 14th found seating available inside, which only happened because of the rain. This occurrence is not something new to students, as they have seen this before on rainy days. 
"It was nice [to be back in the Dining Hall]," Julia Fenner ('23) said. "It felt like a sense of normalcy coming back." 
As the Dining Hall reopened, faculty had to make considerations concerning COVID regulations since eating inside poses a COVID risk. As California's COVID regulations became stricter, faculty and staff had to make sure that students could eat inside while meeting safety guidelines.   
"We consulted the medical advisory board to see [if indoor eating would be acceptable] and how we could maximize the space to get as many people as possible in there," Rick Duque, WSC Dean of Students, said. "We also knew that people like to sit and lounge after they eat so trying to find a space for everybody was important to us. I think we will be going back to eating outside [once the rain stops] because California now as a mask up policy indoors again. We just want to keep the community safe." 
Student life has been affected by the heavy downpours on campus. The rain sometimes serves as an inconvenience with our large campus, as this can be an annoyance due to the many hills on Webb's campus.  
 "[The rain] is a little difficult because I had to walk down all the way from Jamison down [to lower campus] in the rain, and I got soaking wet which I did not enjoy," Julia said. 
Although the rain can be soothing, it also dampens the community's mood and affects their regular routine. The cold weather and heavy downpour have caused students to congregate inside rather than outside, and the overcast of grey clouds and heavy rain changes the campus dynamic from its usual bustle to a quieter place. 
"It was also nice to sit down and do homework while it was raining outside, but it also does dampen your mood," Josephine Burdekin ('22) said.  
"It's definitely not as lively [around campus]. There aren't people out and about as much, but it's cool to see everybody dressed up," Dean Duque said.  
The rain is a controversial topic here at Webb, and the community has a wide range of opinions on it. Most find the rain either inconvenient or say it brings down the general mood of the campus.  
Although it has been cold throughout the week, the rain has stopped while students get ready for winter break. After winter break, the rain will hopefully subside, and students can enjoy a sunnier and livelier start to the new year.  
Leave a Comment