Webb's First Winter Formal: Enjoying the winter-ful time
One still night under the pale moonlight, as stars shine and the winds of winter blow, the Les Perry Gymnasium will transcend into a winter fairyland… 
After weeks of sleepless nights and stressful days brought by the end of the first semester, Webb students are looking forward to a reward for their hard work – Webb's first Winter Formal dance at the gym on Saturday, January 28th. With a lower ticket price and a larger venue than Homecoming, more students can have a memorable experience at a Webb dance.   
"We want to make sure that people have a chance to bring their out-of-school guests to a dance at Webb. The gym is a big area, so they can buy tickets for their friends and come to this formal, since a lot of people couldn't come to Homecoming," said Saira Bhagat ('25), VWS sophomore class president.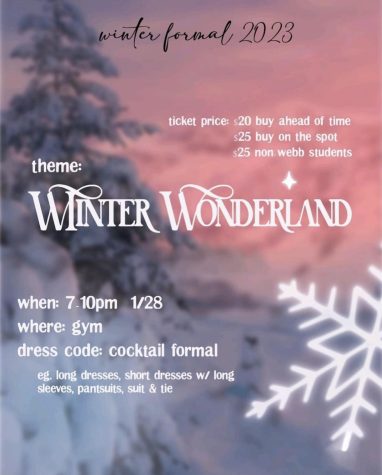 For the past few months, student government has been busy making arrangements for the dance. Since the 2023 winter formal is the first big dance hosted in the gym, the set-up, decorations, and the dance floor require unprecedented planning.  
"[Student government has] had this idea for a few months now, so they have been thinking about how to best execute it. We have decorations ordered, we have a plan for a gym set up, and they did all of the videos, posters, and announcements at assembly," said Sarah Lantz, VWS Dean of Students.  
However, the school's preparation for the winter formal is not limited to setting up the dance floor. While the student government is occupied with organizing and putting things in order, many students have already started shopping for glamorous outfits and picking out a perfect look for the event.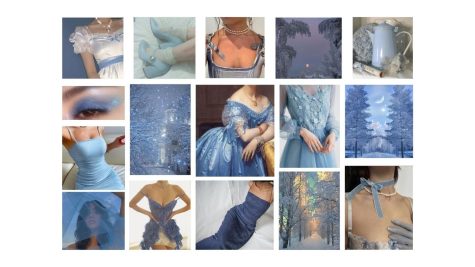 School dances such as the Winter Formal are a major part of American high school culture, and many students look forward to attending these events with their friends or a date. While a school dance might seem like a perfect chance to socialize and build relationships with peers outside the school setting, it can be a nerve-wracking experience for students who struggle with social anxiety.  
An all-school event is a huge step out of the comfort zone for those who experience nervousness, self-consciousness, and fear of being judged by others during social occasions. Finding social anxiety too challenging to manage, many choose to avoid big events like Homecoming, Prom, Theme Night, and Winter Formal.  
"Big social events have a few things that make them a little bit challenging," said Melanie Bauman, Director of Wellness. "Loud music, loud voices, lots of people, the chaos of the room, just the physical space that we exist in can be a little overwhelming for some people." 
Students can mentally prepare for a social event to reduce anxiety and increase the chances of having a positive experience. Planning ahead of time, picking out an outfit in advance, and having a person as company can help ease nerves and not let social anxiety become a barrier to making memories with friends. 
"We use a couple of easy tricks to downregulate our system: breath is one of them. Breathing is the thing that tells our body physically what we are experiencing," said Ms. Bauman. "The other thing is to do something that is intentionally calming and soothing for yourself and having a little time in the preparation so that you don't chaotic or rushed." 
Everyone has an environment that they thrive in, whether it is alone, in small groups, or among large crowds. It's not necessary to force oneself to be more social if it doesn't come naturally, but trying some tips can help make the most out of a high school dance experience. Although it might seem challenging for some, attending the Webb Winter Formal not only gives students a chance to spend some pleasant time with their friends, but also to appreciate the hard work that the student government has put into planning the event.  
Leave a Comment
About the Contributor
Elena Petrova, Staff Writer
Elena Petrova ('25) is a globetrotter — she loves to travel. Over just the last summer, Elena has flown over five times to three different places,...