The average American is more likely to get a heart attack in the next year than ride a bike to work or school. Just 0.6% of American workers commute on bike in a country infamous for its car-centric suburbs. However, many American cities, particularly Claremont, have begun to shake off their reputations and bring the progressive dream of bikeable cities to life.  
For some Webbies, biking is more than a mere mode of transportation. It is a lifestyle that inspires adventure and a new appreciation of the world. 
"Biking brings a sense of adventure to me," said Jonathan Li ('25), a day student and the vice president of the Mountain Biking Club. "With a bike, I can explore the mountains, and go places which sneakers or cars could never bring me. In addition, cars turn the world into a bunch of islands separated by a mere car ride, but biking allows one to experience the world for real. The wind against your face, the sounds of birds, the rumble of car engines, and the leaves falling to the ground shows me what the world truly looks and feels like, on the other side of that car window." 
For boarders at Webb, biking would also provide a newfound freedom of movement. 
"I would love to have a bike because it would be a much more convenient way of getting [to] places," Ryan Ho ('25) said. "Compared to walking or [going on] runs, which often have all their spots taken and don't give much choice or flexibility, biking would be so much nicer. It would also be great since you can bike to the train station, which have bike racks." 
Biking also offers numerous physical and mental health benefits, being a great form of exercise and a way to reduce carbon footprints and pollution. However, despite the clear benefits of biking, most Webbies and Americans in general dismiss the idea as unrealistic in a sprawling American suburb. 
"I don't bike, simply because this is America," Hanbo Xu ('25) said. "Here, cars are everything — eternal and all-powerful." 
Greater Los Angeles is particularly notorious for its poor biking infrastructure. It ranked as the worst major city in the United States for "bikability," while neighboring San Bernadino and Santa Ana nearby ranked 5th and 6threspectively.  
Because of this, bike lanes have seen a surge in interest in numerous American cities, and the infamous biking hell of Greater Los Angeles has begun reform. Claremont is a relatively early adopter of increased biking infrastructure. 
"Claremont has been very active for a long time in seeking grant funding to construct bicycle infrastructure," said Ms. Tipping, a traffic engineer for the City of Claremont. "Over the past 20 years, it has been very successful in applying for grants that allow for installation of a number of projects that included bike lanes. We were able to get over 20 million for bicycle installation projects."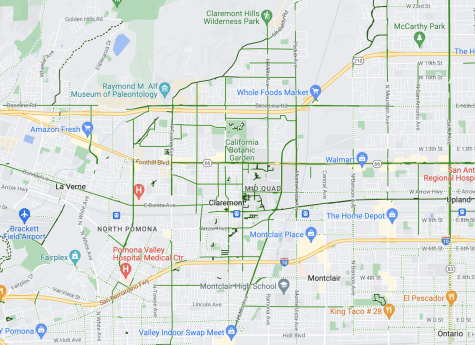 Construction of bike lanes often occurs during maintenance projects, which upgrade roads holistically. 
"Claremont also uses every opportunity that we have — for instance, through the pavement maintenance program to work on installing bike lanes every time within a maintenance project," Ms. Tipping said.  
Much of the growth in biking infrastructure in Claremont stemmed not only from trends all over the United States, but also local advocacy groups. 
"It was a combination of things," Ms. Tipping said. "There were national tendencies to rethink how roads could work, the need to create space for our roadway uses, as well as the local advocacy groups such as The Claremont Bicycle Pedestrian Advisory Group. These factors encouraged the city council to support the implementation of these projects." 
Many bikers have lauded Claremont's biking infrastructure and believe it is safe. 
"Claremont and the [surrounding area] is generally pretty good," said Jerry Qiao ('25), a recreational biker who is also the President of the Mountain Biking club. "They have well-defined lines, so drivers know where not to go." 
However, while the current state of bike lanes in Claremont is adequate for a certain population of bikers who are comfortable near roads, many who are less experienced still feel uncomfortable on them. 
"Jerry and I biked to the train station one Saturday," David Ma ('25) said. "It was a pretty fun ride except for the fact that I almost died. It was my first-time biking on roads with cars, so I almost crashed into a car, and my feet were almost crushed by a car tire. I'm probably never going to bike on the road ever again. It felt extremely dangerous, and I prefer being alive." 
Some older bike lanes are insufficient for many bikers.  
"There are definitely bike lanes, but cars sometimes treat them as parking zones," said Finn Bulson ('25), a day student who bikes to school every day. "That's a problem because when there are cars in the bike lanes, you must go around them, which risks getting hit by the cars in the road. In addition, the bike lanes are very narrow in some places. There is a bike lane on Baseline Road, but it doesn't take up much of the road, and the cars often get really close to it. I can almost feel them licking my elbow." 
The city of Claremont has acknowledged this issue and has begun upgrading older bike lanes.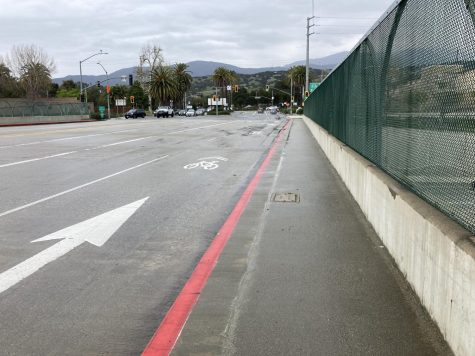 $6 million in local funds have been allocated to the Towne Avenue Complete Streets Project, which will commence in the upcoming weeks. 
"We worked with The Claremont Bicycle Pedestrian Advisory Group, evolving the design of this project from a very outdated car-centric road into what you're going to see in a few months," Ms. Tipping said. "It's going to be a road that has wonderful bicycle infrastructure, as well as a lot of pedestrian accessibility improvements." 
However, another problem facing bikers is inequality in bike lane availability because some neighboring cities have less bike lanes available.  
"There are random places where the bike lane suddenly cuts off, and you have to go off [the] road into this place with a bunch of birds and spikes on it." Finn said. 
Creating infrastructure across cities is often more difficult and complex than within cities. 
"Having multi-city projects is complicated and adds to all the nuance that you have in the development of a project," Ms. Tipping said. "With Towne Avenue for example, we had to coordinate with Pomona, but also the California Department of Transportation, which holds jurisdiction over highway intersections and ramps. Thankfully, the East San Gabriel Valley Council of Governments helped streamline everything as a higher power, but we still had to go to all of these agencies to review and approve what goes on in their jurisdiction." 
The main obstacle to bike lane infrastructure is still funding and public support. 
"The greatest problem is funding, without a doubt. It would be so much easier to get projects done," Ms. Tipping said. "There was a time when there was a lot of opposition to bike lanes, but even now you still get some people that don't feel that the roads should be designed to accommodate a bike." 
Bike lanes are often a significant investment, and grants can be hard to come by. The renovation of Foothill Boulevard costs more than 16 million dollars. As such, city councils often focus on the areas with the highest need. 
"We would like to do larger projects, it's just that we don't have the money." Ms. Tipping said. "We work with the money that we have, starting in the more vulnerable locations near schools. We have applied for grants to get money for the streets that serve students that walk to school. However, the grants only apply to public schools, not private schools." 
In addition, more funding goes toward regions socioeconomic difficulties, rather than relatively well-off cities such as Claremont. 
"There are a lot of requirements for grant funding," Ms. Tipping said. "Recently, they have incorporated Disadvantaged Communities (DAC) components, which Claremont does not meet. The grant world is very competitive, so priority these days is being given to those disadvantaged communities." 
Biking is a way of life that declined with the advent of car-centric cities, but its modern resurgence with enthusiastic bike lane construction may be bringing part of it back. However, truly making America bike-friendly to even the most inexperienced commuters will take years of planning and construction. In the meantime, why not try these new bike lanes? They may not be perfect, but biking from Webb is possible.