The not-so-surprising exploitation of the forest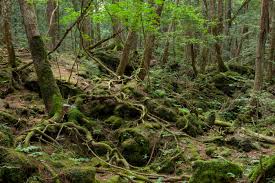 Hang on for a minute...we're trying to find some more stories you might like.
At the northwest base of Mount Fiji, Japan, lies a 14 square mile stretch of forest. It is known as Aokigahara, the 'Sea of Trees', or the 'Suicide Forest'.
This latter name refers to the forest's reputation as a place to take one's own life; it is the most popular suicide destination in Japan, according to Vice, with over 100 bodies found there every year.
On January 1, 2018, Logan Paul, a youtuber, visited the forest and while there filmed the body of a person who had hanged himself from a tree. He then posted the footage to Youtube with the title "We found a dead body in the Japanese Suicide Forest."
Reaction on Twitter was swift as it should have been with thousands of people speaking out on how Logan Paul is disgusting for exploiting such tragedy. There has also been recent debates over why Youtube waited so long to take the offensive video down.
While the world is in shock about the callousness of someone in relation to death, this is most certainly not the first time Americans have completely disrespected the Suicide Forest.
In 2016, American director Jason Zada released The Forest– a horror thriller movie based on the Suicide Forest. It depicts a young, white American woman who leaves the safety of her home for Aokigahara in pursuit of her twin sister, who enters the forest, and mysteriously, never returns.
Obviously, there is a lot of bad taste in the decision to make such a film. That so many Japanese men and women commit suicide every year in this particular geographical spot should mark Aokigahara out as a site of trauma and tragedy, rather than fair game for an American horror movie director to capitalize on. Aokigahara is the second most popular suicide destination in the world; the first is the Golden Gate Bridge. Had director Jason Zada selected San Francisco rather than mysterious, exotic, alien Japan as the setting for his suicide-themed flick, would there have been more outcry than there actually was when the movie released?
The fact of the matter is that these two instances are very much the same; an exploitation of tragedy by two very over-privileged men.
About the Writer
Anjali Reddy, Editor-in-Chief
Anjali Reddy ('18) is currently the  Editor-in-Chief of the Webb Canyon Chronicle and has written for the paper since her freshman year. She started writing to find her voice in today's busy world and has expanded out to question the patterns and norms she is faced with. Outside of the WCC, she enjoys preaching about...