Dancers wield their bodies, minds, hearts, and souls for "Human"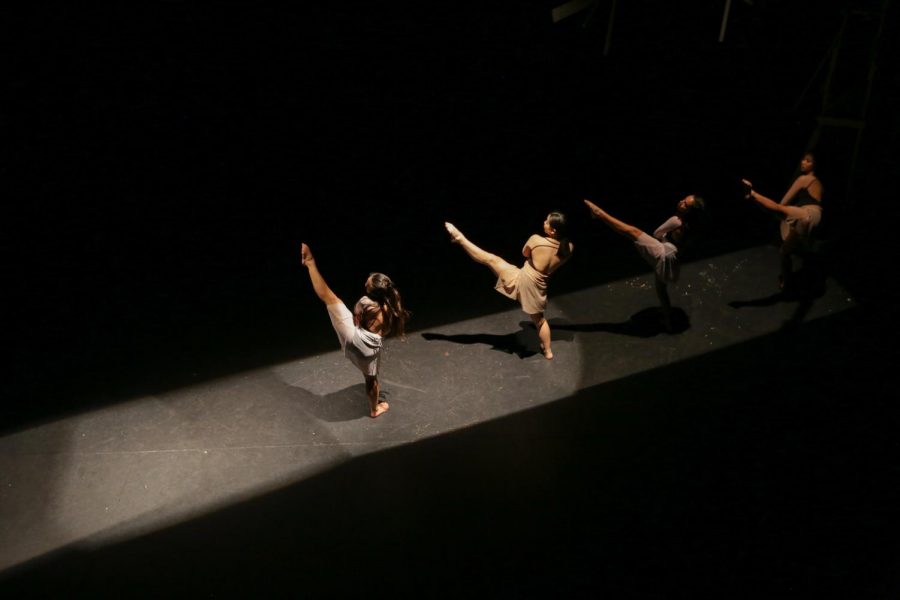 The annual winter dance show at the Webb Schools premiered on Friday, January 26. The show was called "Human" and was instructed by Mr. Michael Szanyi, North Hutch dorm head and humanities teacher. With the help of the Webb Technical Crew, the stage in the Liu-Cheung theater came to life as dancers manifested their talent, diligence, and perseverance throughout the performance.
   Mr. Szanyi took the stage during the introduction, asking the audience to reflect on the question: "What does it mean to be human?" Rachel Kho ('19) and Erika Sampson ('19) narrated with their powerful voices, the words from "Psychometric Infallibility Realized: The One-Size-Fits-All Psychological Profile" by David Levy echoing throughout the theater. The song selection was chosen carefully to reflect the nature of humans and often contained the word "human" within the lyrics.  
   "I enjoyed the different style of music that Mr. Szanyi chose for this year's dance show. It gave a new meaning to the word 'human,'" said Gil Dominguez-Letelier ('20).
   Although there were scenes in which all the dancers had different motions and moves, the entirety of the show captivated the audience with a flowing sequence. The hour-long performance was divided into four parts: Body, Mind, Heart, and Soul. As the dancers portrayed a variety of emotions with intensity, fierceness, and passion.
   For some participants, the 2018 show was their last dance show at Webb. Shyam Arya ('18) appeared in the opening of the performance, impressing the audience with his slick and smooth maneuver. Camille Ylagan ('18) and Sophia Jahadhmy ('18) appeared in-sync during their duets, as they both fascinated the audience in their own ways. Christina Dong ('18) and Chelsea Chen ('18) also delivered poised choreography together for the last time. Georgia Newman ('18) executed elegance during her solos, and at one point caught the attention of the audience when the other dancer tied ropes around Newman's body to pull her back.
   "I thought it was really amazing and it was the best dance show I've seen at Webb. All the lighting and the dancers were well put together," said Macy Huang ('18).
   Overall, "Human" was a mesmerizing show, and the dancers' time spent practicing and articulating their emotions on the stage was evident.
About the Contributor
Janitza Luna, Editor-in-Chief
Standing at 5'0"ft tall, Janitza Luna ('20) embodies the persona of small and mighty. Born into the Aries astrological sign, her fiery determination...