Virtual reality revolutionizes assisted-living homes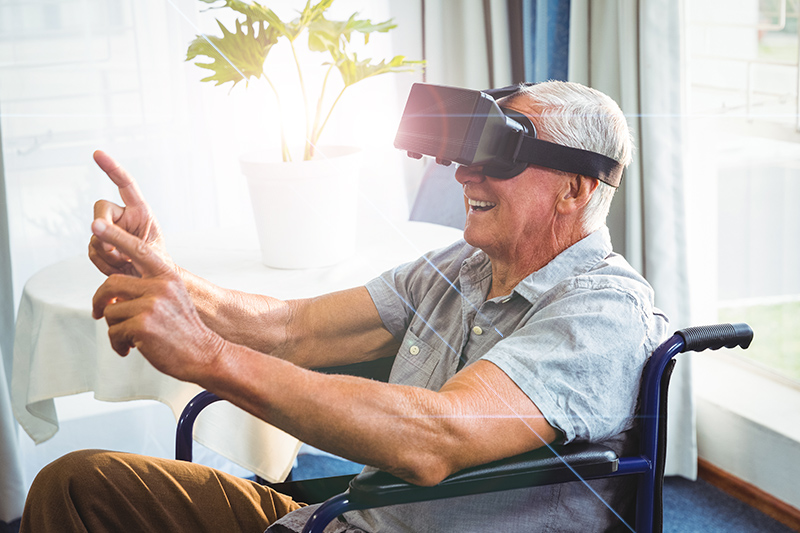 Imagine if you could give your grandmother the chance to go hot air ballooning with the click of a button. Or perhaps a bird's eye view of the Big Apple from a chopper. Virtual reality (VR) can give this experience and so much more for seniors in assisted-living facilities.
According to the U.S. Census Bureau, the 65 years old+ population is projected to reach 98.2 million in 2060, doubling from the 49.1 million in 2016. Companies in the U.S. and abroad, like Rendever and MyndVR, are experimenting with VR at senior-living communities. These tech-based companies believe addressing the root causes of loneliness is key to rediscovering older adults' happiness. Without countermeasures, senior citizens face more detachment from the mainstream culture, even as their numbers continue to grow exponentially.
VR startup Rendever believes over one-half of residents will experience symptoms of depression and isolation during their stay in assisted-living facilities. Its immersive VR experience allows residents to take a stroll down memory lane to reconnect with their past. During the 2017 MIT Venture Capital and Innovation Conference, a Rendever spokesperson said, "We created a virtual reality platform that allows older adults to travel anywhere in the world, and with it, their childhood homes."
Lillian is an eighty-three-year-old woman who enjoys using Rendever to explore the unknown in her assisted-living home facility. On the company's review site, she commented, "I get to know part of the world that I've thought about and never knew what it looked like…and now I do."
Those living with dementia tend to withdraw from social activities that they had once enjoyed. In the summer of 2017, MyndVR, a Dallas startup, started a four-week field trial partnered with Samsung and the University of Texas at Dallas. Patients watched short clips to evoke nostalgia, serenity, and wonder. From 1950s jazz clubs to farms during sunset, seniors were transported into an entirely different era. MyndVR has developed a vast library of recreational and prescriptive therapies to fight loneliness, depression, anxiety, and dementia. Their team ranges from brain scientists and healthcare professionals to VR technologists and media producers.
Dr. Sonya Kim, an entrepreneur, and board-certified Emergency Physician-founded One Caring Team in 2014 to revolutionize how older adults engage with the world. Her therapy program, Aloha VR, lets senior citizens utilize virtual-reality headsets to escape to a tropical paradise. For the aging population, loneliness is more than just a feeling – it has serious implications for seniors' physical, cognitive, and societal well-being. One Caring Team aims to reduce the aging population's emotional burdens by triggering and creating new happy memories.
Although VR is typically targeted at active millennials who enjoy solving elaborate puzzles, entrepreneurs are discovering how VR can impact the lives of those with physical and mental disabilities. Regardless of whether you are stuck in a wheelchair or suffer from advanced dementia, VR can bring you happiness through beautiful and realistic scenery. Monitoring physiological states helps engineers refine the technology to bring an even more immersive VR experience to assisted-living facilities worldwide.
Mr. Jonathan Capone, a Media Arts teacher, commented, "In that respect, VR is very interesting because it allows seniors to teleport to a place where they could not have physically gone due to mobility restrictions. I think another crucial part of VR is empathy. Watching documentaries in VR is a much more vivid and realistic experience than watching it in a movie theater because there is no noticeable distance separating you from the screen. VR allows users to relive an experience and feel empathy for one another. Applying to senior citizens, other people could potentially learn what it is like to actually be a senior citizen."
Deanna Oei ('20), a New Media Culture & Communication student, commented, "I think VR creates a very immersive environment different from real life. You can be transported to a new world whether it's a game or a story. In my media arts class, I got to try an animated VR game that put me right in the middle of a refugee story which was really cool because it seemed like the characters were actually talking to me about their experiences in real life."
Joey Silva ('21) participated in the recent Virtual Reality Unbounded Days course. He remarked, "In my course, we learned that VR is bridging a gap between what we think is real and what is not. My favorite part of Unbounded was experimenting with a real VR studio lab. But besides the whimsical uses for fun and gaming purposes, I think it's cool that virtual reality has practical applications that are helping to revolutionize places like assisted-living homes while expanding its market and outreach to older people."
VR is only one contributor to the rise of technology-enhanced senior care. Plenty of solutions exist that are revolutionizing senior care as we know it. From smart home computer systems to wireless networks, we live in an era that is rapidly improving the quality of life for the elderly. However, we spend so much time caring for health vitals and medications that we often overlook the psychological well-being of senior citizens. New VR experiences are lighting up a long-lost spark in the eyes of elderly folks. They are redefining virtual reality as not just a game, but a tool to help those suffering from incurable health issues while giving them the ability to travel once more.