What you need to know about the nationwide walkout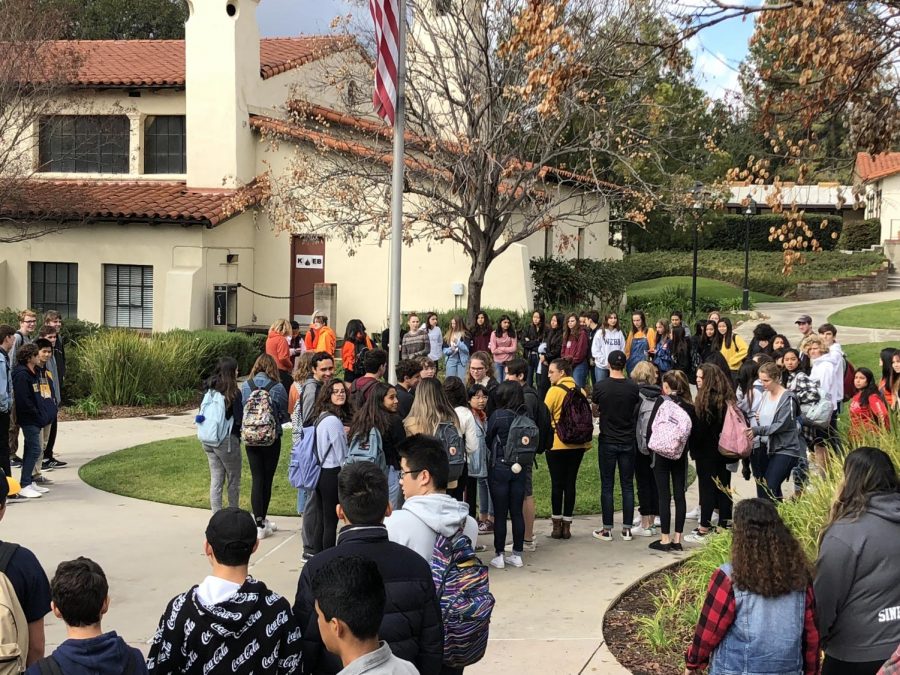 Across the nation on March 14, 2018, thousands of students and teachers across the nation walked out of school to protest Congress' refusal to change gun control regulations. The walkout was in honor of the seventeen victims in the Parkland tragedy in Florida, just a month ago.
The protests were broadcasted on a variety of mediums, including Snapchat and CNN, and covered people posting their views on gun control, wearing orange in tribute of the victims, as well as speeches from survivors.
The idea of the walkout itself was encouraged by EMPOWER, the same people who founded the Women's March in Los Angeles.
Many schools allowed their students to walk out of class for the 17 minutes, including Webb, who tried to strike a balance between the student's rights to participate in the walkout, while also using their out-of-class time productively. The walkout itself was organized in collaboration with several students and the Deans, who got word out through STAS.   
"When we were organizing the walkout, I was kinda nervous because I wasn't sure what the response would be. However so many people showed up to pay their respects and show support and I'm really happy with the outcome," said Julia Schachtel ('21).
In the morning, students attended an assembly on what to do in case a school shooter does come to campus, and how to stay safe.
"The assembly was helpful but at the same time I felt scared because it made me realize that we live in a time where we have to have assemblies to ensure our own safety because school used to be a safe zone, but now nowhere is," said Abby Arroyo ('21).  
Afterward, students from all grades chose to congregate together around the flagpole and stand together in solidarity for seventeen minutes in honor of the seventeen victims.
"What was especially powerful to me was not just the reflection time used to show respect and pay homage, but that fact that we reflected together. We have this kind of power, as students, that we were able to stand together and support this," said Sam Scudder ('18).
For the rest of the day, there were discussions regarding gun control, arming teachers, types of guns, age requirements, and school safety in general in Liu Cheung and students were allowed to miss class to participate free of disciplinary action.
"At first I didn't think that many people would show up to the discussions, but it's amazing how many people were willing to have conversations about gun control. I'm really happy with how the community came together," said Ruby Lyons ('21).
Although Webb was very open to allowing students to participate, several other schools forbade participation and threatened disciplinary action. However, many colleges countered this punishment by emailing out prospective students and assuring them that their application would not be penalized if they faced disciplinary action due to the walkout.
After the walkout, student activists and supporters face the next big challenge in urging Congress to change gun control laws. The next protest is planned for March 24 and is organized by Douglass High students. It is becoming known as the "march for our lives."